"When I am under pressure at work, I try to keep calm and pray silently"
"My colleagues perceive Christianity as one of many possible spiritual journeys that someone could take, but not the only one", explains Šárka, who became a Christian while doing her PhD in the Czech Republic.
BRNO · 20 JULY 2017 · 12:04 CET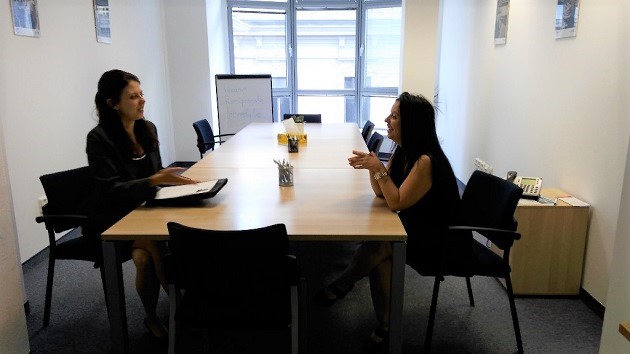 Šárka Konícková (left) with a colleague at her workplace. / A. Funka
The Czech Republic in Central Europe is one of the most secular countries in the world. There may be fewer than 40,000 evangelical Christians out of a nation of 10.5 million.
Because there are so few Christians, the workplace provides a particularly excellent opportunity to demonstrate the reality of one's faith.
This interview is part of a series exploring different ways Czech Christians are dealing with the opportunities and challenges of living out their faith in the secular workplace. We hope you find this encouraging as you wrestle with your own situation.
Dr. Šárka Konícková teaches at a major Czech university and is also a consultant for a personel agency. This is her story.
Question. To get us started, can you tell me a little about yourself? What is your background? What kind of work do you do? Would you like to share anything about your family?
Answer. I just finished my Ph.D. studies in French linguistics. I am an external teacher at a university in Olomouc and work as a recruiting consultant for a personnel agency in Brno, in the Czech Republic. I am responsible for recruiting in engineering, finance and multilingual roles and I do business development activities, which means I search for new partners.
As far as my family is concerned, I am the only child and I grew up with my mother and my grandparents. They are not believers, but I could see progress in their relationship with God and I have peace in my heart that one day they will find Christ.
Q. How did you become a Christian?
A. I became a Christian quite recently. It was in the 2nd year of my Ph.D. studies, which was 5 years ago. God had been preparing my heart for a long time. When I was 18 years old I started to believe that God existed. It happened when I was travelling in Ireland with my boyfriend.
I wanted to be baptized, because I thought that I was a true believer, but I didn't know Jesus. Things changed when I was preparing a vision board with my best friend for the year 2012 and I mentioned that I wanted to be baptized. For her, it was a sign to talk with me about herself and her Christian family and she showed me where I could learn more about Jesus. I started to attend Alpha Courses.
At that time, I was working at the university full time as a teacher and coordinator of the French for Applied Economics major. I was teaching obligatory courses, preparing accreditation for the major, and starting new cooperation for a double degree with a French University. I had a really hard time managing all these tasks properly, but I was not able to not accept the new ones. I wanted to have many things to do in order not to think about serious family problems that I was facing at that time.
I became ill - I couldn't breathe in through my nose. When I started coughing, I felt close to death and for the first time in my life I really invited Jesus in to my life. The long journey began!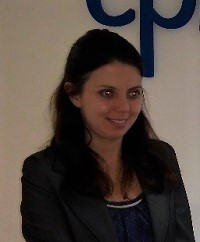 Q. How does the fact that you are a Christian influence the way you do your job?
At that time, I was close to burnout, and since that day my working pace has been getting slower. I wanted to prove to myself that I could cope with any problems, my identity was directly connected to my job.
I was afraid of making any mistakes. I didn't have time for myself. I had also problems concentrating whenever I wanted to work on my Ph.D. and think deeply. The memories of traumatic experiences which I experienced as teenager and in my early twenties were coming up and I couldn't work properly.
I am so thankful that Jesus healed me. I am not so stuck on my job. I work with less stress and can be more focused. I am thankful for all the opportunities I have, but I won't mind if I have to leave all these things behind and just move to Prague.
Q. Do your colleagues know that you are a Christian? How did they find out? What do they think of that?
A. Yes, I told them in the first few weeks during our daily chats. They were rather curious and wanted to know more about my lifestyle. The most surprising thing for them was the fact that I don't live with my boyfriend before marriage. On the other hand, when I talk about the Christian family where I am renting a room, they admire how good a relationship we have.
Generally speaking, they perceive Christianity as one of many possible spiritual journeys that someone could take, but not the only one.
Q. In what way do you regard your workplace as a mission field?
A. It's a natural environment for sharing the gospel during breaks and lunches and there are circumstances that come up which make it easier. For example, currently there is a huge spiritual fight happening on the main street of Brno, just below the windows of our offices. Members of the Hare Krishna movement are dancing on the street and then Christians with flags with Christian symbols are singing worship songs.
Naturally, people around are asking questions. My colleagues keep telling me that they would like to ask Hare Krishna monks about their wisdom and that's my opportunity to explain why I think they are on a wrong path. Moreover, the workplace is an even more natural environment for discipleship.
Q. How do church leaders refer to the workplace as a mission field? Do you think that pastors and church leaders actually have a proper understanding of what it is like to be working in an ordinary job?
A. In my opinion, most of our church leaders are realizing the potential of "life-on-life" discipleship, even in the workplace. But most of them are not making it their priority to specifically support mission at the workplace. They support mission in general. For myself, I found quite useful a half-year biblical course about apologetics, which we had in our local church.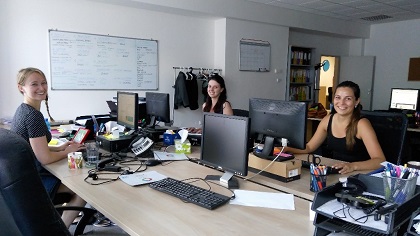 Q. How does your local church support you in the mission field of your workplace?
A. I believe my pastor and brothers and sisters from my church are praying for me and for my colleagues.
Q. Can you tell us about any opportunities you've had to talk about your faith with colleagues?
A. While doing business development activities, we were visiting clients in the South Moravian region. I had a chance to tell my whole testimony to my manager, while being on a business trip in the car. Actually, it was quite a dangerous journey, because we were driving on a highway and there were bottlenecks and I had to drive really close to some trucks and then suddenly a car crossed my way and I nearly hit it. After that my manager told me that she was praying that we arrived safely.
I don't consider myself to be a good driver and I am always telling others that being in car with me bring others to be closer to God... (that's a joke).
And I often find myself defending my belief when Charismatic Christians are singing worship on the streets and my colleagues are finding it weird.
It can be also just small things, where I might get to just thank God for the results. I had a chance to thank God during an official ceremony, when I was awarded the best biller of our branch.
Q. What factors made this possible?
A. I have mentioned a few external factors above. For me, it's life on life experience, because we are cooperating in quite a close team and my colleagues know what my beliefs and values are and how I live it or not. But it's true that free time activities and a team-building setting help raise my confidence in those relationships and make it much easier.
Q. How often does this happen?
A. I would say once every two or three weeks I have a chance to talk about my faith.
Q. Is "being light" in your workplace context always talking to people about your faith in Jesus? What other ways have you found to be a fruitful follower of Jesus in your work?
A. Being light means to me not only talking about my faith, but also proving it through my actions. I think that my colleagues can see when I am not giving up in a situation when others do, and when I am trying to support my colleagues when needed.
At the same time, I am aware that not everything is perfect and I need His forgiveness.
Q. What types of pressure are most common in you workplace?
A. In the HR business, most of the time one is under pressure, caught between companies which need to fill a role as quickly as possible, and candidates who often have many offers. As recruitment consultants, we have certain power to influence the candidate, who is deciding about his or her future job. Of course, it might happen that priorities of the agency and the priorities of the candidates are not completely the same, and that creates a lot of pressure on me. My honesty may not be received well by one or the other parties involved.
Q. How does your walk with Jesus help you navigate these types of pressure?
A. When the pressure is on, I stay calm - most of the time - and I pray silently. It helps a lot to resolve problems in a more constructive way. It helps me to remain calm to remember that I know that He has everything in His hands. I just have to find out how I will cope with it. Even though these trials are sometimes difficult, they serve for something good.
Very practically, I am also using as my passwords for different programmes the first letters of short prayers or psalm texts and every time I put in a password, I am repeating the psalm or prayer silently and it brings me directly into connection with God through the whole day.
Q. What resources (books, websites, sermons, articles…) have helped you most in your Christian thinking about your work?
A. I found extremely useful the mentoring that I received during the European Leadership Forum (ELF) conference in Poland. For me, that has been the most efficient way to ask specific question of professionals who have been in the same situation as I am. I also like the workshop of Henryk Wieja about burnout in ministry, which is applicable to "a normal working life." It can be found here.
Published in: Evangelical Focus - life & tech - "When I am under pressure at work, I try to keep calm and pray silently"