Christians support initiative to ban betting ads on football shirts
Nine top clubs in England are sponsored by gambling companies.
LONDON · 08 SEPTEMBER 2017 · 12:16 CET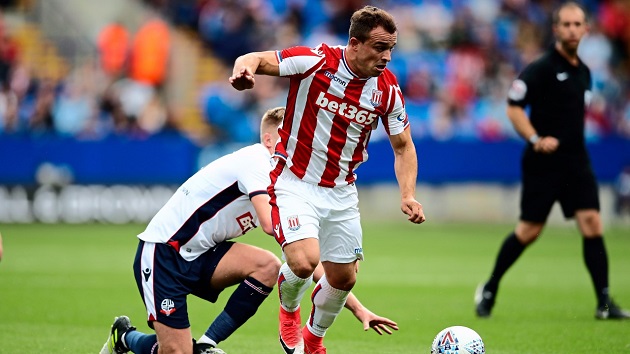 Stoke City is one of the English football teams sponsored by a betting company.
In the English professional football Premier League, nine teams are sponsored by betting companies.
The publicity on their shirts is not only seen on the football field and on television, but also on the streets whenever a someone wears the shirt of the club he/she supports. This includes, of course, children and teenagers across the UK and the rest of the world.
"Football has to play its part in tackling Britain's hidden epidemic of gambling addiction," the Labour Party said this week, asking the Premier League to take the initiative. Children, the group said, are exposed too early to gambling when the teams they follow actively promote it.
According to newspaper The Guardian, the betting companies have sponsorhips deals with nine – out of the total 20 – top football teams in England, worth a combined £47.3 millon, in this 2017-18 season.
"Just as tobacco companies were banned from sponsoring sporting events and putting their logos on branded goods because of the harm smoking can cause," Labour deputy leader Tom Watson said, "it's right that we recognise the harm problem gambling does and take gambling logos off football shirts".
"HARMLESS GAMBLING IS AN ILLUSION"
A Christian organisation working with parliamentary representatives in the UK supported the initiative to ban gambling ads on football shirts. "Betting ads on sports shirts are irresponsible - it normalises gambling to a very young audience", said Dan Boucher, of CARE, according to Premier News.
"Shown completely without context, these shirts are on the backs of children's sports heroes and create the illusion that gambling is harmless, fun and without consequences", he said. "We know that is not the case. There has been a trebling in problem gambling amongst 18-24 year olds".
The British government, led by Conservative Prime Minister Theresa May, is expected to explain details of new proposals on gambling advertising in November.
Published in: Evangelical Focus - life & tech - Christians support initiative to ban betting ads on football shirts