Corruption withstands passage of time and political changes
According to the last Corruption Perceptions Index released by Transparency International, in the last seven years, only 20 countries significantly improved their scores.
Transparency International · BERLIN · 30 JANUARY 2019 · 18:14 CET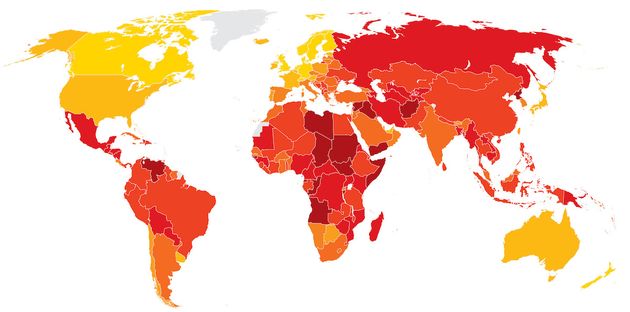 Corruption Perceptions Index map of 2019. / Transparency International.
According to this year's Corruption Perceptions Index (CPI), democracy leads to less corruption, so that, the continued failure of most countries to significantly control corruption is contributing to a crisis in democracy around the world.
The CPI, made by the organisation Transparency International, ranks 180 countries and territories by their perceived levels of public sector corruption according to experts and businesspeople.
It uses a scale of zero to 100, where zero is highly corrupt and 100 is very clean.
"CORRUPTION FLOURISH IF DEMOCRACY IS WEAK"
The research "makes a clear link between having a healthy democracy and successfully fighting public sector corruption", said Delia Ferreira Rubio, chair of Transparency International.
"Corruption is much more likely to flourish where democratic foundations are weak and, as we have seen in many countries, where undemocratic and populist politicians can use it to their advantage", she added.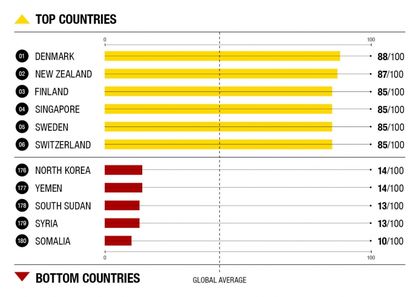 ONLY 20 COUNTRIES IMPROVE IN 7 YEARS
Data show that more than two-thirds of countries score below 50 on this year's CPI, with an average score of just 43.
Additionally, just 16 countries significantly decreased their scores, including Australia, Chile, Malta, Hungary and Turkey.
Meanwhile, in the last seven years, only 20 countries significantly improved their CPI scores: Estonia, Senegal, Guyana and Côte D'Ivoire.
Argentina (85), which has gained eight points since 2015, reaching 40; Estonia, number 18 on the list with a score of 73, or Rwanda, which maintains its progression with 56 points, are good examples of these improvements.
USA AND BRAZIL DROP
On the contrary, the two largest economies in the Americas region: USA and Brazil, has dropped four and two points since last year, to earn its lowest score on the CPI in seven years.
With a score of 71, the US is "currently witnessing threats to its system of checks and balances, as well as an erosion of ethical norms at the highest levels of power",the research explains.
Brazil has a score of 35, while President Bolsonaro has promised to end corruption. "The president made it clear that he will rule with a strong hand, favouring highly populist language that threatens many of the democratic milestones achieved by the country", the CPI says.
DENMARK AT THE TOP, SOMALIA AT THE BOTTOM
The top countries are Denmark and New Zealand, with scores of 88 and 87, respectively, closely followed by Finland, Singapore, Sweden and Switzerland, which each score 85.
The bottom countries are Somalia, Syria and South Sudan with scores of 10, 13 and 13. North Korea and Yemen follow them, scoring 14 each.
EUROPE, THE REGION WITH LESS CORRUPTION
Fourteen of the top 20 countries on this year's Corruption Perceptions Index are from Western Europe and the European Union.
"With an average regional score of 66 out of 100, Western Europe and the EU are doing far better than other parts of the globe. However, the patchwork of partially overlapping national and EU-level integrity systems presents its own problems and still has a long way to go to tackle corruption effectively", CPI warns.
Even Denmark, which tops the list, has recently been rocked by the money-laundering scandal surrounding Danske Bank, its biggest lender, among other corruption cases.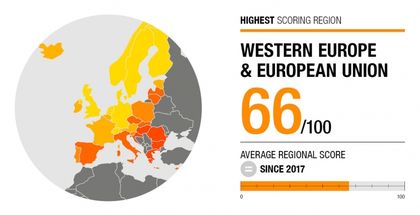 At the bottom of the whole European region, Russia scores 28. It is followed by Ukraine (32), which dropped two points since 2017, and Moldova (33).
Among the biggest drops in the region, Hungary and Turkey decreased by eight and nine points respectively over the last six years.
"These ratings reflect the deterioration of rule of law and democratic institutions, as well as a rapidly shrinking space for civil society and independent media, in those countries", the research states.
Although "events in the past year suggest gains may be fragile", the Czech Republic, with a score of 59, has increased two points since 2017 and eight points since 2014.
CPI researchers believe that "the EU's commitment to promoting human rights and good governance around the world may strengthen interregional anti-corruption efforts".
Published in: Evangelical Focus - life & tech - Corruption withstands passage of time and political changes