TWR's Bonaire transmitter reaches Cuba and beyond
Shine 800 AM Bonaire is reaching homes that no missionary can reach in Latin America and it offers relevant content, discipleship resources, spreading hope to individuals and communities.
24 MAY 2021 · 12:03 CET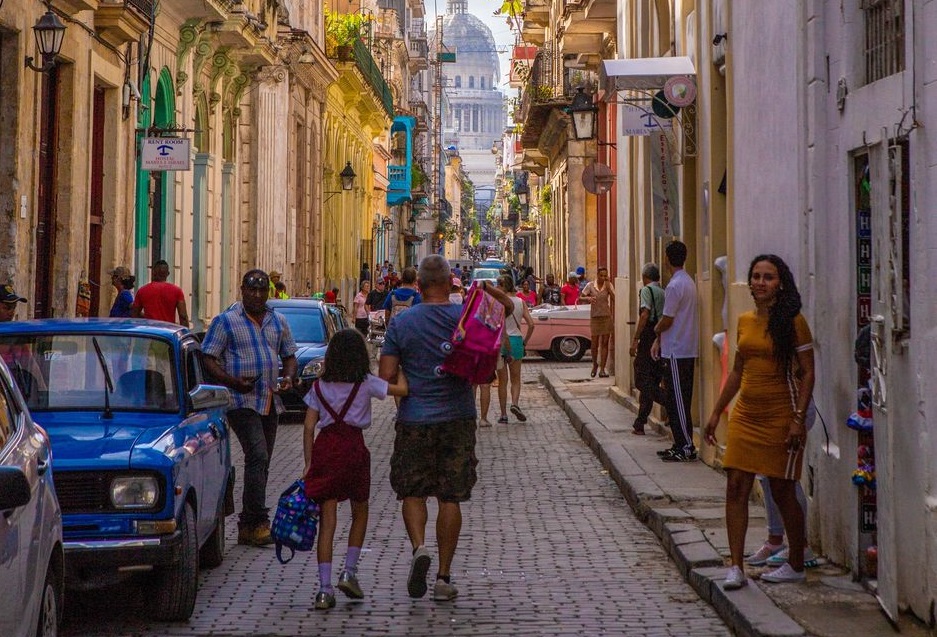 TWR's broadcasts from the Bonaire transmitter are able to reach those living in places like Havana, Cuba. / Photo: Mark de Jong, Unsplash, CC0
Speaking fluently in more than 300 languages and dialects, TWR exists to reach the world for Jesus Christ. Together with international partners, local churches, and other ministries, Radio Trans Mundial,
TWR's Spanish ministry, offers relevant content, discipleship resources, and workers dedicated to spreading hope to individuals and communities around the world.
With TWR's Shine 800 AM transmitter on the Caribbean island of Bonaire, we can reach all of Cuba to the north, the Amazon region of Brazil to the south, Venezuela, Colombia, Mexico, and the Caribbean islands.
Our listeners are still responding, as they have been since the 1960s, about how the Spanish programs are a lifeline of biblical teaching and spiritual encouragement. Every morning, suffering Venezuelans wake up to encouraging programs that help them to keep their eyes on Jesus as they go through very turbulent times.
At night, Cubans stay home to tune in to the teachings in their often newly received Bible. After many years of communism, Cubans are hungry for the Word of God. Early in the morning, tribes in the Amazon, often in groups, turn on their radios to 800 AM and they enjoy hearing Jesus' words in their own language.
Shine 800 AM Bonaire is reaching homes that no missionary can reach in the rural areas of Latin America, from areas controlled by criminal organizations to the secluded villages of Cuba and the Amazon.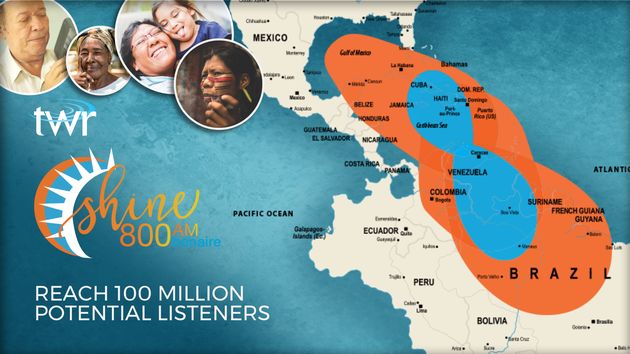 Shine 800 AM Bonaire reaches across Latin America. Listeners hear Shine 800 AM coming to them in six languages every night. / TWR
Support for the family in Cuba
Among about 25 programs that air in Spanish are several that focus on the spiritual health of the family. One of them is Our Home, produced in Cuba.
TWR has had an office in Havana, Cuba, since 2005. Alberto Gonzalez is the TWR Cuba national director. Gonzalez partners with a group of very committed people who are involved in program production, printing and distributing Christian literature, and listener follow-up, including visiting the listeners. Alberto is a very well-known author, speaker, and pastor in Cuba.
Our Home invites the listener to think about how to cultivate relationships within the family. The goal is to help the listener learn how to deal with difficult situations faced at home.
The program covers topics such as lack of communication between family members, divorce, parenting, care for older parents, depression, and infidelity. Alongside these topics, the program emphasizes praise and worship of God as an important element for the individual and his family. A key element in the program is music to prepare the heart of the listener.
Jesus Manuel Blanco, also a Cuban, is a gifted young producer who works alongside Alberto on Our Home. Jesus has a vision and passion to produce quality programming for the people of his country. He is comfortable behind the microphone as they record together in Alberto's studio.
Alberto shares that as for all of us, 2020 was a very challenging year. Just when he was recovering from surgery in February, and almost ready to return to ministry, the global pandemic hit Cuba, and they have been dealing with lockdowns ever since.
He has 52 scripts ready to record as soon as the team can get back into the studio. Alberto also produces Messages of Faith and Hope for Cuba and has written several uplifting books for listeners.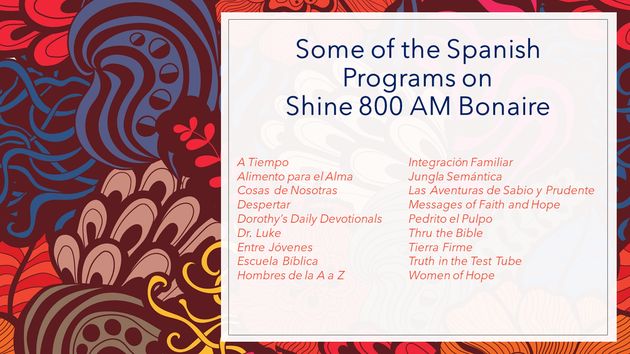 Shine 800 AM Bonaire reaches across Latin America. Listeners hear Shine 800 AM coming to them in six languages every night. / TWR
A special partnership to reach Cuba
The Los Angeles-based ministry Haven Today was distributing Bibles in Cuba when they learned that TWR reaches the entire island nation from one radio station — Shine 800 AM Bonaire.
They had the idea to start a Cuban Bible teaching program called Redemption Lighthouse (El Faro in Spanish), and now the program has been on the air for about 16 months. The speaker, Dan Warne, grew up in Mexico as a missionary kid and started working for Haven Ministries after seminary. He says:
"Cubans don't have the chance to hear testimonies from other Christian Cubans. We work with reporters inside Cuba who collect testimonies of what the Lord has been doing in Cuba. Many listeners are saying that not only do the Bible studies have a great impact, but it is so encouraging to hear other Cubans talking about Jesus — how they were lost and desperate, looking for answers and how they found hope and truth in Jesus. Many Cubans don't have the opportunity to connect with the Christian community, and now they can".
Please pray for TWR and Haven Today as we continue to work together ministering to Cubans. Since many Bibles were destroyed in the past, many are receiving a Bible for the very first time and studying it with us on the air.
From Cuban listeners
"Every night I listen to your TWR program Messages of Faith and Hope. I pray a lot for the ministry that God has placed on this important station. May God bless you more every day".
"I listen to the TWR programs almost every night. It is a blessing to be able to listen at night and meditate on the Bible because there is nothing better than listening to a Christian program and feeling in communion with God at the end of the day. My grandfather also listens to you. He was the one who suggested it to me".
"TWR is stuck in my soul. When the churches were confiscated from us in 1961, you were our church. My father would gather us together - my mother and four children - to listen to TWR. I love that station with all my soul. I lost contact for years. What a joy to get you back. God bless you abundantly".
"We get telephone calls and email messages from within Cuba in response to the programs. We even received an email from Argentina, thanking us for the program. The topic of depression has received the most response. I have had some deep conversations with listeners by phone after the program has aired and have been able to pray with them". – Alberto Gonzalez, TWR's Cuba national director
For more information on TWR's international media ministry in over 190 countries and in more than 300 languages, please go here.
Published in: Evangelical Focus - Radio, Media & Missions - TWR's Bonaire transmitter reaches Cuba and beyond