Did North Korea host an interfaith meeting for peace?
A Roman Catholic agency informs about an ecumenical meeting which would have brought 150 representatives of 7 religions to North Korea this week.
SEOUL · 13 NOVEMBER 2015 · 12:57 CET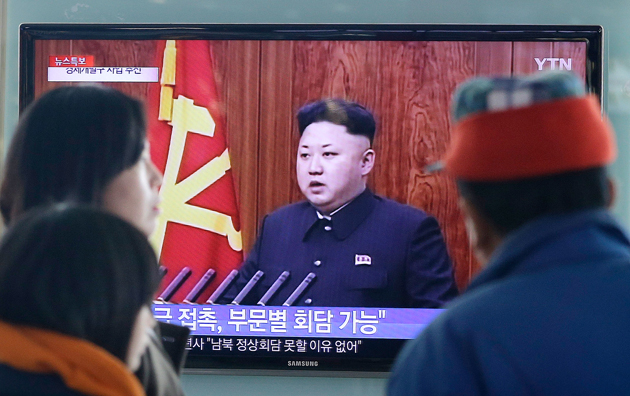 Pedestrians in Seoul, South Korea watch a news program showing North Korean leader Kim Jong Un. / AP
The Roman Catholic agency Fides received a press release which informed about an ecumenical meeting of about 150 faith leaders in North Korea, with representatives from both Koreas.
There is not much information of this event celebrated this week (9-11 November), in which South Korean representatives of seven religions crossed the border.
The faith leaders "gathered under the aegis of 'Korean Conference of Religions for Peace' (KCRP) and reached Mount Kumgang, where there is the well-known Buddhist temple Singyesa, founded in 519, and destroyed during the Korean War (1950-1953) by American bombing and rebuilt in 2004 thanks to a project between the two Koreas. In this symbolic site the rare meetings between religious delegations from North and South are held", the Fides agency writes.
The aims of the conference were to "pray together for peace and stability on the Korean Peninsula". The event is "particularly significant", according to the conference organisers.
In January, Hankyoreh newspaper had informed about the intentions to "hold an inter-Korean meeting of religions for peace in North Korea." The organisers then told that "preparations were under way for a music recital for peace at the Korean Workers' Party Headquarters in Cheorwon County."
RELIGIOUS FREEDOM IN NORTH KOREA?
Concessions like the "Korean Conference of Religions for Peace" could be an attempt to build an image of religious freedom in the country.
But this does not correspond with the reality of a state in which the only worship permitted is that of its leader, Kim Jong Un.
Christians in North Korea are persecuted, tortured, imprisoned in forced labour camps, according to many sources.
The United Nations has condemned the crimes against humanity happening in North Korea, and experienced organisations like Human Rights Watch and Amnesty International confirm these evidences in their own reports.
For several years, Open Doors has been denouncing the systematic persecution of Christians in that country.
CLAIMS OF PERSECUTION ARE "AMERICAN PROPAGANDA"
In a conversation on Twitter with a staff member of Evangelical Focus, official Alejandro Cao de Benós denied these claims saying it was "absolutely false" that Christians were being persecuted in the North Korean regime.
He accused those who denounce the persecution of Christians of "American propaganda", and concluded: "The problem in the world is that there are enlightened people like you who believe themselves to be representatives of God or even God."
Published in: Evangelical Focus - world - Did North Korea host an interfaith meeting for peace?