Opposed views on homosexuality discussed in key worldwide Anglican meeting
Archbishop of Canterbury Justin Welby hopes the crucial meeting happening in London will not end in a split. An alternative communion of leaders from the Global South emerges.
LONDON · 11 JANUARY 2016 · 16:32 CET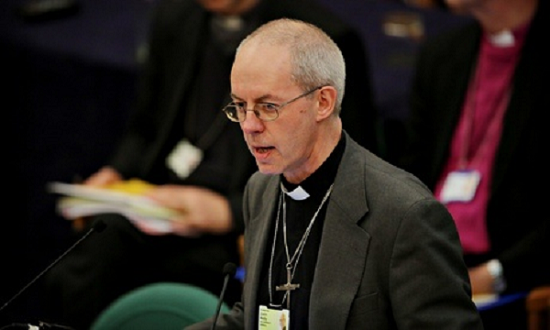 The Archbishop of Canterbury and the primates of 38 Anglican provinces take part in a meeting in the UK in which they will discuss their differences over sexual ethics face to face.
It is the first meeting of this kind since Welby became the spiritual leader of the Anglican Communion.
The crisis started when some of the Anglican 'branches' in the USA (Episcopal Church) and Canada ordained openly gay leaders and started blessing 'homosexual marriages'.
FACING A SERIOUS CRISIS
Many Anglican leaders from the Global South (where most of the 85 Million believers of the Anglican Communion are from) oppose these practices and see them as anti-biblical.
Some of these leaders, who defend the traditional Christian view of sexual ethics, including Stanley Ntagali from Uganda, said they would leave the meeting if the authority of the Scripture is not re-established.
On the other side, the Dean of Newcastle, Christopher Dalliston, was among senior churchman to sign a letter calling on the Anglican Church to repent for "discrimination" against lesbian and gay Christians.
WELBY: SCHISM WOULD BE FAILURE, BUT NOT DISASTER
Speaking to BBC radio just before starting the meeting, Justin Welby said he hoped the meeting would bring reconciliation. But he admitted: "There's nothing I can do if people decide that they want to leave the room. It won't split the Communion."
"We want to stay together to listen to each other in service to Jesus Christ and to focus on, not only the issue of sexuality, but also the huge issues that are affecting people around the world – conflict, persecution, religious violence. Those are also really important on the agenda."
"A schism would not be a disaster... God is bigger than our failures. But it would be a failure. It would not be good if the Church is unable to set an example to the world of showing how we can love one another and disagree profoundly because we are brought together by Jesus Christ not by our own choice. This isn't a form of club or a political party. It is something done by God."
AN ALTERNATIVE COMMUNION?
In 2008, some of the Anglican churches which defend that the Bible only gives room for heterosexual marriages created the GAFCON (Global Anglican Future Conference), uniting Kenya, Nigeria, Uganda, South Sudan, Congo, Rwanda, the province of South America and the unofficial split from the Anglican Church of North America (a group which left the Episcopal Church).
Published in: Evangelical Focus - world - Opposed views on homosexuality discussed in key worldwide Anglican meeting