Boko Haram bombings in two Nigerian towns leave 26 dead
Suicide attacks on two predominantly Christian communities in northeast Nigeria. Many displaced Christians refuse to return to their homes, evangelical pastors told Morning Star News.
Morning Star News · JOS · 30 JANUARY 2016 · 11:39 CET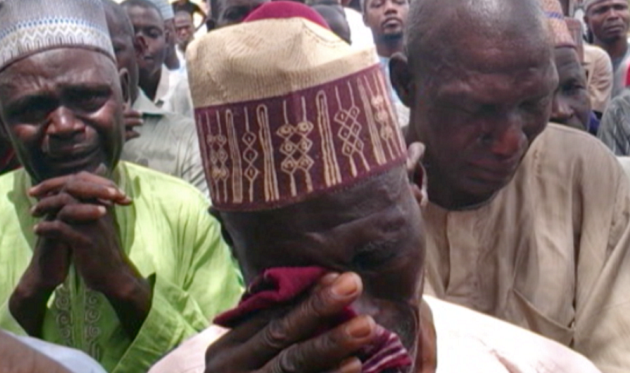 Parents in Chibok lament kidnapping of their daughters. / VOA, Morning Star News.
At noon on Friday 29th January, a suicide bomber suspected to have been sent by the Islamic extremist Boko Haram group detonated explosives in a crowded market in Gombi, Adamawa state, killing at least eight people, sources said, Morning Star News informed.
Boko Haram, which seeks to impose sharia (Islamic law) throughout Nigeria, has continued to carry out terrorist attacks since losing territory to the Nigerian military last year.
"Some members of our church who escaped the attack in the market said they saw eight dead bodies, while about 28 others were injured," the Rev. Bitrus Njidda, pastor of the Church of the Brethren in Nigeria (EYN) in the town, told Morning Star News.
The Red Cross reported eight persons killed and 25 wounded in the bombing, said to have been carried out by a teenage boy.
Gombi was one of several Christian communities taken over by Boko Haram, and many of the town's displaced Christians are EYN members still living in camps for internally displaced people in other parts of the country, the pastor said. Though the Nigerian military has since reclaimed Gombi, many of these displaced Christians have refused to return to the town due to fear of terrorists.
ON WEDNESDAY, A BOMB IN A MARKET
In Chibok, Borno state, suicide bombers suspected to have been sent by Boko Haram bombed a crowded market on Wednesday (Jan. 27), killing at least 17 civilians and a soldier and injuring at least 30 others, sources said. Following the government troop recovery of the town, the market had reopened that day for the first time since Boko Haram took over Chibok two years ago, area Christians said.
Boko Haram kidnapped more than 300 high school girls in Chibok in April 2014 because of its mainly Christian population. Of the girls kidnapped since the Islamic extremist rebels seized the town two years ago, 219 remain missing.
Six suicide bombers reportedly entered Chibok on Wednesday, and The AP reported a military spokesman said that two of them were disguised as women.
Ayuba Ali, a resident of Chibok town, told Morning Star News that more than 15 persons lost their lives and another 30 were injured in the attack carried out in three locations in the town.
"Twenty-one wounded people have already been taken to Askira Uba General Hospital," Ali said by phone. "Chibok is still not safe for displaced persons to return to."
Njidda, who was a pastor and EYN church secretary in Chibok District before his transfer to Gombi, told Morning Star News that reports reaching him from Chibok indicate that members of the church were affected.
"While I was pastoring the church there," he added, "I had to bury more than 45 members of my church who were killed by Boko Haram Islamists in a single day. It is an incident I cannot forget in my life."
The first explosion in Chibok reportedly hit at a military checkpoint, where a soldier was wounded and later succumbed to his injuries. At the crowded market, a woman that authorities were about to search blew herself up, killing several people and wounding a commander, according to The AP. Veiled women or men dressed as women detonated other explosives at the market, it reported.
CONTEXT
Recently Boko Haram, which originated in Maiduguri, Borno state and has pledged allegiance to the Islamic State (Daesh), has increasingly used child and adult suicide bombers who may have been captured by the terrorist group. The bombers may not be carrying out the atrocities willingly; some explosives have been detonated remotely, a military bomb expert has told The AP.
Boko Haram launched a violent campaign in 2009 that has killed an estimated 17,000 to 20,000 people and forced more than 2.5 million to flee their homes. Muhammadu Buhari, president of the 51-percent Christian and 45-percent Muslim country, last month declared that Boko Haram had been "technically" defeated.
Published in: Evangelical Focus - world - Boko Haram bombings in two Nigerian towns leave 26 dead