Ecuador: "There are stories of miracles but there is also much pain"
Two Christians in Ecuador explain how the country tries to go back to its feet after an earthquake killed more than 430 people. "May the Lord give us wisdom and words of hope for those who have suffered the devastation."
QUITO · 19 APRIL 2016 · 17:38 CET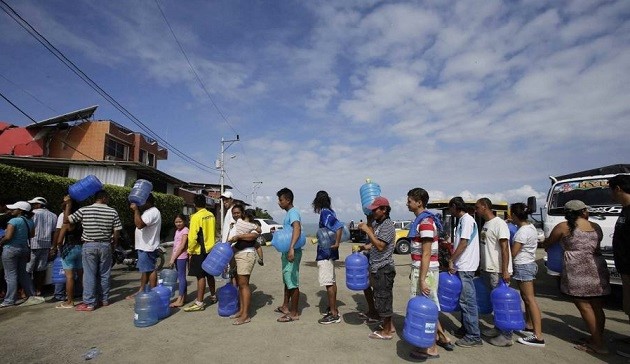 Queues of citizens waiting to get water in Pedernales (Ecuador). / El Universo
Day after day, more information is known about the destruction the 7.8 Richter earthquake that hit Ecuador on Saturday has caused so far.
Authorities confirmed that at least 430 people have lost their lives, while hundreds of families have lost their homes. Many are praying for the country across the world.
Two evangelical Christians living in the country told Evangelical Focus about the situation there.
"EVERYTHING WAS SHAKING"
Ester Hernández lives in La Libertad (Santa Elena). "My husband and we were at work when the quake happened. Everything was shaking, and us and the clients run out, it was not easy to stay on your feet. The cars parked outside were also moving", she explains.
It was later when she realised the real impact of the disaster in other regions of Ecuador: "We never thought it had been so destructive. When the radios worked again, we realised the epicentre of the quake was in Pedernales (Manabí)." But even now, where she lives in the south, "the earth is still shaking at times, there have been 300 aftershocks."
HOW TO SEE GOD IN THE MIDDST OF THE DISASTER
From a Christian perspective, what thoughts come to mind after a natural disaster like this? "Living everything in first person here, it challenges many things, spiritually", Ester says. "But it is clear that, even in the midst of the disaster God is being glorified. People are found alive after two days, and this shows He is in control, and nothing happens without His permission."
In the midst of the pain, there is an opportunity for "Christians to offer everything they have to the community and show their commitment and love for their neighbour."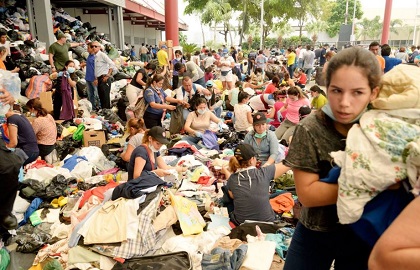 Many have lost their lives, "and there is no way in which we can comfort the families, but we can tell them about the God of peace, the kind of peace that surpasses all knowledge. It is tough, there are stories of miracles but also scenes of much pain."
"STILL ASSIMILATING THE DEVASTATION"
Aníbal Nicolalde is an evangelical pastor in Ibarra (Imbaburra), in the north of Ecuador. "The Ecuadorian society is very moved and, I would say, in a state of shock. We have not yet assimilated the great devastation the quake has caused."
In our denomination "Iglesia del Pacto" (Covenant Church) we have local churches in the cities most affected, like Pedernales, Manta, Montecrisiti, … Several families members of our churches have suffered the partial or total loss of their homes", he tells us. This Christian communities have now started to work together.
All kind of initiatives have been started both by the government and by groups of citizens and NGOs, "one can see a spirit of national unity and solidarity."
EVANGELICAL CHURCHES REACT
Evangelicals across the country have created "an inter-denominational emergency committee to unite efforts and attend the brothers and sisters of the different evangelical churches that have been affected, as well as other people in the society around us."
"Financial help, clothes, food, hygienic products" are collected. Volunteers are needed, and "in the future we will need medical teams, psychologists and people specialised in building."
HOW SHOULD WE PRAY FOR ECUADOR?
"We ask you to pray for the families who have lost it all, and even lost family members, may God give them peace and a new start", says Ester Hernández. "In the midst of the chaos, may as many people as possible be rescued from under the rubble. Please take some time to pray for our country."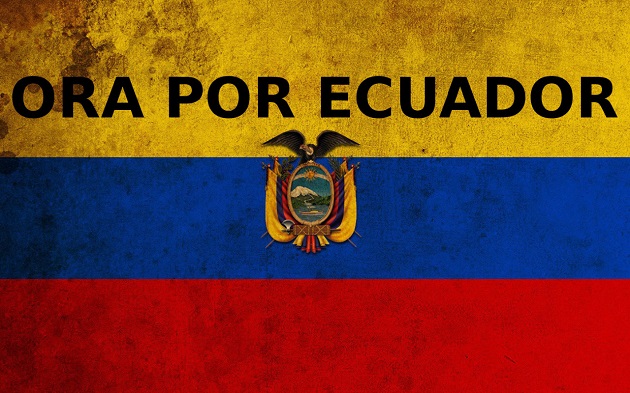 Pastor Aníbal Nicolade adds three other prayer requests:
- May God give us the strength to face this times of loss and pain.
- May the Lord give us the wisdom to walk with the people who have suffered this devastation and bring them words of hope.
- May God give the financial and material resources to help a society that is suffering.
Published in: Evangelical Focus - world - Ecuador: "There are stories of miracles but there is also much pain"