Baghdad suicide bombing killed at least 165, Daesh claims responsibility
It is the deadliest single bomb attack in Iraq since 2007. 28 people also died in Bangladesh on Saturday, after another Daesh attack in a cafe.
BBC, Agencies · BAGHDAD · 04 JULY 2016 · 12:40 CET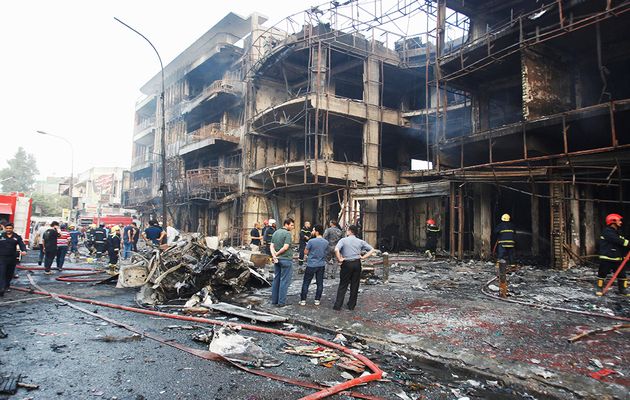 Teams working after the attack
The number of people killed in Sunday's suicide bomb attack in the Iraqi capital, Baghdad, has risen to 165, interior ministry officials have said.
The government has declared three days of mourning after the huge blast, which injured 225 others.
DAESH CLAIMS RESPONSIBILITY
A lorry packed with explosives was detonated in the Karrada district while families were shopping for the holiday marking the end of Ramadan. It is believed to be the deadliest single bomb attack in Iraq since 2007.
A second bomb exploded shortly afterwards in another predominantly Shia area north of the capital, killing another five people.
Daesh claimed responsibility for the attack. It was the latest in a string of assaults during Ramadan, a period of fasting and prayer for Muslims and also a time when jihadists launch operations against those they regard as their enemies.
MORE SECURITY
Prime Minister Haider al-Abadi was greeted by angry crowds when he visited the mainly Shia Muslim area in the hours after the bombing.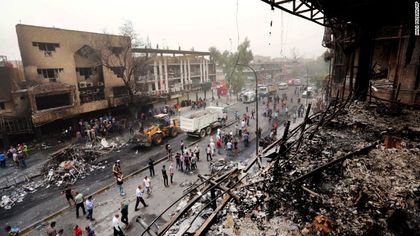 His office said Mr Abadi understood the reaction of residents and would increase security by banning "magic wand" fake bomb detectors and improving vehicle inspections at roads into the city.
The fake bomb detectors, some based on cheap devices for finding golf balls, were sold in large numbers to Iraq by several different fraudsters.
As night fell on Sunday, teams of workers were still clearing debris from the site and searching the charred remnants of buildings.
WHOLE FAMILIES AMONG THE VICTIMS
"We need a number of days to be able to recover the bodies of victims. It is a difficult task," a member of the civil defence forces told AFP news agency.
"The lists of victims I saw included whole families - the father and his sons, the mother and her daughters - whole families were wiped out by this explosion."
DAESH REVENGE
Daesh, which follows its own extreme version of Sunni Islam, said in an online statement that the attack in Karrada was carried out by an Iraqi as part of "ongoing security operations".
UN Iraq envoy Jan Kubis said IS militants who have "suffered defeats at the battlefront are seeking to avenge their losses by targeting vulnerable civilians".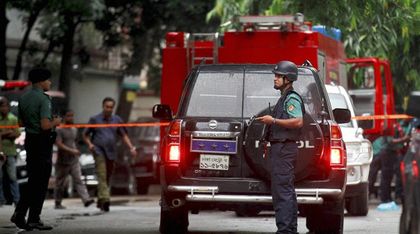 "These attacks only strengthen our resolve to support Iraqi security forces as they continue to take back territory from ISIL, just as we continue to intensify our efforts to root out ISIL's terrorist network and leaders", U.S. National Security Council spokesman Ned Price said.
The bombing at around midnight on Saturday came a week after Iraqi forces recaptured the city of Falluja from Daesh.
28 KILLED IN BANGLADESH
Twenty hostages were killed in the siege at the Holey Artisan Bakery cafe in Dhaka (Bangladesh) that police ended by force on Saturday. They were construction consultants from Japan, Italian businesspeople in textiles and three students from American universities.
Daesh claimed responsibility for the attack, saying it had targeted citizens of what it called "Crusader countries". Bangladeshi prime minister Shiekh Hasina has announced two days of national holiday mourning after the attack
In a televised address to the nation she called for unity against criminal elements following the attack in the diplomatic quarter of the Bangladesh's capital in which six militants and two police officers were also killed.
Thirteen people were rescued after more than 100 Bangladeshi commandos stormed the Holey Artisan Bakery after the 12-hour siege.
Published in: Evangelical Focus - world - Baghdad suicide bombing killed at least 165, Daesh claims responsibility