Filipino President declares January as "National Bible Month"
President Rodrigo Duterte's Proclamation defines the Bible as "fitting and proper for the molding of the spiritual, moral and social fiber of our citizenry."
PBS, Inquirer · MANILA · 12 JANUARY 2017 · 17:50 CET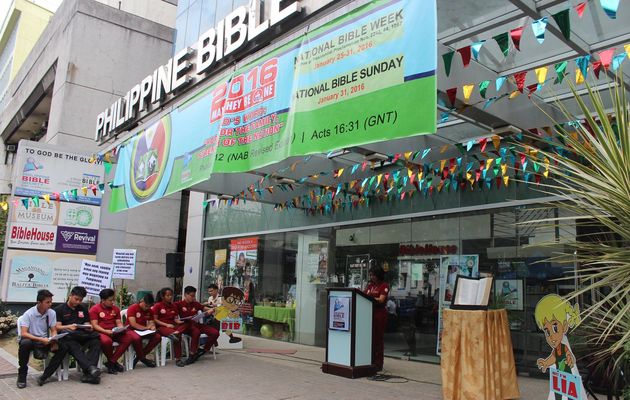 Bible week event in Manila. / PBS
President of the Philippines, Rodrigo Duterte, has signed Proclamation No. 124, which declares the month of January of every year as the "National Bible Month."
Signed on January 5, 2017, the Proclamation says that "the state recognizes the religious nature of the Filipino people and the elevating influence of religion in human society."
It also sets every last week of January as "National Bible Week."
"PROFOUND IMPACT OF THE BIBLE"
The statement points out that "the 1987 Constitution calls on the government to support efforts to strengthen the ethical and spiritual values and to develop the moral character of the Filipino people."
And "history bears witness to the profound impact of the Bible on the life of nations, and to how it has moved and inspired many people, including statesmen and social reformers to work for the betterment of their fellow human beings even at great cost to themselves."
"NATIONAL ATTENTION FOCUSED ON THE BIBLE"
That is why, "while maintaining neutrality in its treatment of all religious communities, the government is not precluded from pursuing valid objectives secular in character even if it would have an incidental result affecting a particular religion or sect", the Proclamation states.
"It is fitting and proper for the molding of the spiritual, moral and social fiber of our citizenry, that national attention be focused on the importance of reading and studying the Bible", it concludes.
JANUARY, TRADITIONALLY A BIBLE MONTH
The country has been celebrating National Bible Week (NBW) and National Bible Sunday annually since former President Ferdinand E. Marcos signed Presidential Proclamation No. 2242 on November 19, 1982 declaring that "it is fitting and proper that national attention be focused on the important role being played by reading and study of the Bible in molding the moral fiber of our society."
President Marcos originally declared the first Sunday of Advent and the last week of November every year as National Bible Sunday and National Bible Week.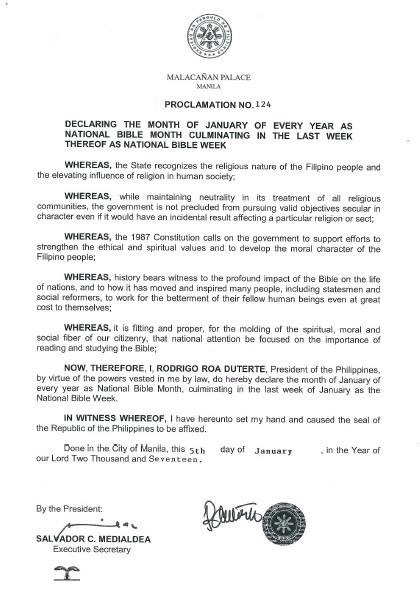 The celebration in January came about during the term of President Corazon C. Aquino who issued Proclamation No. 44 in 1986 which transferred and made official the NBW celebration in the first month of the year.
The proclamation was reinforced by President Fidel V. Ramos in PP 1067. Since then, the nation has set aside one week every year to commemorate the importance of the Bible in nation building.
With Duterte's Proclamation, that week has become a month.
PHILIPPINE BIBLE SOCIETY THANKS PRESIDENT
In a press release, the Philippine Bible Society (PBS) and the other members of the Christian community, have thanked President Duterte for declaring the month of January of every year as National Bible Month.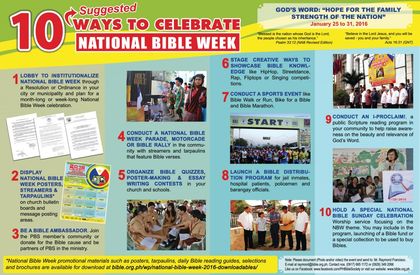 "This strengthens the importance of the Bible in molding the character of the Filipinos in their family life and nation building at the start of the year", the statement says.
According to the PBS, the proclamation "upholds biblical principles in dealing with the citizenry and different sectors in society."
"RAISE AWARENESS ON THE IMPORTANCE OF THE BIBLE"
Bible-related events such as Bible enthronement, Bible distributions, fun runs, Bible quizzes, and Bible reading called the I-Proclaim, among others, have been lined up across the country by churches, schools, Local Government Units, and Non-Government Organizations.
"We encourage churches, schools and organisations to help raise awareness on the importance of the Bible in people's lives. Let us make our countrymen realize that it is a source of strength and wisdom and is not just applicable during times of trials but as a guiding light all our lives", PBS General Secretary, Nora G. Lucero, says.
Published in: Evangelical Focus - world - Filipino President declares January as "National Bible Month"