ISIS releases video purporting to show execution of Kenji Goto
Apparent death of kidnapped journalist follows days of back-door negotiations between Islamic State and government Shinzo Abe
The Guardian · LONDON · 31 JANUARY 2015 · 22:05 CET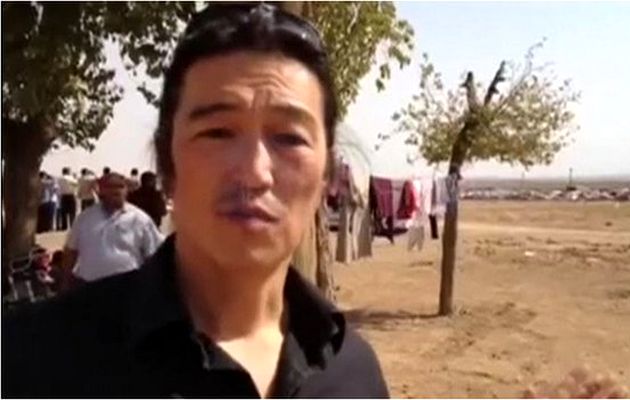 Islamic State (Isis) militants have released a video purportedly showing the beheading of the Japanese journalist Kenji Goto, ending days of negotiations by diplomats to save the man.
The video, called A Message to the Government of Japan, featured a militant who looked and sounded like a man with a British accent who has taken part in other Isis. Goto, kneeling in an orange prison jumpsuit, said nothing in the roughly one-minute-long video.
"Abe," the militant says in the video, referring to the Japanese prime minister, Shinzo Abe, "because of your reckless decision to take part in an unwinnable war, this man will not only slaughter Kenji but will also carry on and cause carnage wherever your people are found. So let the nightmare for Japan begin."
The video, released on militant websites on Saturday night, bore the symbol of the Islamic State group's al-Furqan media arm.
Though it could not be immediately verified, it conformed to other beheading videos released by Isis, which controls a third of both Syria and neighbouring Iraq in its self-declared caliphate.
KENJI GOTO
Goto, 47, a veteran war correspondent, was captured in October after he travelled to Syria to try to win the release of Haruna Yukawa.
Kenji Goto, whose small company Independent Press supplies stories to Japanese media from conflicts around the world, became a Christian and was baptized in the 1990s.
The hostage drama began last week after militants threatened to kill Goto and Yukawa in 72 hours unless Japan paid $200m (£130m).
Jordan and Japan reportedly conducted indirect negotiations with the militants through Iraqi tribal leaders.
The Japanese public broadcaster NHK said the government was trying to authenticate the beheading video.
Abe's government had put high priority on seeking the release of Goto. Previous videos purporting to show the journalist had said he would be released if Jordan freed an Iraqi would-be suicide bomber, Sajida al-Rishawi. Amman said it was willing to free her if it could get assurances of the safety of a Jordanian pilot also held by Isis.
Published in: Evangelical Focus - world - ISIS releases video purporting to show execution of Kenji Goto