Evangelicals admonish President Weah to appoint "honest" servants with a "tested character"
The former football star is sworn in as Liberia's new head of state.
MONROVIA · 23 JANUARY 2018 · 15:44 CET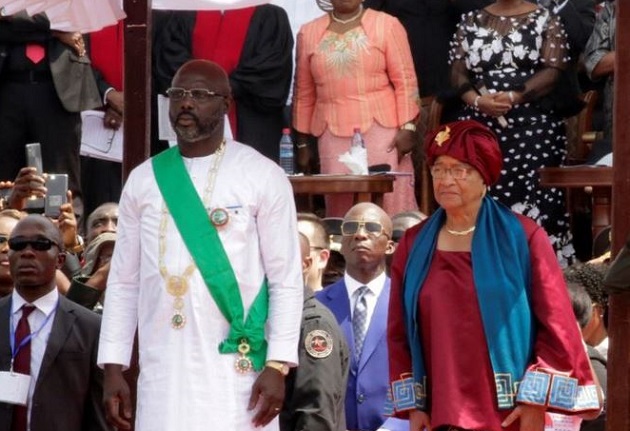 President George Weah standing next to his predecessor, Ellen Johnson Sirleaf. / Twitter
For the first time in more than 73 years, Liberia has witnessed a peaceful and democratic transition of power.
After a distinguished football career in Europe (playing with Paris Saint Germain and Milan, winning the FIFA world player of the year), George Weah has reached the aspiration of leading the country in which he was born.
He had been a candidate twice before, but lost against his predecessor Ellen Johnson Sirleaf (in 2005 and 2011), who attended the inauguration ceremony on January 22.
Weah had won the second round of the presidential election on December 26 with 60% of the votes, defeating incumbent vice-president Joseph Boakai.
WEAH VOWS TO "TRANSFORM THE LIVES OF LIBERIANS"
Long queues of people were formed outside the biggest stadium in Monrovia, where 35,000 acclaimed the new leader. "I have spent my life in stadiums but I've never felt like this", Weah said in his opening address.
Wearing in white, Weah promised to "transform the lives of all Liberians" by fighting corruption and taking actions to empower businesses.
It is an honor to welcome in our country African and international leaders and partners, for my Inauguration Day. I have many plans for Liberia. Be ready for visible and major positive changes.

— George Weah (@GeorgeWeahOff) 21 de gener de 2018
"This victory would not have been possible without the youth of this country, the women of this country who made their living selling in the market", he said.
"I have taken an oath before you and before almighty God", he added. "Rest assured I will not let you down".
The new president thanked Johnson Sirleaf for "laying the foundations on which we can now stand in peace", after years of civil war in the 4.6 million people nation.
EVANGELICALS: 'HONEST SERVANTS' NEEDED
Evangelical Christians have asked George Weah to create an "inclusive government by recruiting qualified Liberians from all walks of life, regardless of their gender, political, religious, or tribal background to be part of the new government".
A statement by the Association of Evangelicals of Liberia (AEL) admonished the new president to look for "servants that have love for the country, who are honest, have tested and proven character".
"Corruption", "nepotism" and "impunity" should come to an end, the AEL stated. "Basic social services such as electricity, water, quality roads, good and quality healthcare, and improvement in the learning conditions at schools and universities" should also be a top priority, Samuel K. Monwell, the president of the body representing most evangelical churches of the country said.
"We are prepared to collaborate with the newly elected government in striving to achieve a better and prosperous Liberia", Monwell added.
The Association of Evangelicals of Liberia has been involved in civil voter education, observation and monitoring of the last four presidential elections.
Published in: Evangelical Focus - world - Evangelicals admonish President Weah to appoint "honest" servants with a "tested character"