Churches in Florida join to pray after the shooting
Several churches in the area call to pray for "school teachers and administrators, parents teens, victims and families".
Baptist News, Christianity Today, Disasternews · FLORIDA · 16 FEBRUARY 2018 · 18:00 CET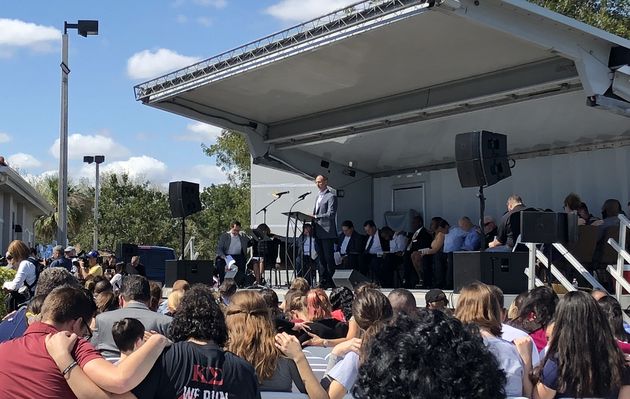 Prayer service at Parkridge church. / Baptist Press. Photo by Keila
Many churches and ministries in southern Florida has organized prayer vigils and activities to help families and victims, after the deadly school shooting Wednesday afternoon at the Stoneman Douglas High School in Parkland, Florida.
Billy Graham Evangelistic Association (BGEA) sent a group of 17 crisis-trained chaplains to the area to help offer emotional and spiritual care to the many people who are suffering from this horrific incident.
"Our hearts break for the parents who sent their children to school, and are now with them in the hospital, or living a parent's worst nightmare", said Jack Munday, international director of the Billy Graham Rapid Response Team, in a statement.
"So many lives have been forever changed by this evil act. As we pray for the students, faculty, and families, we know God can bring hope and comfort, in Jesus Christ, in the darkest hours."
"BRING THE MESSAGE OF HOPE THAT COMES THROUGHT JESUS"
Parkridge Church, a Baptist community which met for seven years at the high school, teamed up with fellow churches in the community to host a vigil prayer Wednesday night and urged its congregation to pray for "our law enforcement officials, school teachers, and administrators, parents and teens, victims and families" .
"I'm praying that our churches, our church specifically, and other Bible-believing churches in our area, that we will point people to Jesus", pastor Eddie Bevill told Christianity Today.
In the same area, Church by the Glades lost one member of their church and another was injured, Baptist Press informs.
"Do we let fear and cruelty, violence and hatred win, or do we continue to fight against the darkness and continue to bring the message of hope and light that comes through Jesus Christ?", church's lead pastor, David Hughes pointed out.
LOCAL AUTHORITIES ALSO CALL TO PRAY
The Salvation Army in Broward County said that in addition to providing a mobile kitchen for first responders, it was coordinating its response with the Broward Emergency Operations Center to identify ongoing needs.
Not only churches and ministries in the are called to pray. "It is a day you pray every day you don't have to see", Robert W. Runcie, the superintendent of Broward County Public Schools, told reporters.
"Our hearts are broken. Please keep everyone in your thoughts and prayers", he added.
Law enforcement officials also suggested prayers. "We need to pray tonight for these families, we need to pray for our communities".
"POLICY AND CHANGE"
While many have also asked for prayers in social media, others have instead demanded "policy and change".
Hunger Games actress Elizabeth Banks tweeted about the Parkland shooting using hashtags including #guncontrol. and Kim Kardashian agreed that "prayers won't do this".
She wants US officials to "do your job and protect Americans from senseless gun violence". Actor Mark Ruffalo says prayers "without accordant action" amount to "nothing".
Published in: Evangelical Focus - world - Churches in Florida join to pray after the shooting