Western countries expel Russian diplomats to send a "coordinated message"
Several EU countries and the USA show their opposition to Vladimir Putin. "We will not tolerate Russia's continued attempts to undermine our values", says UK Prime Minister Theresa May.
LONDON · 27 MARCH 2018 · 09:10 CET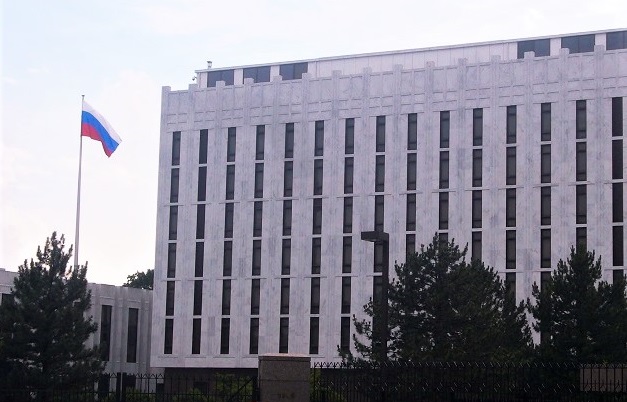 The Embassy of Russian in Washington DC, USA. / K. Wang, WIkimedia Commons
United Kingdom Prime Minister Theresa May has welcomed what she described as the "the largest collective expulsion of Russian intelligence officers in history".
More than 20 countries sent a "coordinated message" to recently re-elected President Vladimir Putin on Monday. Over 100 Russian diplomats alleged to be spies were told to return to Moscow.
The political moves are a response to the use of a chemical weapon in Salisbury (UK) in the attempted murder of a former Russian intelligence official and his daughter. The attack exposed about 130 other people to nerve agent Novichok.
Speaking at the House of Commons (parliament), May said: "Together we have sent a message that we will not tolerate Russia's continued attempts to flout international law and undermine our values".
GERMANY, FRANCE, USA…
The EU members that will expel Russian diplomats are Germany, France, Poland, Lithuania, the Czech Republic, Denmark, Italy, Spain, the Netherlands, Estonia, Latvia, Croatia, Finland, Hungary, Sweden and Romania. Iceland announced it would not be sending officials to the World Cup in Russia.
The President of the European Council, Donald Tusk, noted that "additional measures, including further expulsions were not excluded in the coming days".
Other countries in Europe such as Ukraine, Albania, Macedonia will expel diplomats as well.
In the rest of the world, Canada and Australia announced they will also demand Russian diplomats they consider to be spies to leave their country.
The United States will close the Russian consulate in Seattle and expel as many as 60 officers.
GROWING TENSION
The Russian government responded on Monday calling the expulsions an "unfriendly step". The country will "respond harshly", a spokesperson said.
Two weeks ago, the United Kingdom ejected 23 diplomats in the wake of the poisoning. The Russian government responded with ejecting the same number of British diplomats.
The political tensions between Russia and the EU and NATO allies reflects deeper tensions in the relationships between Vladimir Putin and the leaders of many Western countries, who accuse the Kremlin of interfering in national elections and seeking to undermine democracy.
Russian evangelical Christians told Evangelical Focus: "Religious freedom for the evangelical minorities is very much dependent on the course of East-West relations. If they get worse, so will relations between evangelicals and the state".


Published in: Evangelical Focus - world - Western countries expel Russian diplomats to send a "coordinated message"