Imran Khan wins Pakistan elections without a majority
All opposition parties claim the vote was rigged. At least 31 died in a terrorist attack on election day in Quetta.
Agencies, BBC · ISLAMABAD · 27 JULY 2018 · 16:09 CET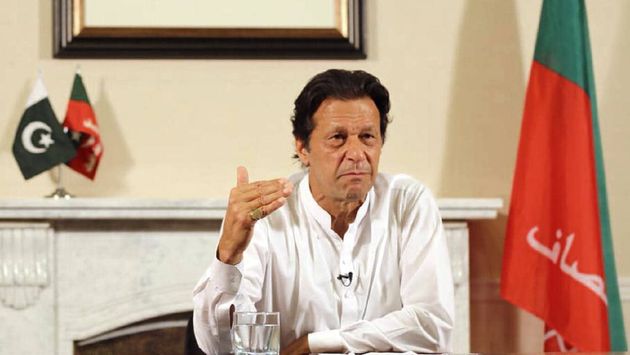 Imran Khan gave a televised speech declaring victory as PrimeMminister. / YouTube.
The leader of the the Pakistan Tehreek-e-Insaf (PTI) party, former cricketer Imran Khan, has claimed victory in Pakistan's election, amid accusations of vote rigging by rivals.
The Election Commission of Pakistan (ECP) has released 95% of the results of National and four provincial assemblies' seats this Friday, with a delay of almost 2 days.
WITHOUT A MAJORITY
According to the ECP, the PTI has won 114 seats in the National Assembly, while the formerly governing Pakistan Muslim League Nawaz (PML-N) holds 63, followed by the Pakistan People's Party (PPP) party which has won 43 seats.
The turnout has been estimated at between 50% and 55% out of 106 million registered voters, AFP reports.
Khan will still need to form a coalition to become Prime Minister, because a total of 137 seats is required for a majority.
"ISLAMIC WELFARE STATE, AS PER MEDIDA"
Despite the official figures were not confirmed yet, Imran Khan gave a televised speech declaring victory as Prime Minister on Thursday.
He thanked Allah for his victory and said he "have forgotten all personal attacks on me, even if you didn't vote for me […] Change and accountability will start from me and my team and there will be no political victimisation towards any of my opponents".
Khan promised that "Pakistan's policies will be made for poor people", in order to "make Pakistan an Islamic Welfare good state, as per Medina".
He emphasised his social measures: "We will work towards enrolling 25 million out of school children. We will use all governor houses for public and I won't live in PM house we will make it an educational institution".
The coming Prime Minister also want to improve the relationships with China, the US, India and Afghanistan.
RIGGING ACCUSATIONS
All Khan's rivals have claimed elections were rigged, raising severe allegations against the election commission and the polling authorities.
Shahbaz Sharif, leader of the incumbent PML-N said on Twitter there had been "massive rigging" in Khan's favor.
ECP should give strict instructions for issuance of the Form 45. It completely failed in its main responsibility of holding a free, fair & transparent elections. A serious blow has been dealt to the democratic process of the country.

— Shehbaz Sharif (@CMShehbaz) 25 de julio de 2018
Meanwhile, the leader of the PPP, Bilawal Bhutto Zardari, also took to Twitter to say he would reject the results over concerns of ballot-rigging, saying it was "inexcusable and outrageous".
Analysts have also highlighted unusual delays in the announcement of unofficial results in dozens of constituencies, especially in the crucial province of Punjab.
EU: "BETTER THAN IN 2013"
The European Union has said that the general elections in Pakistan were satisfactory.
"Our observers visited as many as 300 polling stations in 87 constituencies and I have personally visited four polling stations, there is improvement compared to the previous elections held in 2013", said EU Election Observation Mission to Pakistan (EOMP) Chief Observer (CO) Michael Gahler.
The EU "will release our preliminary report on Friday and a detailed report will be released later after assessing the overall situation", he added.
AT LEAST 31 DIED IN TERRORIST ATTACK
Wednesday's poll was overshadowed by a bomb attack outside a polling station in the city of Quetta, which killed at least 31 people and injured dozens more. Daesh claimed responsibility.
The bombing was the latest in a series of deadly attacks during the campaign. A suicide bombing in the same province earlier this month killed 150 people at a political rally.
Published in: Evangelical Focus - world - Imran Khan wins Pakistan elections without a majority