Andrew Brunson: "God was involved in this, millions of people prayed for Turkey"
The US pastor and his wife Norine spoke on TV about the difficulties of the last two years. "As Christians, we have not the option not to forgive".
CBS · NEW YORK · 17 OCTOBER 2018 · 15:07 CET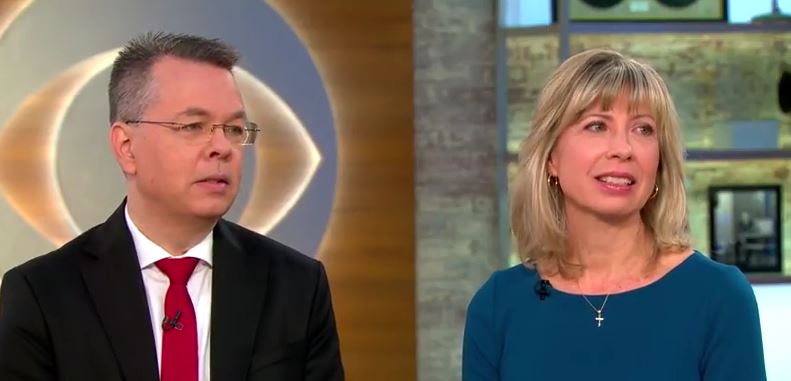 Andrew and Norinne Brunson, interviewed on CBS on October 16. / Youtube CBS This Morning
Pastor Andrew Brunson, the pastor of the Presbyterian Resurrection Church in Izmir (Turkey) imprisoned for two years "read 2 Timothy a lot" when he eventually was allowed to have a Bible.
After landing in the United States and visiting the White House, both Pastor Andrew and his wife Norine spoke to national television broadcaster CBS.
In October 2016, when they were arrested, "we were told that we were a threat to national security and that we would be deported", the pastor explained. "But we waited to be deported, but they didn't". Although Norine was freed after 13 days, Andrew was jailed in a high security prison.
They were "shocked, because we had spent twenty-three years working very openly, talking people about Jesus, helping refugees, things like these. We hadn't done anything that would harm national security".
'SILENCE AND UNCERTAINTY'
After it was clear that Andrew would not be released, Norinne and the family went through "a lot of uncertainty", because "I wanted to stay with him [Andrew] but did not know if I could remain in the country".
There were "many questions marks, silence, not knowing what was going on" during the first months of Brunson's imprisonment.
"I was in solitary confinement for some time and then in a prison that was overcrowded", Andrew explained. He shared a cell at times with more than twenty other people.
Pastor Andrew could see his wife for 35 minutes a week, "through glass and talking by phone". She [Norinne] was very strong and had to take me through this emotionally and spiritually, she was the only one I could receive truth from". Her encouragement every seven days was what kept Andrew "going for the next week", he said.
"GOD WAS INVOLVED IN THIS"
Andrew also said: "For whatever reason the Turkish government was holding us for, I believe that God was involved in this for us, because I think of millions of people who prayed for Turkey in that time. God is bringing blessing out of it".
Was he allowed to read the Bible? "Eventually, it took a while until I was allowed to have any books or Bible "I read 2 Timothy a lot where Paul talks about suffering and finishing the race well and this became my prayer: I want to be faithful, endure, and finish well".
When it was announced that Andrew would be freed, "we got on our knees in the courthouse", Norine explained, "we did not care what everybody thought".
LOVE FOR TURKEY
"Forgiveness is part of this process", Norine said when she was asked about the weeks ahead. "We have not an option not to forgive as Christians, but it is not easy".
About the visit to the White House and their prayer for Donald Trump, the couple explained that Norine had dreamed about praying for the President, and therefore used the opportunity.
Watch the interview on CBS This Morning:
To finish the interview, Norine empasized once more their connection with the country in which they served for 23 years. "We love Turkey, we have dear friends there, we pray for its blessing".
The couple will not be able to return to the country soon, they said. But "forgiveness has to be part of this, we have not an option not to forgive, as Christians. But it is not easy, we are working through that".
TWO YEARS OF IMPRISONMENT IN TURKEY
Andrew and Norinne Brunson were arrested in 2016. Norinne was released after 13 days, and Andrew remained imprisoned charged with espionage and links to terrorist groups. After he was moved to house arrest in July 2018, he was finally released on October 12, after being sentenced to time he already had served in prison.
Brunson always denied all charges, saying he wanted "the truth to come out". During the court hearings, he repeatedly spoke about his love for Turkey, adding that his only mission was to make Jesus Christ known.
Published in: Evangelical Focus - world - Andrew Brunson: "God was involved in this, millions of people prayed for Turkey"