Australian Prime Minister offers national apology to child abuse victims
"As a nation we confront our failure to listen, to believe, and to provide justice. We say sorry", Scott Morrison said in a public speech at the Parliament.
CANBERRA · 23 OCTOBER 2018 · 16:15 CET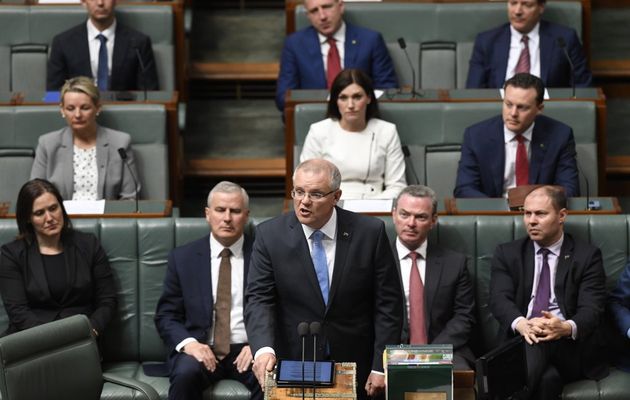 Australia's Prime Minister apologized publicly to the country's victims of child sex abuse. / Twitter.
Australia's Prime Minister apologized publicly to the country's victims of child sex abuse, saying the nation must acknowledge their long and painful journey.
"Today as a nation we confront our failure to listen, to believe, and to provide justice. We say sorry", Scott Morrison pointed out.
Hundreds of child abuse survivors gathered in Canberra on Monday to hear Morrison deliver an emotional speech in the Australian Parliament.
"WHY?"
The Prime Minister acknowledged the suffering of victims and condemned institutional failures. He pointed out that it is time for Australia to confront key questions.
"Why weren't the children of our nation loved, nurtured and protected? Why was their trust betrayed? Why did those who know cover it up? Why were the cries of children and parents ignored?", he said.
Morrison also blamed the State: "Why was our system of justice blind to injustice? Why has it taken so long to act? Why were other things more important than this, the care of innocent children? Why didn't we believe?"
"A SORRY FROM A NATION"
"While we can't be so vain to pretend to answer, we must be so humble to fall before those who were forsaken and beg to them our apology", he added.
An apology that "dare not ask for forgiveness, that dare not try and make sense of the incomprehensible, or think it could, that does not insult with an incredible promise, but speaks only of profound grief and loss".
"A sorry from a nation that seeks to reach out in compassion into the darkness, where you have lived for so long", he concluded.
"WE WILL ALL CONTINUE TO STRUGGLE"
"Even after a comprehensive Royal Commission, which finally enabled the voices to be heard and the silence to be broken, we will all continue to struggle", Morrison lamented.
That is why "we gather in this chamber in humility, not just as representatives of the people of this country, but as fathers, as mothers, as siblings, friends, workmates and, in some cases, indeed, as victims and survivors".
ROYAL COMMISSION RECOMMENDATIONS
The national apology comes 10 months after the Royal Commission into Institutional Responses to Child Sexual Abuse issued a report, which showed evidence from more than 17,000 survivors.
Nearly 8,000 of them recounting their abuse in private sessions of the Commission. "We are grateful to the survivors who gave evidence to the commission. It is because of your strength, and your courage, that we are gathered here today", Morrison said.
The report made 409 recommendations when it delivered its findings in December. Of those, 122 directly or partly involved the federal government.
Morrison confirmed that the government has already accepted 104 of the 122 Commission's recommendations, including a redress payments programme, with the other 18 still under examination.
PREVENTION, DETECTION AND SUPPORT
The Prime Minister announced one of them: the creation of a national Centre of Excellence "to raise awareness and understanding of the impacts of child sexual abuse, assist those seeking help, and guide best practice for training and other services".
Additionally, the government has established a new national Office of Child Safety, "to ensuring the prevention and detection of child abuse, wherever it occurs", which "will report to me".
The Prime Minister also committed to report every year for the next five years on the progress of the Royal Commission's recommendations.
OPPOSTION LEADER JOINS THE APOLOGY
Opposition leader Bill Shorten joined the apology, saying Australia had failed tens of thousands of children, across generations.
"Our nation let you down. Today, we offer you our nation's apology, with humility, with honesty, with hope for healing now, and with a fire in our belly to ensure that our children will grow up safe in the future", Shorten said.
Published in: Evangelical Focus - world - Australian Prime Minister offers national apology to child abuse victims