Hundreds of thousands marched for life in Mexico
The 'Sky-blue wave' gathered hundreds of thousands in more than 100 cities to defend family, "the two lives" and the fundamental freedoms.
Evangélico Digital, Agencies · MEXICO CITY · 26 OCTOBER 2018 · 09:02 CET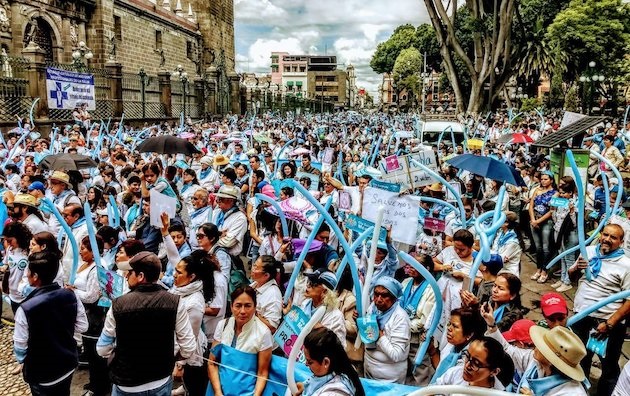 Participants of the march for life in Mexico City, in October 2018. / FNxF
Hundreds of thousands joined the 'Sky-blue wave' in more than 100 cities of Mexico last weekend, taking the streets to defend life, family and fundamental Human Rights.
Pro-life civil organisations, united in the National Front for the Family, marched in Mexico City to protest against abortion and denounce that the legislators and officers of Andrés Manuel López Obrador's next government "will work to impose a culture of death".
The first marches of the weekend in favour of "the two lives" happened in the states of Guerrero, Mexico City, Pueblo and State of Mexico.
"Life, yes! Abortion, no!", "My mother said yes, and this is why I am here!", and "Mexico, be courageous, defend the innocents", were some of the chants heard in the capital city. The demonstrators walked from the Gallito monument to the Zócalo.
Rodrigo Iván Cortés, President of the National Front for the Family, said: "In the whole republic, we are almost one million of people committed, who have expressed ourselves clearly and with strength".
María José Berrueta, General Director of the Steps For Life, the platform that organises Mexico City's annual march for life, said the hundreds of thousands had sent "a very clear message: Mexico defends life".
Excelente participación en la marcha por la vida organizada por el @FNxFamilia. pic.twitter.com/5dUTbyd5eV

— carlos aguiñaga (@carlossaguinaga) 21 d'octubre de 2018
WHITE CLOTHES AND BALLONS
In the city of Chilpancingo (Guerrero), the march gathered people wearing white, many of them with blue kerchiefs and white balloons.
In Puebla, spokeswoman Fabiola Tepox criticised the decriminalisation of abortion planned by the next Secretary of Government of Mexico, saying it would be a setback for society.
"The agenda of Olga Sánchez Cordero displays what they want for Mexico: promotion of drugs for the youth, legalisation of abortion, euthanasia for the elderly people. We don't want them to impose on us particular lifestyles, this agenda does not represent the real needs of women in this country", Tepox said.
AMLO INAUGURATION IN DECEMBER
The inauguration of the leftist Andrés Manuel López Obrador (known as AMLO) as the new President of Mexico will happen on December 1.
In the capital, the organisers "delivered our manifesto in the name of all the other marches" to the next head of government.
Published in: Evangelical Focus - world - Hundreds of thousands marched for life in Mexico