United Methodist Church keeps traditional marriage after narrow vote
Conservative delegates from the Global South helped stop the US-majority push to approve gay marriage. Liberal churches expected to leave the denomination.
Christianity Today, Religion News Service, Christian Today · ST. LOUIS · 28 FEBRUARY 2019 · 15:06 CET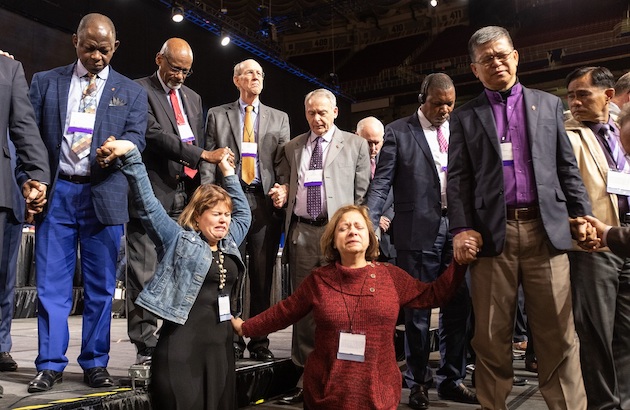 Delegates at the United Methodist Church General Conference in St. Louis pray together. / Los delegados de la Iglesia Metodista Unida se unen en oración antes de la votación clave. / Mike DuBose, UMNS
The United Methodist Church will keep its stance on marriage after long debates and a narrow vote.
The largely liberal and pro-LGBT United States delegation had pushed to review the UMC's Book of Discipline, to give freedom to every church regarding their doctrine about human sexuality. But their 'One Church Plan' failed to be approved at the General Conference in St. Louis (USA).
After much debate and prayer, the conference finally supported the 'Traditional Plan', the conservative alternative to maintain the biblical model of a heterosexual union, by a narrow vote of 438 votes to 384.
Gay marriages will therefore continue to be outside the Methodist's doctrine, and non-celibate gay clergy will continue to be banned from ministering in this denomination.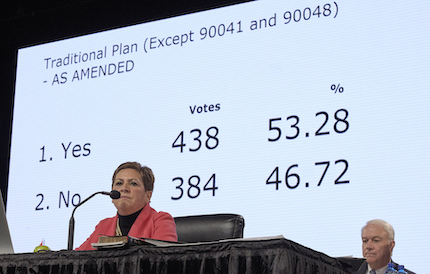 PRESSURE OF US METHODISTS
An increasing number of US Methodist clergy have come out as gay, including an elected bishop. American pro-LGBT delegates at the UMC conference said their churches would leave the denomination, lead same-sex marriages and bring the debate to the media, sources said.
About 40% of the delegates at the conference where non-US delegates, mainly from Africa. This confirmed the growing cultural diversity inside the UMC.
GROWING MEMBERSHIP IN CONSERVATIVE CHURCHES
A survey shows that 44% of the church's membership self-identifies as theologically conservative, and only 28% as theologically liberal. Among ministers, this gap is smaller, as the conference showed. Delegates on both sides of the debate said a denominational split could soon be inevitable.
The United Methodist Churhch is the largest Protestant mainline denomination in the United States. Globally, the UMC has 12 million members. There are other 75 million Methodists in the world who do not belong to the UMC.
Published in: Evangelical Focus - world - United Methodist Church keeps traditional marriage after narrow vote