Netanyahu on course for a record fifth term as Israel Prime Minister
Likud and Blue and White parties tied with 35 seats each, but almost all right-wing parties will recommend Netanyahu to form the next government. He has been indicted on bribery and fraud.
Agencies · JERUSALEM · 10 APRIL 2019 · 18:12 CET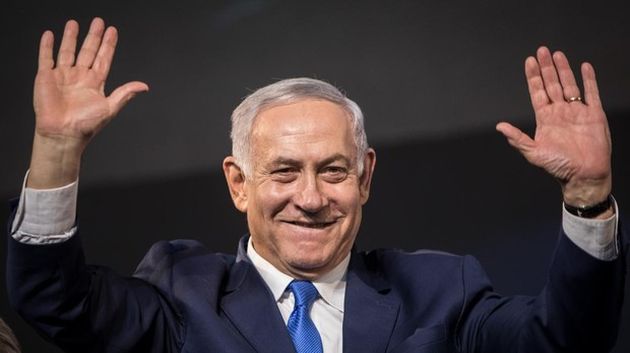 Israel's Prime Minister, Benjamin Netanyahu, is on course for a record fifth term in office. / YouTube capture.
Israel's Prime Minister, Benjamin Netanyahu, is on course for a record fifth term in office after the elections that took place this Tuesday.
With 98% of the votes counted, Netanyahu's right-wing Likud party tied with former general Benny Gantz's Blue and White party, with 35 seats each.
Though neither party captured a ruling majority in the 120-seat parliament, known as Knesset, almost all right-wing parties have said they would recommend Netanyahu to form the next ruling coalition.
Kulanu, the Union of right-wing Parties, Shas and United Torah Judaism together got 25 Knesset seats, so that the right-wing bloc would achieve the minimum 60 Knesset seats required for forming a government.
"IT WILL BE A RIGHT-WING GOVERNMENT BUT I WILL BE PRIME MINISTER TO ALL"
"This is a night of tremendous victory", Netanyahu said Tuesday night at a celebration where a crowd cheered him and chanted: "Bibi, king of Israel."
"It will be a right-wing government, but I will be Prime Minister for all. Iam very touched that the people of Israel gave me their vote of confidence for the fifth time, and an even bigger vote of confidence than previous elections", the Prime Minister pointed out.
He confirmed that he intended to "finish the job [of forming a coalition] quickly and establish a strong national government".
GANTZ: "ODDS MAY NOT SEEM IN OUR FAVOR"
Having claimed victory after the first wave of exit polls, Gantz wrote to supporters on Wednesday morning: "Yes, odds may not seem in our favor".
"Our voters asked for hope and we gave it to them. They wanted a different path and we carved it out for them. We will not stand down from our civil duty to represent over a million citizens who searched for an alternative", Gantz added.
NETANYAHU TO BE INDICTED ON BRIBERY AND FRAUD
Last February, Attorney General Avichai Mandelblit informed Netanyahu that he intended to indict him on charges of bribery, fraud and breach of trust in connection with three cases, pending a final hearing.
With the election over, Netanyahu's attorneys were summoned by Mandelblit's office to meet on Thursday, to receive the prosecutors' case files so they can prepare their client's defense.
The hearing is expected to take place in July, and the decision on the final indictment some six months later.
Published in: Evangelical Focus - world - Netanyahu on course for a record fifth term as Israel Prime Minister