Ecuador stops new abortion law
The issue revealed a deep division of the parliament. Catholics and evangelicals worked together to stop the law.
Evangélico Digital · QUITO · 19 SEPTEMBER 2019 · 16:50 CET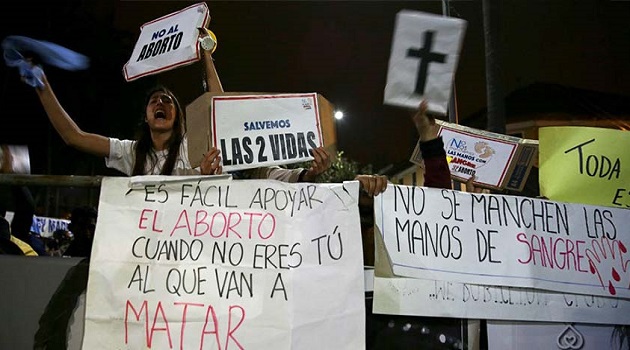 Pro-life demonstrators protest in front of the National Assembly of Ecuador. / ED
The National Assembly of Ecuador rejected on September 17 a new legislation on abortion.
The text proposed by the Commission of Justice of the Ecuadorian parliament received 65 votes, five below the 70 needed to pass such a law.
The issue divided the parliament in two, with 59 MPs voting against the motion.
The proposal laid out that an unborn child could be aborted in the cases of rape, non-authorised insemination, malformation of the foetus, or incest.
Abortion is legal in Ecuador only when the life or the health of the mother is at risk, and in the case of women with mental disabilities who have been raped. Now that the motion has been rejected, the law will continue to contemplate only these two cases.
CATHOLIC AND EVANGELICAL MOBILISATION
Both Catholic priests and evangelical pastors had called for a collective day of prayer in Ecuador to stop the passing of the law.
Alfredo Espinoza, Archbishop of Quito (the capital of the country) had called the political representatives in Parliament "not to put blood on their hands". In Guayaquil, evangelical ministers placed white coffins with black crosses on the street to condemn the death of "lives formed from the conception".
Many also protested outside parliament during as the session was held. They later celebrated the outcome on their knees, praying and singing songs of praise. "They wanted to legalise a crime against innocents, but the will of the people was respected in the end", said Amparo Medina, of the pro-life organisation Pro Vida. "It is a victory of the children who have not yet been born".
The same day, the National Assembly passed other controversial reforms, such as the use of cannabis for medical purposes.
Published in: Evangelical Focus - world - Ecuador stops new abortion law