Bolivian evangelicals demand "justice and truth" as thousands denounce vote rigging
Evo Morales announces an agreement for an external audit of last week's vote. The National Evangelical Association of Bolivia calls to "avoid conflicts between brothers".
Evangélico Digital · LA PAZ · 28 OCTOBER 2019 · 17:00 CET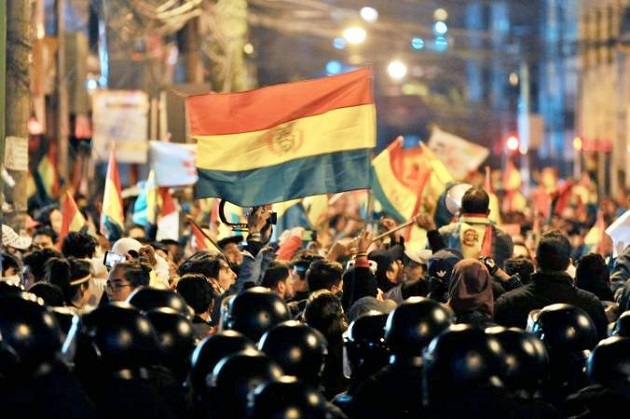 Protests in Bolivia against Evo Morales after the controversial outcome of the national election, October 2019. / El Universo
Bolivia has gone through days of uncertainty and protests as it was announced that Evo Morales narrowly got enough votes to win the the national election held on 20 October.
The opposition denounced "fraud" and called the population to protest against what they consider an undemocratic move of the authorities.
According to official results, Evo Morales won the election with enough support to avoid a second round, but the live information about the results was paused for more than 24 hours for unknown reasons. The outcome before and after this long pause in the flow of information changed enough to declare Morales as the winner.
The case caused much controversy in the country, and led to the resignation of the Vice President of the Bolivian Electoral Supreme Court, who said the "suspension of the transmission system of results [vote counting] (…) discredited the whole electoral process".
The main opposition candidate Carlos Mesa said "a huge fraud to rob the second round" had happened.
PRAYERS DURING DEMONSTRATIONS
Videos of protesters kneeling and praying to God in squares were shared on social media this weekend.
"We give you the future of our sons and daughters. The God of this country is Jesus, the king of kings", one Christian leader said as he led hundreds in prayer in the city of Santa Cruz de la Sierra.
EVANGELICALS: "JUSTICE AND TRUTH MAY BE ESTABLISHED"
The National Evangelical Association of Bolivia (ANDEB) asked the Electoral Supreme Court of the country to "act with total transparency in this process and respecting above all the vote of the Bolivians, being accountable to the citizens".
The ANDEB called all of the population to maintain peace and common sense, "avoiding any type of conflict between brothers, knowing that God will establish His justice and peace in our nation. Let's pray and be alert in these difficult days".
In addition, the evangelical body called "all churches in the national territory raise a prayer and a cry to God for the peace of Bolivia and that justice and truth is established".
OAS COULD HELP MEDIATE IN THE CONFLICT
After a week of protests, the Bolivian government said on Saturday it had reached an agreement with the Organization of American States (OAS) to audit the election.
Published in: Evangelical Focus - world - Bolivian evangelicals demand "justice and truth" as thousands denounce vote rigging