Preaching the gospel in Kichwa
Three bilingual evangelical churches in Cuenca, Ecuador, gather dozens of indigenous families. "We do not preach religion, we preach Jesus Christ", a pastor says.
Evangélico Digital · 23 MARCH 2020 · 18:17 CET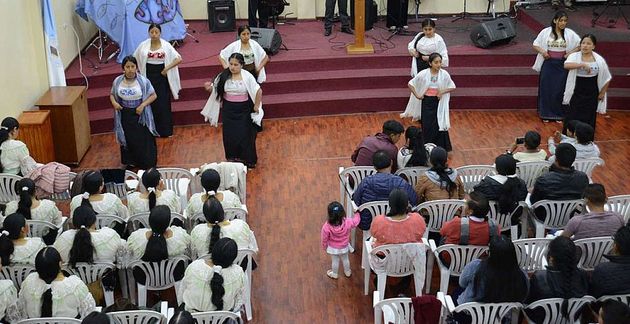 Worship service at the evangelical bilingual church El Belén. / El Tiempo.
The city of Cuenca (Santa Ana de los Ríos de Cuenca) in southern Ecuador, in the Andes, is known for the banks of its Tomebamba river and its artisan products, such as Panama hats. Ruins and objects from the Incan city of Tomebamba are exhibited in the Pumapungo Museum and Archaeological Park.
Every day dozens of people, mostly from the Chimborazo region, gather in a house to attend the evangelical bilingual church El Belén.
There they participate in worship services, leaders meetings, choir, dance, prayer meetings, Bible studies and worship ministry, both in Kichwa and in Spanish.
MEETINGS AT NIGHT
Pedro Yauripoma, a native of Santiago de Quito, in the Colta canton, Chimborazo province, is the pastor of this church that brings together 300 people and will celebrate its 50th anniversary next August.
Yauripoma has been a pastor since 2010. He studied theological and secular studies at the Latin American Faculty of Theological Studies (FLET) in Quito. "Being a pastor is a lifetime preparation. You feel that call and accept it", explains the leader, who previously worked as an assistant pastor in Spain for 10 years.
Every day, starting at 7:30 p.m., people from Chimborazo, Cañar, Loja and a family from Peru gather together. They meet at night because the indigenous people are mainly engaged in commerce and during the day they work in their businesses.
"WE DO NOT PREACH A RELIGION, WE PREACH JESUS CHRIST"
"Our doors are open for anyone who wants to come. It is not only for the Kichwas, the Puruhaes, the Cañaris, because we do not preach religion, we preach Jesus Christ", Yauripoma emphasizes, stressing that it is not religion that saves, but the Bible, and faith in Jesus Christ.
They have segregated from the traditional practices and festivals of the Andean worldview, such as the Inti Raymi or the Pawkar Raymi, among others, which are considered pagan by the pastors of the evangelical churches.
"They consider the moon, the sun and the Pachamama (the earth) as gods, but we have discovered, in light of the Scripture of the Bible, that there is only one God and we praise Him".
There are other bilingual congregations in Cuenca, like the Luz y Vida (Light and Life) church, which has been operating for 12 years and gathers around 200 people.
There is also the Divine Restoration church, which has been an extension of El Belén church for three years and has about 100 people.
The ceremonies include preaching, dancing, and singing from a hymnbook containing more than 600 songs written by evangelical missionaries.
KICHWA TESTIMONIES
Veronica Samaniego has been attending El Belén church for 20 years, along with her husband, who belongs to the Puruhá ethnic group. She is proud to wear the traditional clothing of her people, and underlines that interculturality has helped her to know and learn the Kichwa language.
Ercilia Suica, from the Chambo canton, Chimborazo province, arrived at the church 15 years ago with her husband Jaime Acaro, from Loja. Known as 'Estrellita', she is a singer and in the church she collaborates with the organisation of programs and events.
"I have not studied singing. This is a talent that God has given me and allows me to work", says the artist, who has been singing profesionally for 25 years and has 16 albums.
Mónica Carrillo, from Riobamba, is one of the 19 young women of the group Danza Shadd' (Dios Almighty). They rehearse on Sundays from 09:00 to 11:00.
"We cannot just dance, we have to learn and know how to do it, to be able to transmit the message", Carrillo points out.
NOTE: This article was written before the outbreak of Covid-19 in Latin America.
Published in: Evangelical Focus - world - Preaching the gospel in Kichwa