Chinese province bans crosses on church roofs
While the draft for the ban is yet to be approved, authorities have removed nearly 400 crosses from the rooftops of churches since early 2014.
Christianity Today, Premier Christianity · ZHEJIANG · 12 MAY 2015 · 09:48 CET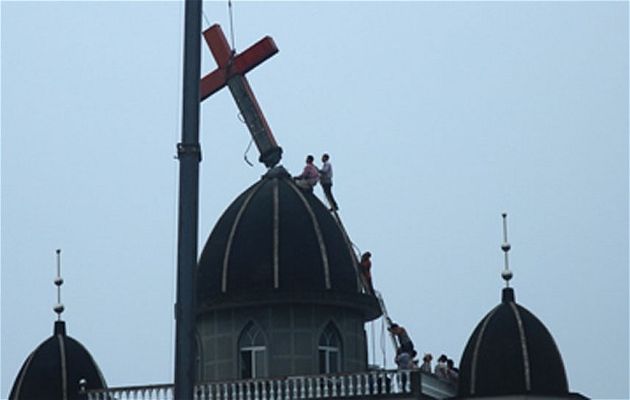 At least 12 crosses have been forcibly removed from churches in the city of Lishui / ChinaAid
Days after at least a 12 crosses were forcibly removed from churches in the city of Lishui, burning one when a removal machine malfunctioned; China formally filed a diplomatic protest over this year's annual report by the US Commission on International Religious Freedom (USCIRF), which labeled Chinese religious freedom violations "severe" and "systematic."
Foreign ministry spokeswoman Hua Chunying denied these accusations: "This report ... is full of political bias and makes arbitrary and unfounded criticism of China", she told news outlets in a daily briefing. She also said that Chinese citizens had "ample" freedom religious freedom under law.
Bu now a proposal has surfaced to ban crosses entirely from the rooftops of churches in Zhejiang, one of China's most Christian provinces.
This comes after hundreds of crosses were removed from churches in the region in 2014. Zhejiang officials have toppled crosses from more than 400 churches, sometimes resulting in violent clashes with congregation members.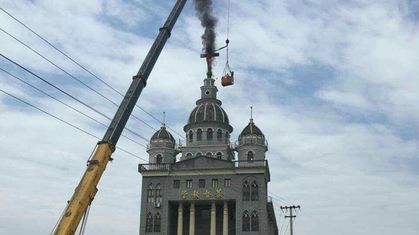 Authorities have said the crosses violate building codes. "They might have been removed or modified or covered in some way, shape or form because a cross obviously identifies the church building", they stated
Andy Dipper from anti-persecution charity Christian Solidarity Worldwide responded to this in Premier Christianity: "It is deeply offensive to Christians for those crosses to be removed because it just demarcates the building just to any other building."
"These are really concerning times and we really want to raise the profile of what's happening to people in Zhejiang province, and to call people to pray", he added.
According to USCIRF's 2015 report, China designated some house churches "cults" and then issued a directive to "eradicate" them over the next 10 years. One example: more than 100 Christians were arrested during a single raid on a house church last year in Foshan City.
2014, THE WORST YEAR FOR CHINESE CHRISTIANS
Last August, Beijing authorities called Christian pastors and religious scholars into meetings to deliver an edict that the Christian faith must be free of foreign influence but "adapt to China", a euphemism for obeying the Communist Party.
China Aid's 2014 report, released last month, said that persecution in China increased 150 percent over the course of last year, with nearly 3,000 detained and close to 1,300 sentenced.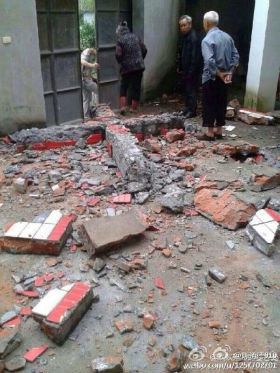 However,
Open Doors
believed that "there is a surprising weight of counter-evidence that suggests a
vigorous debate is going on in the Chinese government
over whether it should restrict or free the church. If Christianity can sound, look and be Chinese enough, we might just see the church continuing to be invited to play a fuller role in the building of the new China".
Despite this optimism, the events of the past year caused China to shoot from No. 37 to No. 29 on Open Doors' 2015 World Watch List.
And stories of more removals continued to surface. The Chinese government now says it will not stop the campaign until 2016.
Published in: Evangelical Focus - world - Chinese province bans crosses on church roofs