MacArthur accused of heresy at his home church
The 'prophet' managed to get up to the church's platform and accused MacArthur saying: "You have grieved the Holy Spirit of God. Your doctrine of cessationism is an error."
CALIFORNIA · 19 AUGUST 2015 · 13:31 CET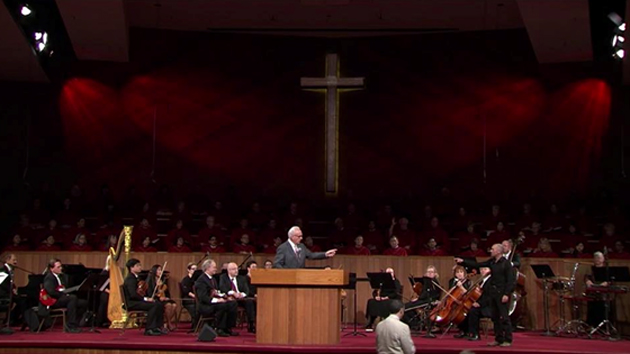 The moment the self-proclaimed prophet approaches John MacArthur, at Grace Community Church.
NOTE: MacArthur's quote in the fifth paragraph has been edited.
One of America's leading Evangelical preachers –Dr. John MacArthur- has been accused of heresy by a self-proclaimed prophet in Grace Community Church.
The confrontation took place during this week's Sunday service whilst the pastor ministered from the pulpit of his home church in Sun Valley (California), a place where he has served for over 45 years.
The 'prophet', speaking with a Scottish accent, managed to get up to the church's platform and before being escorted away by the security team, he accused MacArthur saying: "You have grieved the Holy Spirit of God. Your doctrine of cessationism is an error. He has been grieved, John MacArthur. I've been sent here to tell you that. You're sharpening a sword and they're cutting each other".
He continued: "If you don't believe in prophets; you're looking at one. God have mercy on your teaching of truth. Your doctrine of cessationism is an error, John MacArthur. It's an error. I've been sent to tell you it's an error. For the unbeliever: repent of your sins! The Kingdom of heaven is close! You don't have much time! Jesus Christ is coming back soon! God bless you, people of God".
After some moments of silence, MacArthur began to take control of the meeting again and responded to the prophet (now escorted out of the meeting) with the command from 1 Corinthians that the spirit of the prophets be subject to the prophets. He added: "If he were a prophet, he would not act like that". He then resumed the service.
The doctrine of cessationism is the idea that the more spectacular spiritual gifts –such as speaking in tongues, prophesying and healing- ceased after the closing of the New Testament canon or the death of the early apostles.
MacArthur dedicated his famous Strange Fire conference in 2013 to the defense of a classical cessationist interpretation of Scripture.
Read Phil Johnson's opinion and Evangelical Focus Director Pedro Tarquis's view: "Debate concerning the incident at MacArthur's church"
Read Will Graham's Open Letter to Phil Johnson.
Published in: Evangelical Focus - world - MacArthur accused of heresy at his home church