Barcelona attack: 13 killed and many injured
One person dies and five terrorists are killed in Cambrils as they were carrying out a second terrorist attack. More than 100 people have been injured in the Las Ramblas jihadist terrorist attack.
BARCELONA · 18 AUGUST 2017 · 10:38 CET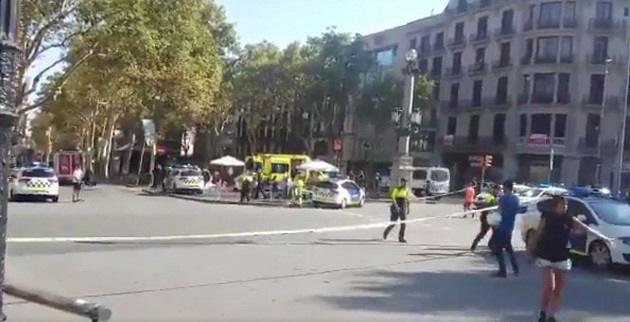 Image of the centre of Barcelona after the attack.
The region of Catalonia, in Spain, is recovering after terrorists attacked the city of Barcelona and the town of Cambrils (near Tarragona).
At 1am of Friday, a car with five suspects was stopped in a police control near the marina of Cambrils, a popular tourism destination. The suspects then rammed into people injuring one police officer and six other passers-by. One person later died in the hospital.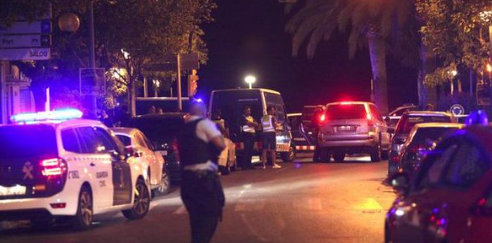 The police inmediately opened fire and killed the five suspected terrorists. They were wearing explosive belts, which proved to be fake.
13 DEAD IN BARCELONA CITY
Earlier, a van drove into a crowd of people in the centre of Barcelona, at the popular pedestrian zone Las Ramblas.
This site in the centre of the city was full of people enjoying the good weather.
At least 13 people have been killed, authorities said. At least 80 other people have been injured and brought to hospitals around the region of Catalonia, the Councelor of Interior of the Catalan government said.
Victims are of 35 nationalities. Among the dead, are people from Germany, Italy, Belgium, Portugal and the USA.
Daesh (ISIS) "claimed responsbiility" for the attack.
Police had earlier confirmed that the "grave incident" was a "terrorist attack".
Terrorism attack confirmed in #Barcelona

— Mossos (@mossos) 17 d'agost de 2017
The police asked everyone to leave the streets. Many have found refuge in hotels, shops and restaurants.
Police controls were been set up around the whole city.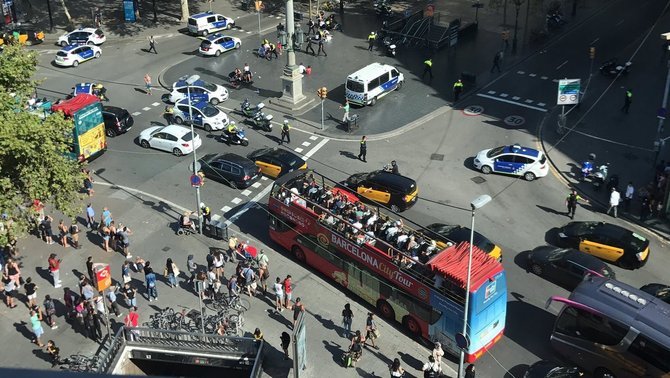 Footage on social media show what appear to be tourists lying on the ground. Testimonies sppke of the chaos nearby the Hospital Street, near the Boqueria market.
The Mayor or Barcelona, Spanish PM Mariano Rajoy and the President of Catalonia, Carles Puigdemont, have organised a crisis cabinet with Spanish authorities and terrorism experts. Three days of official mourning have been decreed.
The police continues the special operation to capture the author of the attack. Detentions have been made in several cities and towns.
A passport document has been found in the white van that was used in the attack. It presumably identified the driver as a Spanish national of Maghrebi background. The identity revealed by the police is of Moussa Oukabir.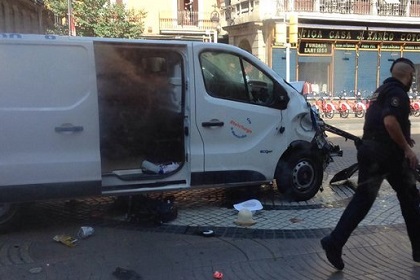 The attack happened arrived just after 5pm in the afternoon, local time.
The Spanish Evangelical Alliance has condemned the attack, and said: "The tragedy touches us in the deepest, and leads us to lift our prayers to God for the city of Barcelona". The Christian representative body added: "We pray for the relatives of the victims and we identify with their pain". Other local churches, Christians organisations, and denominations in Spain expressed their solidarity and prayers.
The Mayor of Barcelona, Ada Colau, said "emergency teams are active and working", and added:
Thank you for the solidarity we have received from around the world. Barcelona is brave and united. Terror will never change that

— Ada Colau (@AdaColau) 17 d'agost de 2017
Published in: Evangelical Focus - cities - Barcelona attack: 13 killed and many injured