Evangelicals in Spain open a pioneer centre for child victims of sex trafficking
The government supports the initiative of the Christian centre 'Nueva Vida' in Santander. "There is a very huge need and we have only been able to see the tip of the iceberg".
Protestante Digital · SANTANDER · 28 DECEMBER 2018 · 16:00 CET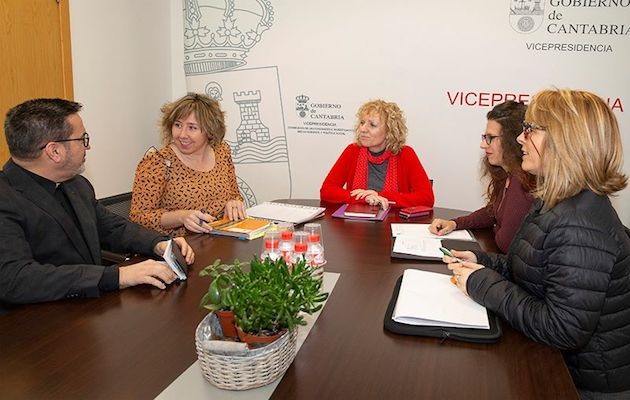 Meeting of the directors of the evangelical organisation Nueva Vida and the Vice-President of the Region of Cantabria. / Gobierno de Cantabria.
A pioneer project to work with former victims of trafficking and sexual exploitation in the north of Spain has received the support of the government.
The new centre will be run by the evangelical association 'Nueva Vida' (New Life) in Santander, and is expected to open in January 2019.
"Three years ago, the government told us about the need. The experts in our association and the director of the program started to work on it, and now we've been included in the budget of IRPF [the state's taxes to support social projects]", said Julio García, the president of the Christian organisation.
This will become the third place for minors of this characteristics in all of Spain, and the only one working in the Northern region of the peninsula.
A PIONEER PROJECT
For now, there is "one foreign minor girl, a victim of trafficking" that has been already referred to the new centre by the regional authorities.
The centre will work with only 8 users and will employ seven full-time workers, in addition to the director of the programme. "We have the house, the personnel, which has to be very qualified. There will be people working 24 hours a day, 365 days a year", García said.
In addition to the public funds, the project has also been financed by one of the major Spanish banks, and private donors from Canada. The budget to start the project is 400,000 Euro.
23 YEARS OF EXPERIENCE IN THE FIELD
The organisation 'Nueva Vida' has an experience of 23 years. The evangelical association has worked mainly with women victims of sexual trafficking through another centre in the region of Santander, where eight women and two minors live at the moment.
The organisation has also developed a program of interviews with women in prostitution in brothels, through which possible cases of trafficking are detected.
"We believe our role is to respond to the needs of our society. There is a huge need and we have only been able to see the tip of the iceberg", the president of 'Nueva Vida' says.
"The evangelical world has to learn that professionalism is not at odds with faith. We have not been scared of opening a multi-discipline centre where very capable professionals are needed", García added.
Published in: Evangelical Focus - cities - Evangelicals in Spain open a pioneer centre for child victims of sex trafficking