Free menus for those fighting in the Covid-19 frontline
Evangelical NGO Remar distributes hundreds of free lunches to healthcare workers and other personnel in front of the IFEMA building, the biggest field hospital in Spain.
Actualidad Evangélica · MADRID · 03 APRIL 2020 · 11:30 CET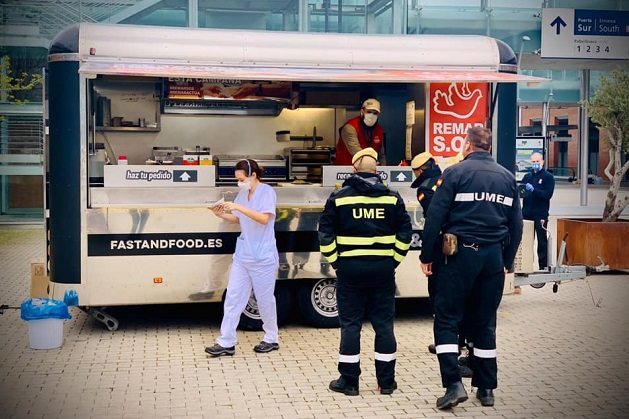 A nurse picks up her lunch from the REMAR food stand located at the entrance of the IFEMA, as Military Emergencies Unit (known as UME in Spanish) personnel wait their turn. / Remar via Actualiada Evangélica
The NGO, Remar, linked to the Body of Christ Evangelical Church in Spain, distributed in one day more than 300 lunches to healthcare workers, Military personnel, and authorities who work at the IFEMA building in Madrid where a field hospital has been set up due to Covid-19.
As a part of their emergency service, Remar S.O.S., volunteers in gloves, and masks, have set up a food stand at the entrance of the building. On the first day of action they served more than 300 lunches to healthcare workers and authorities "that work 24 hours a day without any time to eat or rest".
According to Daniel Diaz, the Remar representative in charge of the operation, they plan to be here every day until the state of alarm is lifted.
This service sprang forth from another initiative that the organisation had also started at the beginning of this crisis in order to help the homeless throughout Spain. Other initiatives to help marginalised people have been carried out by evangelical churches and organizations in various cities (assistance, food distribution, etc.).
THE LARGEST HOSPITAL IN SPAIN
The field hospital inside IFEMA, opened by the Community of Madrid government, had been temporarily housing patients in pavilion 5. Later, workers had been transporting those patients to the newly opened pavilion 7. They have admitted and treated more than 1,500 patients and released over 500 since the building was opened.
With the opening of pavilion 7, alongside pavilion 9, where they have been caring for patients for several days now, the work of opening two modular spaces with 1,300 beds, 96 ICU areas, is complete. The modules maintain a separation of 3 meters between each bed. If necessary, they are able to add more beds to other pavilions.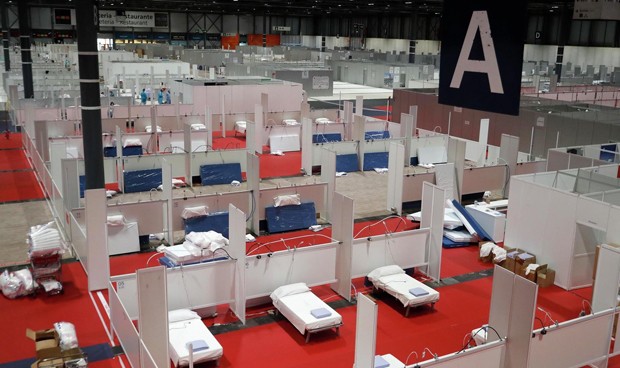 This is the largest hospital in Spain, with 85,000 square meters. It was set up in just 18 hours and has been open for three weeks. As well as the logistics, purchasing, and infrastructure workers from IFEMA, there are firefighters from the Community of Madrid, and troops from the Military Emergencies Unit (known as UME in Spanish) working there.
They are currently creating more break areas for the healthcare workers with more lockers and changing rooms. Another new development is a group of 40 volunteers in charge of helping the patients who are released to set up their transportation home.
MAYOR OF MADRID EXPRESSES GRATITUDE
On April 1, the Mayor of Madrid, José Luis Martínez-Almeida, wrote a letter thanking Remar for "the support they are offering in this crisis caused by the coronaviurs epidemic, helping people who are in a position of vulnerability in the city of Madrid, as well as healthcare staff restlessly working at IFEMA".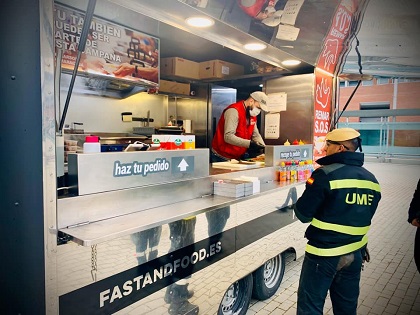 EVANGELICAL SOCIAL ACTION
While all of this logistical work is being done at a rapid pace, the altruistic service of Remar S.O.S. represents a refreshing oasis for those who are courageously fighting this pandemic on the frontlines.
But, above all, it hopes to be a testimony of the love of God for Madrid and for Spain which in so many ways, during these days of crisis, is revealed through the social action of the evangelical churches and organisations.
Published in: Evangelical Focus - cities - Free menus for those fighting in the Covid-19 frontline