Evangelical couple makes the news as an example of how to celebrate a wedding in times of Covid-19
Despite restrictions that reduced the number of guests to only 50, Gustavo and Dalila decided to go ahead with their wedding. 2,000 followed online a ceremony in which they spoke about God's faithfulness in the midst of difficult times.
MARÍN (SPAIN) · 26 JUNE 2020 · 16:22 CET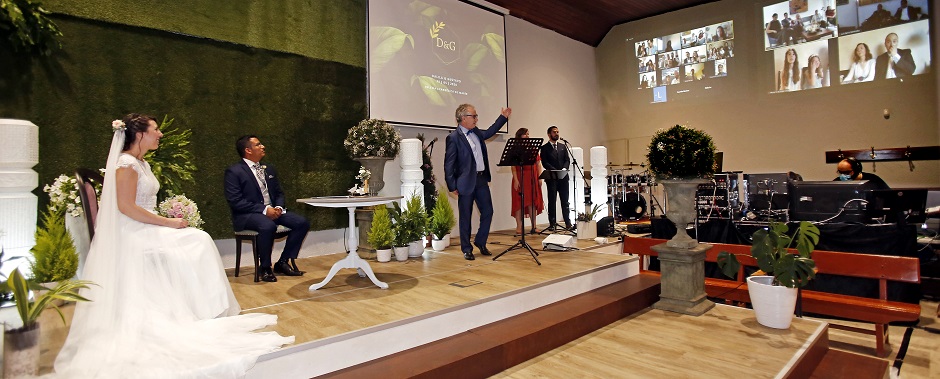 Gustavo and Dalila interacted with guests of their wedding ceremony online.
Dalila is a Spaniard and Gustavo is from Guatemala. They married the last weekend of May in very unusual conditions.
The Covid-19 crisis has had huge consequences in Spain, and the heavy restrictions imposed by the government forced them to seriously think about postponing their plans. But only five days before the planned date, the authorities in the region of Galicia (North-West of Spain) allowed weddings with a maximum of 50 guests.
Everything was ready, the dresses, the invitations had been sent out… So they decided to go for it and became one of the first couples to get married in the region since the lockdown rules put all social life on hold.
The wedding would need a high degree or organisation. The travelling restrictions meant that Gustavo's closest relatives could not attend the ceremony. Neither the sister of Dalila nor many others who live in other regions of Spain were able to travel.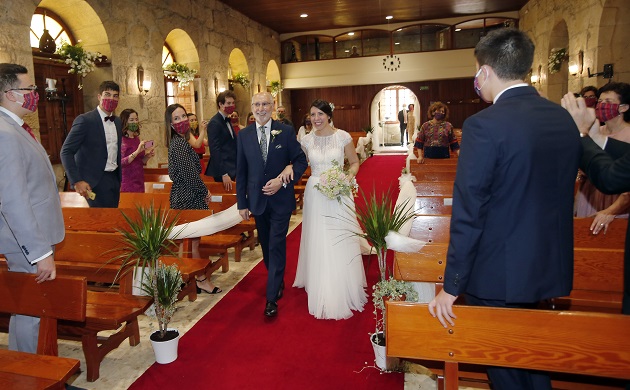 Only 50 guests, all of them with face masks, were present as Dalila entered the church.
The day of the wedding, only 50 people were sitting on the benches of the large evangelical church of Marín. But the faces of ten close relatives were projected on the walls of the church with a projector. "It was very emotional, they were following everything live, and we could see them live as well. All were dressed for the wedding, the children wearing the special clothes we had bought for them. We couldn't hug them, but we could see each other and it was very special", Dalila told newspaper The Voice of Galicia.
Additionally, over 2,000 people followed the wedding ceremony through the streaming services of Facebook and Twitter. "Most from Guatemala, but others joined us from other parts of the world".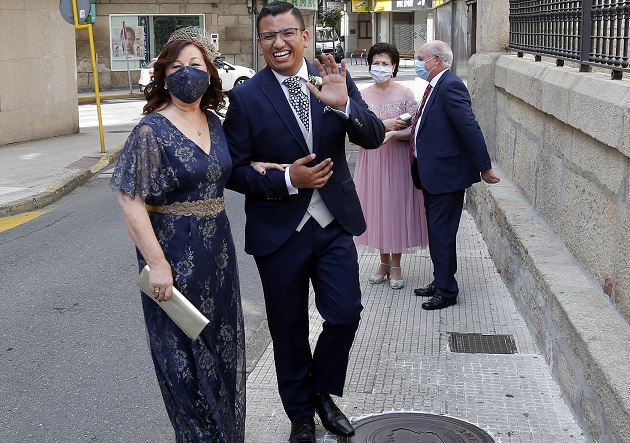 Gustavo was one of the few at his wedding not wearing a face mask.
Face masks and no rice
During the service, all measures of social distancing were followed. The in person guests were wearing face masks made with fabric from Guatemala. Gustavo told The Voice of Galicia: "When Dalila arrived we could not avoid to hug each other, we got distracted with the emotion. But then we kept the social distancing and the guests had their seats marked on the benches. The musicians where at a distance of six meters from each other. No one, except ourselves, were allowed to touch the rings".
At the end of the ceremony, no rice and no flower petals were thrown at the bride and groom. And the big celebration with typical Galician and Guatemalan food will have to wait until 2021.
But all the difficulties only helped Gustavo and Dalila to be more aware of God's grace and protection. They told Evangelical Focus about their experience.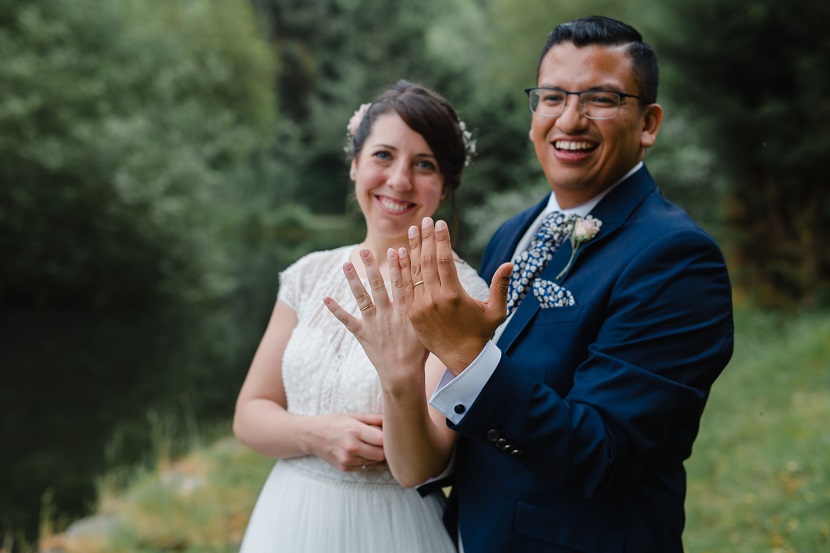 Question. How have you seen God's hand in your wedding plans?
Answer. In January we decided to marry and started to pray about when it should be. Since we were both in Guatemala at the time, we followed the advice of a lawyer and the blessing of our churches, and had our civil marriage there, looking forward to have our religious ceremony on 30 May, in Spain, with all our relatives and friends.
Thank God, Gustavo arrived in Spain just two weeks before the state of alarm was decreed, and the borders closed. We wanted to go ahead despite the new situation with the coronavirus. From the beginning, our desire was that the Holy Spirit would speak to all who could come to our wedding about the reality of a God who had ben so, so good to us. But when the Covid-19 cut the number of allowed guests to 10, and later a bit up to 50, when didn't understand a thing. At times, our faith seemed to fail us, but now we realise that the message went much further than what we had originally planned.
We were assured that nothing is by chance, so we decided to put God's desires above ours. We wanted to be ready to see his hand working, our prayer was, "your will be done and not ours". Of course we would have loved to have a wedding with no facemasks and hugs, but this things become secondary when you're ready to accept God's will. Everything went much better than expected, and over 2,000 people heard that Jesus loves them!
Q. A newspaper, a blog with inspirational stories, a TV program… Several media have told your story as one of the "pioneer" couples getting married in times of coronavirus. Have you had the chance to share your faith in these interviews?
A. Yes, in all the media, press, radio, television, both in Spain and Guatemala, we have shared the following message: what makes our love strong is the love of God, love never ceases to be. And we spoke about how through our relationship we've learned more about the love, goodness and faithfulness of God.
That is what we said in the interviews, but of course the media then publishes what they want…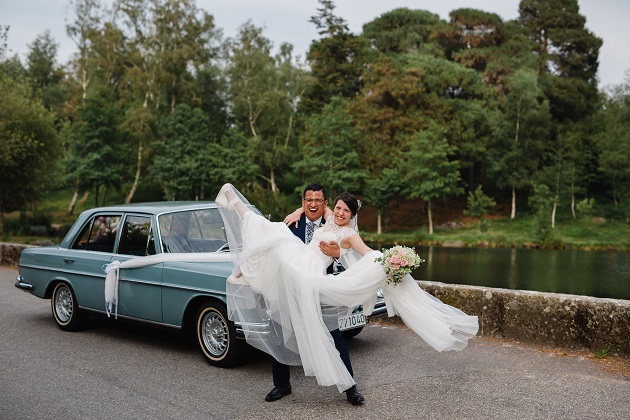 Faith in God is essential for Gustavo and Dalila as they start their life together.
Q. What do you both remember most about the ceremony?
A. Gustavo: To see the bride entering the church with her beautiful white dress alongside her father was very emotional, I tried to restrain the tears but I couldn't. And then the prayer my father had recorded from Guatemala, which we first heard during the ceremony - that was also very special. And of course the promises and leaving the church together.
Dalila: It was funny because I could see the groom as he entered the church, since it was streamed online. And then the peace to be in the right place at the right time. To feel everybody there with us, some in person, some online, but all were looking great and being witnesses of our love and commitment for each other and with God.
Q. In the future, you will probably look back at 2020 recalling that, besides your wedding, this was also a very tough year, a time of crisis and pain for many families, both in Spain and Guatemala. How does the faith in Jesus make a difference in such times of uncertainty?
A. From a human perspective, the times are difficult, but in spiritual terms were are witnessing an interest in God, an approach to think about the transcendence of life and to re-arranging one's priorities.
We see it as a time of opportunity. Hope is in Christ, so we face this crisis knowing that nothing has gone beyond the control of God and that the calling for everyone is to turn their eyes to the Lord. It is an adequate moment to think about our acts, ask for forgiveness and ask God to heal our land. We want to remember what God asks of us: "To act justly and to love mercy, and to walk humbly with our God" (Micha 6:8).
Q. Since we are speaking about love, what stands out most about God's love for each one of you?
A. Gustavo: That He would give His only begotten Son so that everyone that believes in Him is not lost but has eternal life. Sometimes I struggle to accept this unconditional love for me, even more when I fail but He still extends His arms to embrace me again. God loves us for who we are and not for what we do, we are His children and He is our loving and good Father.
Dalila: God makes the first step, comes in our direction, even before we turn to Him. The overwhelming forgiveness of God and His mercy are the two aspects of God's love that most move me. Many times we think about love from a romantic perspective, but forgiving in the way God does requires more than just emotion. It requires commitment and faithfulness.
Q. Finally, how do you imagine your wedding celebration party, in the future?
A. We want it to have much meaning, glorifying God alongside family and friends. We will watch the video of the ceremony. There will be Galician food [fish, octopus and other shellfish…] and Guatemalan food. We look forward to hug each other, dance and celebrate together, and over all there is going to be thankfulness for all the miracles we have seen in our relationship, since we met until today.
Published in: Evangelical Focus - cities - Evangelical couple makes the news as an example of how to celebrate a wedding in times of Covid-19
Since you are here…
Evangelical Focus is a news and opinion platform that brings together Christians from across Europe and other parts of the world. We need the support of our readers to make this media project sustainable in the long term. You can support our work! Read about Evangelical Focus's sustainability here.
Would you like to support the work of Evangelical Focus?
Use one of these methods. You can also transfer your donation to "Areópago Protestante / Evangelical Focus" IBAN: ES8521000853530200278394 (Swift / BIC: CAIXESBBXXX). Subject: "Donation Evangelical Focus"
Thank you very much!