Luther will have a square in the middle of Rome
The city approves an initiative to honour the Reformer that challenged the 'capital of Catholicism' five centuries ago. Politicians waited for the approbation of Vatican authorities.
ROME · 19 AUGUST 2015 · 14:39 CET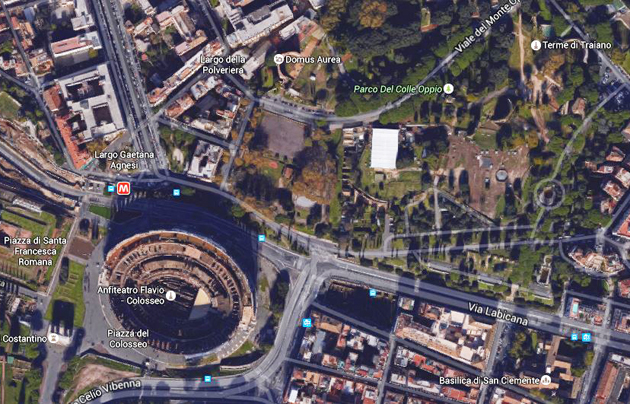 A view of the Parco del Colle Oppio, close to the Colosseum. / Google Earth
Rome will have its own 'Piazza Martin Lutero' in the centre of the city. The Italian capital approved an initiative proposed by the Union of the Seventh Day Adventist Churches back in 2009. Vatican authorities have not opposed the project, evangelical sources said.
"Next September 16 at 17.00, will take place the naming of a square in Rome to the German reformer Martin Luther, close to the Colosseum", Stefano Bogliolo, board member of the Italian Evangelical Alliance, told Evangelical Focus.
Back in 2009, Adventists churches had proposed to honor the German Reformer, as a gesture towards the 500 years anniversary of the Protestant Reformation. The city council of Rome (led by Major Ignazio Marino) finally approved the initiative some weeks ago.
HONOURING A "GERMAN THEOLOGIAN"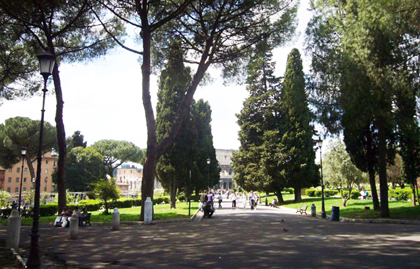 The 'Piazza Martin Lutero' will be very close to the Colosseum, located in the Parco del Colle Oppio park, crossing the Viale Fortunato Mizzi.
The descriptive shield will read a very neutral description: "Martin Luther square. German Theologian."
A DELICATE SITUATION
Italian media had ignored the story, explained Bogliolo, but some days ago newspaper 'Il Messagero' finally confirmed the decision.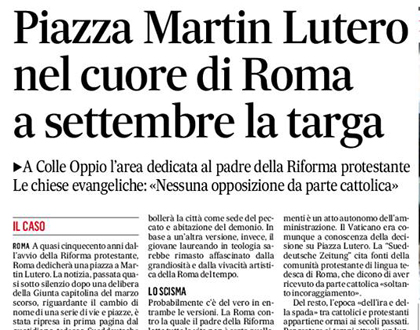 German newspaper 'Süddeutsche Zeitung' was the first media to publish a report about the decision of the Roman city hall. It quoted the Evangelical Lutheran Church in Rome saying that the Vatican would not oppose the initiative, in the line of its new ecumenical dialogue policies.
"We know that Italian politicians are ultra sensitive to the moods of the Vatican hierarchy, and without their consent it would have been difficult to reach this goal", Bogliolo comments.
"HIGHLY SIMBOLIC" DECISION
This decision to name a square after Martin Luther is "highly symbolic", because it happens in "the city of Rome, the 'capital' of the Papal States until its fall, on September the 20th 1870, whose anniversary is four days after the celebration of the dedication of the Martin Luther Square."
Representatives of various evangelical churches will attend the ceremony, and there will also be a delegation of the Italian Evangelical Alliance. There are no news so far about Catholic authorities attending the event.
Published in: Evangelical Focus - cities - Luther will have a square in the middle of Rome