Bono: "Brutal honesty" of the Psalms should inspire all artists
A 21-minute short film features U2 frontman Bono and theologian Eugene Peterson talking about how the Psalms have impacted their lives.
Fuller Theological Seminary · MONTANA (USA) · 27 APRIL 2016 · 14:50 CET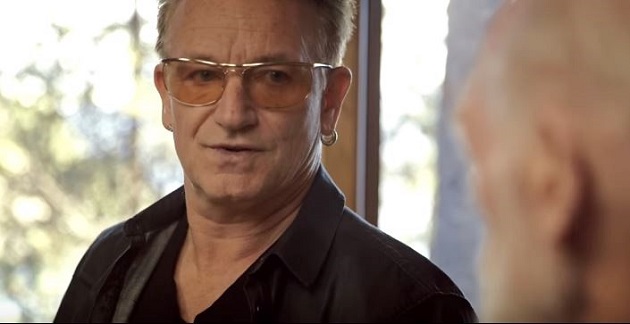 Bono talks to Eugene Peterson, in a moment of the film. / Video caption
U2 lead vocalist Bono and theologian Eugene Peterson (author of 'The Message' Bible) are interviewed by professor David Taylor in a short film focused on the Psalms.
In the 21-minute short film, produced by the Fuller Theological Seminary, the two recount how they became friends, when they met in 2010 during U2's 360º tour. They had lunch for 3 hours, in which "everything was so natural, we did not put each other in a pedestal", Peterson recalls. "He was a companion in the faith."
Set in Peterson's Montana home, Bono and Eugene Peterson: The Psalms follows a conversation, not just about their mutual love of the gift we have in the Psalms, but a vision of faithful creating. (SEE FULL VIDEO BELOW)
FIRST MEMORIES
Peterson's first memory of the Psalms was when he was 12 years old. "I grew up thinking that the Bible was literally the Word of God, so with the Psalms I learned what a metaphor was, and that imagination is a way to get inside the truth."
For Bono, it was psalm 23 that impacted him as a child, at church. "That psalm had a great tune, there are words and melodies, it has this brutal honesty, the deep sorrow and confusion."
"That is what set the Psalms apart for me, and I often think, why is not church music more like that?"
BEAUTY VS HONESTY
The theologian explains that the first time he translated a psalm was "for a single person, to try to get him to realise that praying wasn't being nice before God. […] Psalms are not pretty, they are not nice, but they are honest, and I think we are trying for honesty, which is very, very hard in our culture."
Bono adds: "I see a lot of dishonesty in Christian art, which I think it is a shame, because they are people vulnerable to God in a good way […] God wants the truth from you, truth blows things apart, but I am suspicious to Christian art sometimes because of this lack of realism."
PSALMS ABOUT VIOLENCE
Talking about violence, Peterson believes that "we need to find a way to cause without causing, and the imprecatory psalms surely do that."
"I don't have problems with the Old Testament, I don't see God as a violent God, but I think the world is a violent place, and it does reflect that", Bono adds.
When asked if it is a way to read Psalms through Jesus´ eyes, hoping to understand violence, Peterson said: "Yes, the crucifixion, where there is violence, there must be some kind of response."
"We live in a world with lots of crosses, and I would just like to spend my life doing something about that, through Scripture, through preaching, through friendship, I don't want to skip the violence", the theologian concludes.
See the short film, produced by the Fuller Theological Seminary:
Published in: Evangelical Focus - culture - Bono: "Brutal honesty" of the Psalms should inspire all artists