"What happened to first century Christians is happening today in many parts of the world"
Andrew Hyatt, director and scriptwriter of "Paul, Apostle of Christ", talks to Evangelical Focus about his personal involvement in the project and the importance of presenting this kind of historical stories to all audiences.
MADRID · 21 MARCH 2018 · 11:58 CET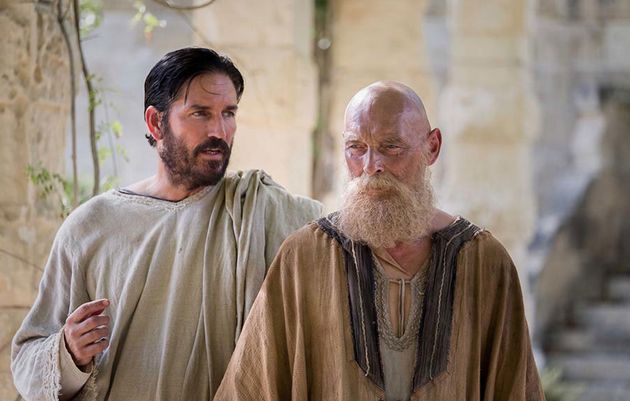 Paul and Luke in a scene of the film. / paulmovie.com
The film "Paul, Apostle of Christ" will be released on March 23 in many countries.
The movie was filmed in Malta in September 2017, and produced by Affirm Films, a Sony Pictures Entertainment company.
It tells the last days of Paul (James Faulkner) in the Mamertine prison in Rome, awaiting his execution by Emperor Nero in Rome.
The other main character is Luke, played by Jim Caviezel, who visits Paul in prison to write the apostle's story, so that it can be distributed to the Christian community in Rome and abroad.
Olivier Martinez is Mauritius Gallas, a Roman prefect who struggles with his beliefs because of his daughter's illness. John Lynch and Joanne Whalley are Aquila and Priscila, the leaders of the little Christian community of Rome, which is persecuted by Nero.
The film is dedicated to "anyone who has suffered because his or her faith".
Andrew Hyatt, director and scriptwriter of the film, talked with Evangelical Focus about the filming process. He told us how personal the film is for him, and why he believes it is important to introduce this kind of movies to all audiences.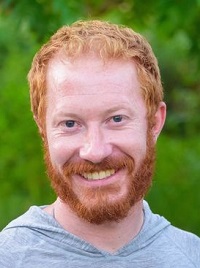 Question. The film talks about the last days of Paul in prison, but Luke has a very important role too. Why did you decide to put them together to tell the story?
Answer. I was surprised in my own research - when I was really digging into Paul's letters and into the Acts of the Apostles - to see how important and critical Luke was to Paul's ministry and his journeys.
I started to notice that Luke had been with Paul for up to 15 to 20 years on the road, by his side. We can image tha,t being a doctor, he was probably the one who took care of Paul after beatings, imprisonments, or even stoning.
Luke then became a very natural addition to Paul's story.
In 2 Timothy, Paul's final letter, that he wrote from the Mamertine prison in Rome, he does mention that Luke is there with him. It was really interesting to discover this.
Q. How do you prepare the script? What sources do you use?
A. It's a combination. Of course, the Scriptures were the most important, the place where we have to start.
I also read a lot of history, historical books about Rome, Nero, first century Rome... To get a little understanding of the historical world was very important for me too.
Q. Filmmakers always put something of themselves in their films, is this a personal movie?
A. This is a very personal film for me. I had a very "Damascus-road" type experience in my own life. I grew up in a church, but I walked away from my faith for about seven years.
I did not think it had something relevant to say to my life. And then I had a major conversion to the faith, just like Paul. I was knocked down and pulled out of the mud by the grace and love of the Lord.
Besides, I do not think that I would be able to make this film if I was not asking questions that I wanted to find the answers to.
In my last movie 'Full of Grace', and in this one, it is me wrestling with my own questions, doubts and fears. And it is an amazing experience to discover things from myself in this film.
Q. The supporting roles (Aquila, Priscila and Mauritius Gallas, the Roman prefect...), are very well defined. What do they give to the story?
A. I think they are very important to understand how the Christian community lived, worked together, and took care of each other at that time.
The roles of Aquila and Priscila, how their strong Christian marriage is portrayed in the first century Rome, how they love their community... I think it is a wonderful example, and it gives a totally different perspective that we would not have if it was just Paul and Luke.
The most important figure to me, actually, is the Roman prefect Mauritius played by Olivier Martinez, because he allows the film to ask the questions that a non-believer, or someone who is struggling with his faith, can have.
It allows Paul to give answers that are in a very authentic way, not in a "preachy" way. It is a very authentic relationship, because of the drama around them.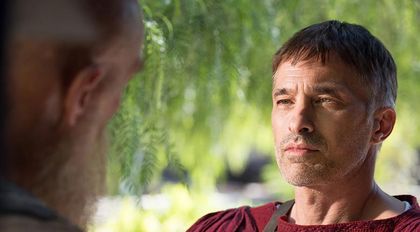 Q. The persecution of Christians is one of the main topics of the movie. In fact, the film is dedicated to all those woh have suffered because of their faith. Did you want to use the movie to denounce the reality thousands are still experiencing today in many parts of the world?
A. I think it is really important to make sure that we are all aware that what was happening to the first century Christians is exactly what is happening today in many parts of the world.
Many of our brothers and sisters are being persecuted for their faith. It is very important to remember that every day, and to keep them in our prayers. So, I do hope that the movie can open people's eyes to that reality.
Q. Do you think that your movies are "Christian"? Is that a label that should be used? Do your films receive worse reviews just for the fact of having a Christian message?
A. I will love that the people refer to the film as a historical drama, because I think that is what describes it. It is history, just like a film on Lincoln or Churchill, it is historical reality.
I do not like the labelling of "Christian film" or "secular film". It is a story, a true story. I do not know that Christian films get poor reviews because they are Christian. Unfortunately, I do not think that lot of Christian films are very good, if I can be honest.
Q. What are your expectations for the film? Do you think it will be attractive for believers and non-believers alike?
A. I hope so, because it is a beautiful human story that anyone can identify with. We all can identify with the struggles of Mauritius in the film: His world is crumbling, his daughter is sick, it is a very human thing.
I hope anybody could sit down and watch the film an identify with the story an its characters, and not feel: "Oh, this is just a Christian thing", because all of us have these realities inside of us.
Published in: Evangelical Focus - culture - "What happened to first century Christians is happening today in many parts of the world"