1 year of Evangelical Focus
"Are we going to make it?" This was one of the thoughts that was going through our minds in December 2014, after months of preparations.
MADRID | BARCELONA | VALENCIA · 08 JANUARY 2016 · 09:59 CET

#1YearEF images designed by Gabriela Pérez.
"Are we going to make it?" This was one of the thoughts that was going through our minds in December 2014, after months of preparations for what was about to become Evangelical Focus. The structure of the website was ready, the (small) team had already been working for 3 months, the 'logo' had been designed, and we were testing the website to find as many errors as possible before the public launch.
Then in January, with growing excitement, we finished the website with author profiles and some initial contents. We began to announce to our friends and contacts, both in Europe and in Spain, the country from which the Spanish Evangelical Alliance and the experienced Protestante Digital had launched our project.
On January 8, we were online.
CONNECTING THE BIBLE WITH SOCIETY
The vision and the need that propelled us most, about 3 years ago, when we first started to think about this idea, was the same as it is now: to build bridges between the church and society. We wanted to give a voice to people who have both a clear biblical worldview and who also understand the cultural context in which they live in order to provide input relevant for Europe.
With the help of as many Christian thinkers and organisations as possible (including our first partner, the Forum of Christian Leaders), we started to build a platform on which many could join in. Our desire is still to have many readers who would not define themselves as Christians coming in to have a look at what evangelicals think and offer to society.
Our first year of life, 2015, has coincided with some big crises in the continent. We have followed the refugee crisis with news articles, interviews with people working on the ground, and analysis articles from experts (to be found in the 'Blogs' section).
We have seen how Europe has become more and more frightened of terrorist attacks, such as those which happened in Paris and other cities.
At the same time, new cases of intolerance against Christians appeared, both in Eastern and Western Europe. The Council of Europe and the EU institutions had debates about religious freedom and its coexistence with growing security measures. The environmental state of the planet and efforts to promote creation care also have had a highlighted space at Evangelical Focus.
During this first year, we also have critically followed the development of Protestant churches that have started to bless 'same-sex marriages'. We have tried to make the fight against sexual slavery and human trafficking more clearly visible. And we have introduced opinions of evangelical Christians in countries in which they are still being marginalised.
We have analysed films, books and music in cultural reviews, and have looked at science giving a voice to Christian scientists with very refreshing approaches.
SOME STATISTICS
So far, we have published:
- 741 News articles, reports and interviews.
- 151 Opinion articles
- 188 'Magazine' articles.
- 81 Multimedia contents.
In addition, some of readers have sent their own articles to our Reader's Blog.
See which were the most read articles in 2015.
In this first year of life, Evangelical had:
- Total visits: 199,942
- Page views: 288,675
- Monthly page views: 24,056
Visitors came in from 215 countries (or dependent regions), and 28 countries visited our website at least 1,000 times.
The top 20: the USA, Spain, the UK, Canada, Australia, Netherlands, Italy, Germany, South Africa, India, Philippines, Kenya, France, Singapore and Switzerland, Indonesia, Belgium, Sweden, Nigeria and Russia.
See this Graphic in high quality.
A COMMON VISION
It has been very exciting to see a growth in the number of readers and contributors. A total of 65 people have authored at least one article on EF (read more about some of the authors). Nine more people translated contents into English.
Many in Europe have shown their support for Evangelical Focus. Christel Ngnambi from the European Evangelical Alliance in Brussels, said: "The emerging global public square needed European views from people who reason with the Bible as the highest authority. Evangelical Focus is not only an answer to a clear need, but a catalyst for more biblical thinking on our continent."
From France, Thierry LeGall (CNEF) adds: "In times of globalisation of the information, Evangelical Focus is a great tool to give an evangelical perspective to the news happening in our European societies. EF helps us to better understand the important changes that affect our nations and helps us bring the beautiful message of hope of the gospel. Every encouragement to the editorial team!"
Greg Pritchard (European Leadership Forum) said: "I am thrilled that Evangelical Focus has quickly become a clearing house for evangelicals world-wide of a wise biblical perspective on today's world. I am looking forward to Year Two!"
From Germany, Evi Rodemann (Mission-Net) said: "The wide variety of topics written on by Evangelical Focus I enjoy immensely. It is a unique platform for various issues concerning Europe and the body of Christ. That´s why I appreciate Evangelical Focus and love them to succeed! From Italy, theologian and Vaitcan expert Leonardo de Chirico, adds: "When I need a biblical, informed and prompt perspective on current issues Evangelical Focus is the best place to go."
And from Spain, author and theologian José de Segovia commented: "Evangelical Focus is a promising European project which gives voices to Evangelicals in countries which did not have a Reformation. It is a great way of communication between north and south of the continent with a Latin sensitivity you don´t find anywhere else."
Read opinions from other people on Evangelical Focus' first birthday here.
FOLLOW US, SUPPORT US, CONTRIBUTE!
Looking back makes us excited about how God might use EF in this second year of life.
We are aware that the task of uniting journalism and the gospel is only one more area of work in which we stand under God's grace and providence, depending on Him. Please pray for us.
And why not thinking of contributing? Do you have news to share from your country, which you think is relevant for a European audience? Are you a native English speaker and would like to help us in translating contents from other European languages? Just write to us, we would love to hear from you: office@evangelicalfocus.com
And why not consider supporting us? This project has run with very few resources. All our contributors have offered their articles for free. And the editorial team raises their own support to be able to work full time or part time for Evangelical Focus. Do you want to give to this project? Or perhaps advertise with us? Write to us!
JUST ONE YEAR…
There is still much to do.
For now, we want to thank God for His grace and His guidance.
Let's see what God prepares for our second year of life.
Thank you very much for being part of Evangelical Focus, in the name of Pedro, Joel, Belén, Dani and the whole Evangelical Focus team.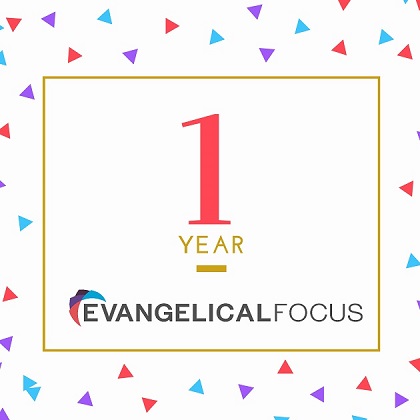 PS. Follow us on the social networks: Facebook, Twitter, Soundcloud!
Published in: Evangelical Focus - Editorial - 1 year of Evangelical Focus