Turkey and EU seal deal to control migration arriving to Europe
EU leaders and Turkish Prime Minister Davutoglu have agreed on a 3-billion-Euro aid deal to stem the crisis. Talks on Turkey's EU membership process will be relaunched.
Agencies · BRUSSELS · 30 NOVEMBER 2015 · 17:10 CET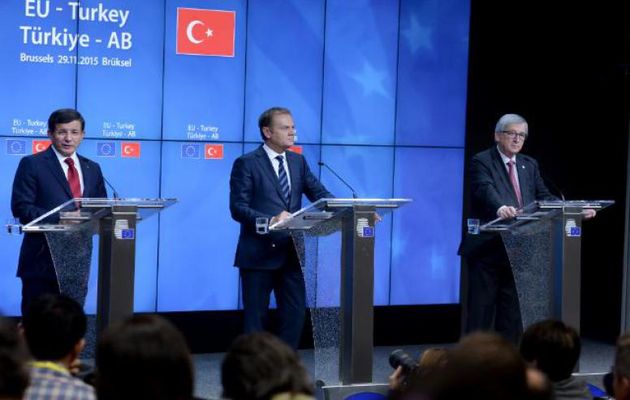 Davutoglu, Tusk and Juncker in Bussels
Turkey and European leaders have struck a deal on Sunday, to help moderate the arrival of migrants to the European countries, in return for cash, visas and renewed talks on joining the EU.
EU Council President Donald Tusk confirmed the deal following a four-hour summit with Turkey and leaders from the bloc's 28 nations in Brussels on Sunday.
"We expect a major step towards changing the rules of the game when it comes to stemming the migration flow that is coming to the EU via Turkey," Tusk said.
3 BILLIONS EUROS AID
Turkey will receive 3 billion Euros and political concessions in return for clamping down on its borders and keeping refugees in the country.
"The aid will go towards helping Syrian refugees in Turkey. Ankara has already spent more than 8 billion Euros on helping those in need", Mr Davutoglu said.
In return, Turkey will aim to tighten border security, take back migrants who don't qualify for asylum, and crack down on illegal traffickers.
The final statement reads: "The EU is committed to provide an initial 3 billion Euro of additional resources. The need for and nature of this funding will be reviewed in the light of the developing situation."

BETTER CONDITIONS TO JOIN EU
Besides economic aid, Turkish citizens may be able to travel without visas in Europe's Schengen zone, which allows free movement between many European countries, by October 2016.
However, the rules will be relaxed only if Turkey meets certain conditions.
"As Turkey is making an effort to take in refugees, it is reasonable that Turkey receive help from Europe to accommodate those refugees", Hollande told reporters.
He added that the deal should also make it easier to check migrants arriving and keep out those who pose a threat, like Islamic State militants who struck Paris two weeks ago.
"Today is a historic day in our accession process to the EU," Davutoglu told reporters on arrival. "I am grateful to all European leaders for this new beginning."
After the talks, the President of the European Commission Jean Claude Juncker, declared that the deal "would not lead to a situation where we forget about the main differences and divergences we have with Turkey: Human Rights and the freedom of the press."
Published in: Evangelical Focus - europe - Turkey and EU seal deal to control migration arriving to Europe