Crimea: Sentenced for refusing to pay fines for holding a religious event
Over 1,000 religious communities which had legal status under Ukrainian law, are no longer recognised as legal entities under Russian law.
Forum 18 News · CRIMEA · 08 JANUARY 2016 · 18:50 CET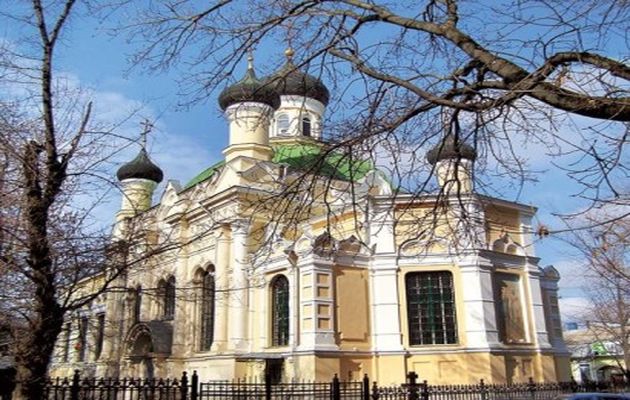 Three Saints Church in Sinferopol, capital of Crimea
According to Forum18, three of eight Baptists from Saki in western Crimea who refused to pay fines for holding a public religious meeting, were sentenced to 20 hours' community service each in October 2015.
Five fines were imposed by Judge Irina Shevchenko without a formal court hearing. A fine of about six weeks' average local wages has been ordered to be automatically deducted from the wages of another Baptist. Items from the homes of four others have been identified for possible seizure.
GUILTY OF OGANISING A RELIGIOUS MEETING
Nine Council of Churches Baptists travelled from their home town of Saki to conduct an outdoor religious meeting in the village of Maryanovka in central Crimea on 10 May 2015.
District Police detained "and subjected them to protracted interrogation." "They were fingerprinted and photographed, and their vehicle, literature and equipment were examined", fellow Baptists recalled.
Eight of them were found guilty of "Violation of the established procedure for organising or conducting a gathering, meeting, demonstration, procession or picket."
The Baptist's leader, Sergey Shokha, was fined 20,000 Russian Roubles (this represents about six weeks' average local wage, according to Crimean residents. The others were each fined 10,000 Russian Roubles.
Council of Churches Baptists have a policy of civil disobedience, refusing to pay fines imposed to punish them for exercising the right to freedom of religion or belief. "They didn't pay the fines as to do so would be to admit that they did something wrong," a church member told Forum 18.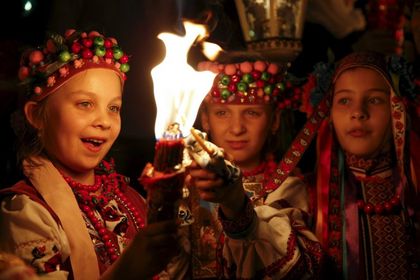 However, Crimea's Supreme Court has overturned September 2015 fines imposed on two Jehovah's Witnesses distributing religious literature.
MORE THAN 1,100 CHURCHES NO LONGER RECOGNISED
Meanwhile, the extended deadline for all religious communities - which had state registration under Ukrainian law before the Russian annexation of Crimea in March 2014 and who wished to retain it - to re-register with the Russian Justice Ministry, expired on 1 January 2016.
Only about 400 religious organisations have been able to gain re-registration in the Republic of Crimea and in the city of Sevastopol (an administratively separate territory) since the annexation of Ukraine.
Forum 18 notes that more than 1,100 religious communities which had legal status under Ukrainian law are thus no longer recognised as legal entities under Russian law.
Among the communities re-registered are Russian Orthodox, Muslims from the Crimean Muftiate and autonomous communities, Protestants of a range of affiliations, Roman Catholics, Jews of a range of affiliations, Karaites, Jehovah's Witnesses and Hare Krishna communities.
Without registration under Russian law, religious communities can meet for religious purposes. However, they cannot enjoy the rights that legal entities have, including to enter into contracts to rent property, employ people or invite foreigners for religious activity.
Published in: Evangelical Focus - europe - Crimea: Sentenced for refusing to pay fines for holding a religious event