Priest killed in French church attack claimed by Daesh
Another hostage is seriously wounded. "Two soldiers of the Islamic State had carried out the attack", the Daesh-linked Amaq news agency confirmed.
Agencies · FRANCE · 26 JULY 2016 · 15:50 CET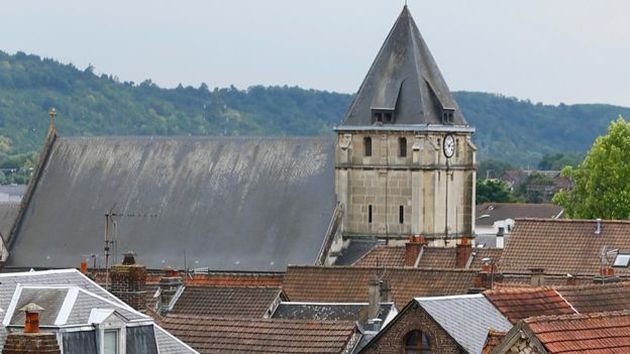 The French church attacked / Reuters
Two attackers killed a priest and seriously wounded at least one other hostage in a church in northern France on Tuesday before they were shot dead by police.
The two assailants entered the church in Saint-Etienne-du-Rouvray, near Rouen, during mass, taking the priest and four other people hostage, including two nuns.
Police said the men killed the priest, named as 84-year-old Jacques Hamel, by slitting his throat. Pierre-Henry Brandet, interior ministry spokesperson, said a second hostage was "between life and death".
CLAIMED BY DAESH
President Francois Hollande decried a "vile terrorist attack", and confirmed the men claimed to be from Daesh.
Speaking in Saint-Etienne-du-Rouvray, he said the attackers had committed a "cowardly assassination" and France would fight Daesh "by all means".
"Two soldiers of the Islamic State had carried out the attack", the Daesh-linked Amaq news agency informed. "They carried out the operation in response to the call to target the countries of the crusader coalition" the Amaq statement concluded.
Brandet told reporters at the scene that the identities of the attackers remained unclear, but anti-terrorism prosecutors would lead the investigation.
He declared the hostage-takers had been "neutralised" after coming out of the church. Police were now searching the church for explosives.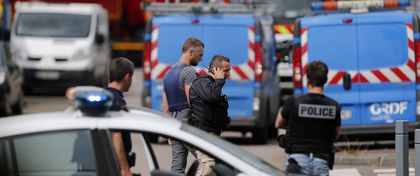 TOGETHER AGAINST TERRORISM
French prime minister, Manuel Valls, expressed "horror at the barbaric attack on a church"."The whole of France and all Catholics are wounded. We will stand together," he wrote on Twitter.
Pope Francis decried the "pain and horror of this absurd violence."
STATE OF EMERGENCY
The incident comes as France is under high alert after an attack in Nice that killed 84 people and a string of deadly attacks last year claimed by Daesh.
The Nice attack was the third major strike on France in 18 months. Two attacks in Germany claimed by the IS group since then have also increased jitters in Europe.
After the attack in Nice, France extended a state of emergency giving police extra powers to carry out searches and place people under house arrest for another six months until January.
It was the fourth time the security measures have been extended since jihadists struck Paris in November, killing 130 people at restaurants, a concert hall and the national stadium.
Published in: Evangelical Focus - europe - Priest killed in French church attack claimed by Daesh