Christians in Turkey mobilise to help: "Let us not neglect to support them with our prayers"
Despite difficult weather conditions, Christian ministries and individuals have traveled to the earthquake area. The Turkish Evangelical Alliance and other groups are channeling donations.
07 FEBRUARY 2023 · 11:30 CET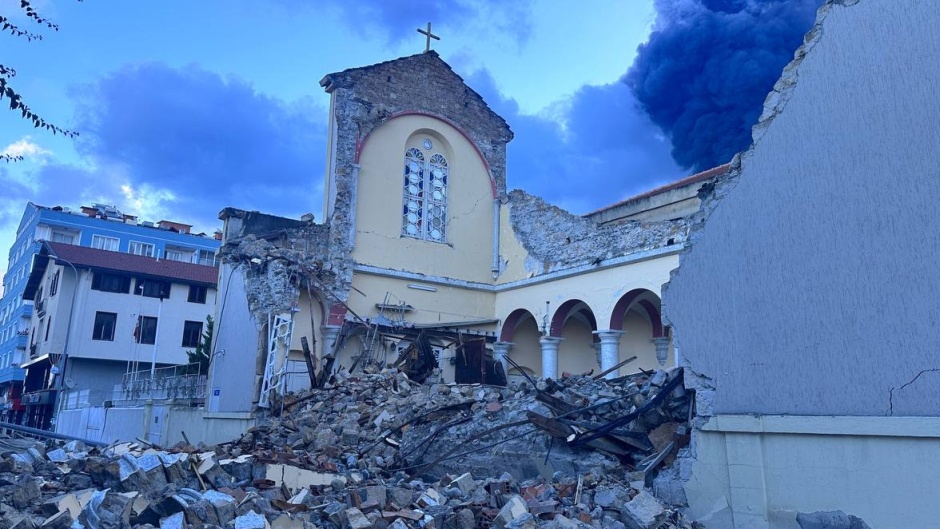 The earthquakes destroyed this church building in Antakya (Antioch), a city with a long Christian history and Protestante presence nowadays. / Photo: Shema Media Group.
­Christian organisations and networks of churches are responding to the disaster caused by two earthquakes on 6 February in the south-east of Turkey, which also hugely impact the north of Syria.
Authorities have confirmed the death of 5,000 people and over 20,000 wounded, mostly as a result of the collapse of hundreds of buildings in around ten cities.
"As of the morning, teams from all over the world and from Turkey are working hard in the region", wrote the Association of Protestant Churches in Turkey (TeK, also known as Turkish Evangelical Alliance) in a short update on 7 February. "Please remember them in your prayers. Our team will start working in Antep".
The entity uniting evangelical Protestant entities in the country is working through the First Hope Association (in Turkish, İlk Umut Derneği), which hours after the first 7.8 magnitude quake sent a first-aid team. "FHA made a quick planning early in the morning and directly set off as a team. Initially, 15 aid professionals from İzmir, Ankara and Van are deployed in aid efforts. FHA'S three mobile hygiene trucks set out to go to the aid area. The organization's search and rescue vehicle is also heading to the area".
Traveling to the south of Turkey is not easy, under difficult weather conditions (rain and snow) and because some roads were closed, an evangelical pastor in Western Turkey told Evangelical Focus.
Despite the difficulty, several Christian organisations and individuals have arrived to cities such as Iskenderun and Antakya (Antioch), a city with faith history that dates back to New Testament times. Members of the radio ministry Shema Media Group travelled to these cities "to bring some supplies for the people there". According to them, "there is so much damage and very little help that has made it to Iskenderun".
Among the killed in the this region, there are an evangelical pastor and his wife, who have been survived by their 10-year-old son.
Another young girl who was part of a church was killed as well, an evangelical leader confirmed to Evangelical Focus.
But many have also been rescued, "Praise God over 7,000 have been safely removed from the rubble, but so many people still wait to be rescued with no rescue teams in sight! Pray that God show mercy!". A Shema Radio member recorded this video report on 7 February.
Turkish Protestants helping and struggling
"We are all experiencing a deep shock after the disastrous earthquake", said the board of the Association of Protestant Churches (TeK).
"Many churches and believers in the earthquake zone are working hard to help victims while at the same time struggling with their own difficulties and pain. Let us not neglect to support them with our prayers", the added.
The association was coordinating people in nearby provinces "to open their homes temporarily" to pastors and aid workers working in the affected areas. "May the Lord have mercy on us all. May the Holy Spirit protect us and lead us", they concluded.
The European Evangelical Alliance (EEA) also expressed its "sympathy and compassion to the families of the victims". Connie Duart and Jan Wessels, General Secretaries of the EEA wrote: "We pray for the relief operations that are still taking place and for all those involved. We ask God to comfort and sustain you during this crisis. We urge the rest of the National Evangelical Alliances to join in prayer over the coming days and weeks".
How to give
A large number of organisations are responding to the disaster.
The Association of Protestant Churches (TeK), in connnection with the European Evangelical Alliance, is channeling donations. These will go to the emergency aid of the Turkish NGO First Hope Association. "FHA was founded by members and partners of the Turkish Evangelical Alliance to coordinate relief efforts after the last major earthquake in Turkey. The organization works in a highly professional manner with a wealth of experience in providing rapid and efficient aid on the ground". The first relief goods needed are "blankets, water, tents, winter clothes, food".
To give through the European Evangelical Alliance, these are the bank details:
Bank: PostFinance Ltd, CH-3030 Bern
Account name: European Evangelical Alliance, Wallisellen
Euro Account: CH89 0900 0000 9177 0409 8
Swiss Francs Account: CH60 0900 0000 8971 1190 8
BIC: POFICHBEXXX
EEA Address: Postfach, Hertistrasse 31, 8304 Wallisellen, Switzerland
Purpose: "Turkey Relief"
Furthermore, the TeK has "established three communication and assistance stations where the church can help earthquake victims in their area. We will be giving assistance directly to those in need from these assistance stations". Donations can be made to churches in the esrthquake region listed in the following image.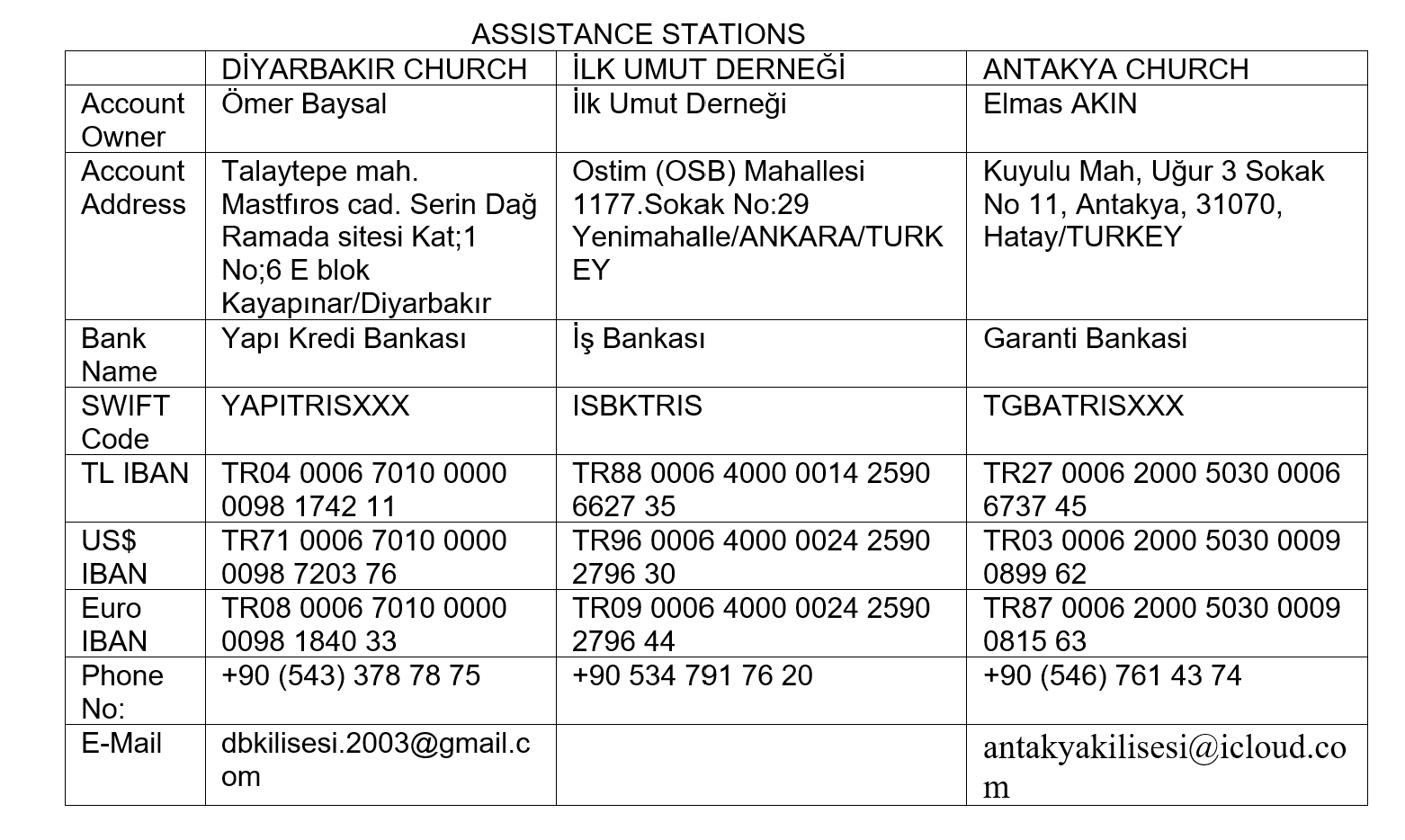 Also the Foundation of Protestant Churches of Turkey (Protestan Kiriseleri Vakfi), is using its existing network of member churches to respond to the need. To know more, contact the foundation through its website.
The aforementioned Shema Media Group offered to give through Guidelines International
Many other Christian organisations and church groups across Europe are responding to the emergency in Turkey and Syria. Alianza Solidaria, the partner relief organisation of Evangelical Focus in Spain, is also open for donations that will go to established Christian ministries both in Syria and Turkey.
Published in: Evangelical Focus - europe - Christians in Turkey mobilise to help: "Let us not neglect to support them with our prayers"
Since you are here…
Evangelical Focus is a news and opinion platform that brings together Christians from across Europe and other parts of the world. We need the support of our readers to make this media project sustainable in the long term. You can support our work! Read about Evangelical Focus's sustainability here.
Would you like to support the work of Evangelical Focus?
Use one of these methods. You can also transfer your donation to "Areópago Protestante / Evangelical Focus" IBAN: ES8521000853530200278394 (Swift / BIC: CAIXESBBXXX). Subject: "Donation Evangelical Focus"
Thank you very much!