Thousands dead in Turkey and Syria after earthquakes
More than 5,000 buildings collapse after two huge tremors (7.8 and 7.5) in the south-east of Turkey. At least 4,800 people in both countries. In Iskenderun, a pastor, his wife, and a young girl, are among the victims of the evangelical church.
ANKARA · 06 FEBRUARY 2023 · 23:00 CET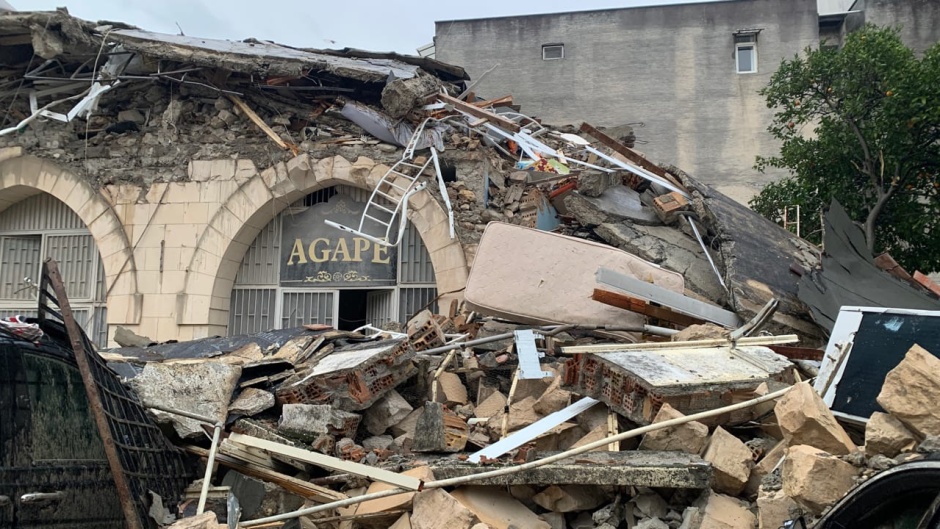 A Christian book shop destroyed by the earthquake in Türkiye, 6 February 2023. / Photo obtained by Evangelical Focus.
On Monday 6 February, a 7.8 magnitude earthquake with epicentre near Gaziantep, in the south of Türkiye (Turkey), caused a major emergency situation which also affects the neighbouring Syria.
The tremor was felt on 4am (local time), and caused an large number of buildings to collapse while most of the population was still asleep. Dozens of aftershocks were registered in the following hours. The latest number of deathly victims shared by the Turkish AFAD emergency authority was of 3,381 but the President Recep Tayyip Erdogan said this number was likely to rise much.
Furthermore, at least 20,000 people have been injured and over over 5,000 buildings have collpsed, according to the government.
9 hours later, a second earthquake of magnitude 7.5 hit the region with the epicentre 100 km north, in the district of Elbistan, in Kahramanmaras. The first informations of the authorities spoke of 70 dead.
A map with the incidence of the two major erathquakes in Türkiye, 6 February 2023. / Source: BBC
Dozens of aftershocks have been felt near the area of the epicentre, in Malatya's city Gaziantep, as well as within a radius of hundreds of kilometres.
According to the authorities in Turkey, 7,800 pepople have been rescued alive by the emergency teams.
The weather conditions are difficult, with temperatures of 3 Cº during the day and bellow freezing at night. Heavy rain and snow are expected in the region in the next days, which could negatively affect the rescue efforts and the shelter needs.
Aiports and other infrastructures, including schools, have been closed in the south east of Türkiye.
Diyarbakır'da enkaz bölgesinde bir bina daha yıkıldı; o anlar DHA kamerasına böyle yansıdı #deprem

— Hürriyet.com.tr (@Hurriyet) February 6, 2023
The damage of the quake is also dramatic on the other side of Turkey's southern border, in Syria. The Syrian Observatory for Human Rights estimated in dozens the deaths caused by the quake in the first hours, and later at least 1,500 were confirmed dead. According to the BBC, images from Aleppo show residents fleeing as buildings collapse.
This border region between the two countries was affected by the Syrian civil war, thousands of refugees are still housed in camps and settlements. The White Helmets, a humanitarian organisation working in rebel-held areas in Syria, have called for urgent aid.
According to the Turkish government, ten countries of the European Union, and others like Kazakhstan and the UK, have already offered emergency aid.
Christians: "We are in shock"
Across the country they are "in shock" as they follow the news, an evangelical pastor serving in western Turkey told Evangelical Focus. "Roads are closed and many rescue teams are on their way to the quake zone".
A Christian member of an evangelical church in Iskenderun "has confirmed to me that her daughter aged 9 has died", he said.
In the same city, it also has been confirmed that a pastor and his wife died but their 10-year old son survived.
"There is a pastor and his wife in Antakya (Antioch) who are trapped under the rubble of their building". Others, he adds, "have lost their homes, we are talking to the fellow believers there".
Among the urgent initiatives is that of İlk Umut Derneği (in English, First Hope Association), an NGO that has travelled to the disaster zone with 15 people.
"As churches, we want to help, but it will be more in the medium and long term", explains the pastor, who will be joining a meeting later today with other Protestant church leaders to decide how and where to respond.
Churches buildings collapse
Another Christian worker with over 30 years of experience in Türkiye shared with Protestante Digital an image of a Christian library in the city of Antakya (see photo above). "Both the evangelical church and the evangelical bookstore next door, called Agape, have collapsed".
"The number of victims is not yet known, but it is sure to be an earthquake like the one that took place in August 1999 in Izmit (70 kilometres from Istanbul) which took the lives of 35,000 people", he said.
Prayers for Syria
In Syria, the Lebanese Christian relief organisation Merah, said on Twitter: "We have church partners in Syrian cities affected by the earthquake. They are devastated and are asking for our prayers. Many buildings have collapsed, hundreds of people are dead or missing, and thousands are left without shelter".
Published in: Evangelical Focus - europe - Thousands dead in Turkey and Syria after earthquakes
Since you are here…
Evangelical Focus is a news and opinion platform that brings together Christians from across Europe and other parts of the world. We need the support of our readers to make this media project sustainable in the long term. You can support our work! Read about Evangelical Focus's sustainability here.
Would you like to support the work of Evangelical Focus?
Use one of these methods. You can also transfer your donation to "Areópago Protestante / Evangelical Focus" IBAN: ES8521000853530200278394 (Swift / BIC: CAIXESBBXXX). Subject: "Donation Evangelical Focus"
Thank you very much!