Swiss evangelicals defend role of public broadcasters in protection of minorities
Voters said "no" to an initiative to end licence fees for the public television and radio. Christian contents could have disappeared if it was passed, the Swiss Evangelical Alliance says.
SEA, Swissinfo.ch · BERN · 08 MARCH 2018 · 16:00 CET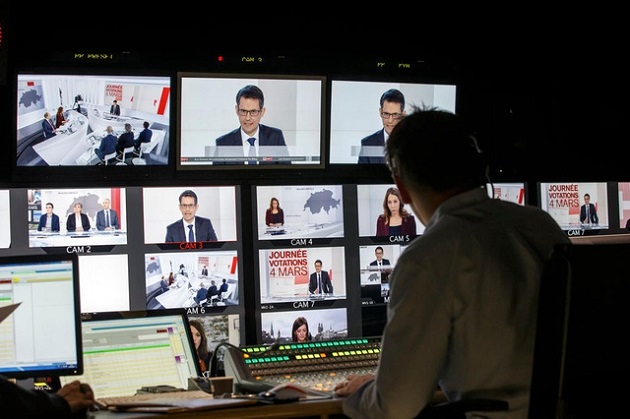 Image of the Swiss Public Television. / Swissinfo
In Switzerland, voters have rejected a proposal to eliminate the mandatory licence fee for the country's public broadcasters (mainly, television and radio).
About 72% of the voters rejected the initiative in a referendum on March 4.
The Swiss Communications Minister, Doris Leuthard said the result was a verdict against a system with exclusively commercial radio and television programmes in Switzerland, according to SwissInfo.
Campaigners against the "No-Billag" proposal, as the initiative was known, said scrapping the licence fee would spell the end of the Swiss National Broadcasting System, "a key institution due to its contribution to the cohesion of the multilingual country and its importance for a functioning democracy".
EVANGELICALS RELIEVED
The protection of minorities and the need for truthful and plural news services was also an argument given by evangelical Christians to vote "no" to the initiative.
"If the initiative is passed, church contents would disappear from radio and television", the Swiss Evangelical Alliance said one month before the referendum.
According to the evangelical representative body, programmes on the public television such as "Window on Sunday" and "Point of view: religion", or radio programmes such as "Word on Sunday"; would have disappeared if the state television lost the financial support of taxpayers.
Aspects of the national plurality would also be weakened, because "the commercialisation of the media landscape would discriminate against the smaller languages of our country".
The two political parties with a Christian/evangelical "ethos" disagreed on this issue. The EVP (Evangelical People's Party) called to vote against the initiative, but the EDU (Federal Democratic Union) called to support it.
Published in: Evangelical Focus - europe - Swiss evangelicals defend role of public broadcasters in protection of minorities