Poland, Lithuania and Austria, where most youth self-identify as Christian
"In 20 or 30 years' time, mainstream churches will be smaller, but the few people left will be highly committed", says British social of religion professor Stephen Bullivant.
The Guardian · LONDON · 22 MARCH 2018 · 09:20 CET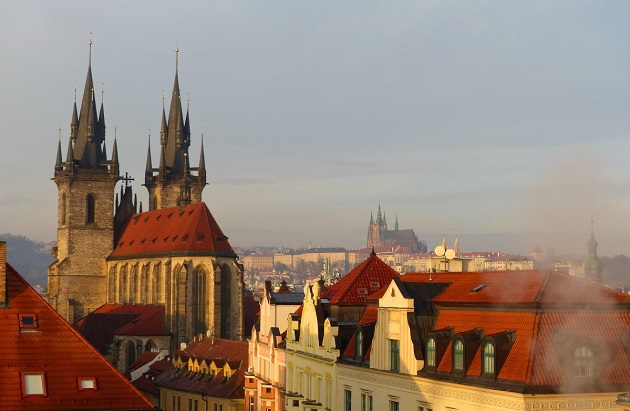 A church in Prague. / Pxhere (CC0)
The Czech Republic is the country in Europe were the fewest young people identify as Christians (9%) or pray (20%).
The Central European country contrasts with two of its neighbours, Poland and Austria, where 16- to 29-year-olds still majority identify as "Christians" (83% and 52%, respectively). These two countries share a strong traditional Catholic background.
These figures are from the period 2014-2016 and have pubished in the Europe's Young Adults and Religion report.
It is surprising that "countries that are next door to one another, with similar cultural backgrounds and histories, have wildly different religious profiles", professor of theology and sociology of religion Stephen Bullivant told British newspaper The Guardian.
Commenting on the report, he added: "With some notable exceptions, young adults increasingly are not identifying with or practising religion".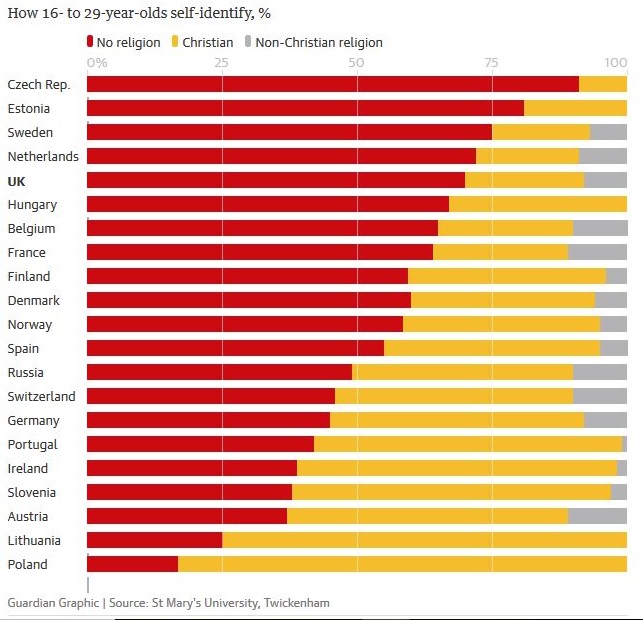 The countries were most young people identify with no religion are the Czech Republic (91%), Estonia (81%), Sweden (75%), Netherlands (72%) and the UK (70%).
On the other end are the countries where a majority identify as Christians: Poland, Lithuania (75%), Austria, Slovenia (59%), Ireland (59%) and Portugal (57%).
In Russia, Switzerland and Spain, about half of the young population has no interest in Christian faith, while the other half positively identifies with some kind of Christian faith group. Other researchs have shown that many self-identified Christians are nominal Christians, with no clear commitment with the biblical faith.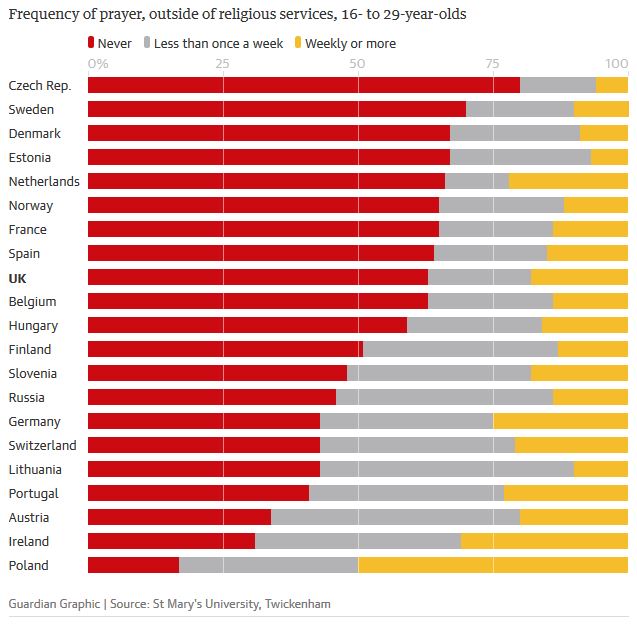 In the UK, France, and Belgium, between 63% and 66% said they never pray.
"The new default setting is 'no religion', and the few who are religious see themselves as swimming against the tide", Bullivant said. "In 20 or 30 years' time, mainstream churches will be smaller, but the few people left will be highly committed".
Another recent research found that citizens now have more appreciation of spirituality in daily life than before.
Published in: Evangelical Focus - europe - Poland, Lithuania and Austria, where most youth self-identify as Christian