Turkish court keeps Andrew Brunson in jail until July
A secret witness accused the US pastor in Izmir of supporting the Kurdish PKK movement. Three witnesses submitted by the defense were not allowed to testify.
IZMIR · 08 MAY 2018 · 09:43 CET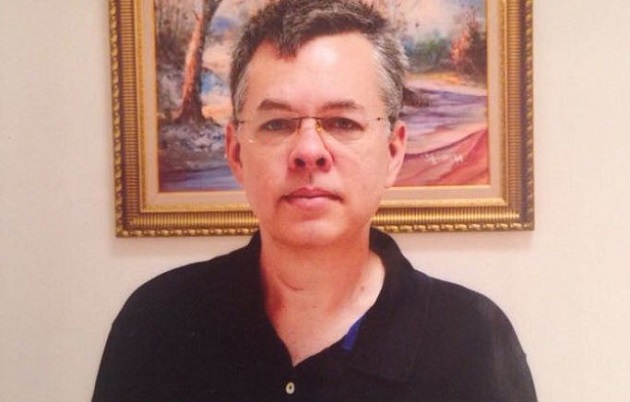 Andrew Brunson was jailed in Turkey in October 2016. / USCIRF
Pastor Andrew Brunson will remain in prison at least until 18 July, the judge decided after the second hearing of the trial, on May 7.
Brunson, a US citizen that has lived in Turkey and served as a Protestant pastor in the city of Izmir for more than two decades, was detained in October 2016.
He faces 35 years of imprisonment. The Pastor has been charged with collaboration with terrorist groups and espionage for military and political purposes.
During the 10-hour long second hearing on Monday, an anonymous witness accused Brunson of aiming to create a Christian Kurdish state, Turkish Anadolu news agency said.
BRUNSON: "CLAIMS ARE SHAMEFUL AND DIGUSTING"
In what has been described as a strong and articulated defense, Andrew Brunson said: "My service that I have spent my life on, has now turned upside down. I was never ashamed to be a server of Jesus but these claims are shameful and disgusting".
Three of the witnesses submitted by the defense were not allowed to testify, on the grounds that they wer also suspects in the case.
LAWYER: "BRUNSON WAS DETAINED DUE TO HIS FAITH"
In the first hearing on 16 April, Brunson said: "I have been praying for Turkey for 25 years. I want the truth to come out". He also said: "I do not accept the charges mentioned in the indictment. I have never been involved in any illegal activities".
Brunson's lawyer Ismail Cem Halavurt said: "There is evidence that shows Brunson was detained due to his faith".
This second hearing was attended by local Christians, "a number of believers and pastors, including from our home church", Andrew's wife, Norine Brunson, explained in a Facebook post. She also thanked all Christians for the "huge wave - really a tsunami - of prayer".
USCIRF: "WILD CONSPIRACIES BUT NO REAL EVIDENCE"
The Vice Chair of the United States Comission On International Religious Freedom (USCIRF), Sandra Jolley, also attended the hearing. "The judge's decision at the conclusion of today's hearing to dismiss all of the witnesses called by Pastor Brunson's defense without listening to a single minute of their testimony is simply unconscionable", she said.
Jolley added: "Today's eleven hours of proceedings were dominated by wild conspiracies, tortured logic, and secret witnesses, but no real evidence to speak of".
The Andrew Brunson case has tensed the diplomatic relations between Turkey and the United States. President Donald Trump, Vice President Mike Pence and 66 senators have asked Turkish President Recep Tayyip Erdogan to put an end to what they consider to be an unjust trial.
The Foreign Minister of Turkey Mevlüt Cavusoglu has said Brunson's case is legal. "They say 'the government should release him'. Is it up to me? This is a decision the judiciary will make", Turkish newspaper Hürriyet quoted him as saying. Cavusoglu is expected to meet his US counterpart Mike Pompeo this week or next.
In September 2017, Turkey suggested a prisoner swap.
PRAYERS AND INTERANTIONAL PRESSURE
Christians around the world have been asking for the Pastor of the "Dirilis" Resurrection Church in Izmir to be freed. Churches in many countries have been calling to pray for Andrew, his wife Norine and their family.
In March, the United Nations called Turkey to put an end to the state of emergency which has led to the abritrary detention of hundreds after the failed coup against the Turkish government in July 2016.
According to Middle East Concern, fifty MEPs (Members of the European Parliament) submitted a letter to President Erdogan in May, calling for Andrew's release in accordance with European and International commitments of Turkey in regard to religious freedom, to the prohibition of arbitrary detention, and to the right to a fair trial.
Published in: Evangelical Focus - europe - Turkish court keeps Andrew Brunson in jail until July