A motorway bridge in Genova collapses, many dead
'Dozens' have been killed, the emergency services in Genova say. More than 30 vehicles fell from a height of 45 meters.
GENOVA · 14 AUGUST 2018 · 14:16 CET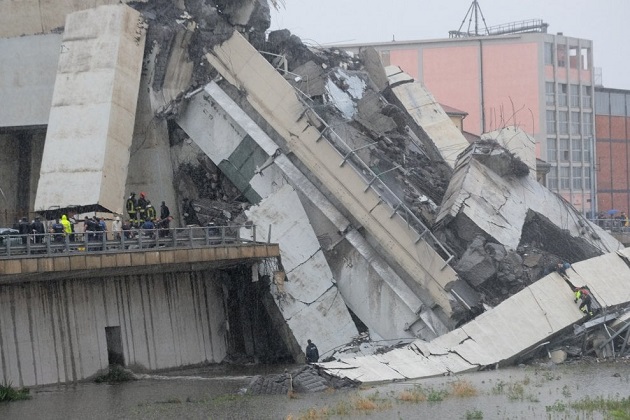 The motorway viaduct in Genoa, after the collapse. / Repubblica, F. Bussalino, A. Leoni
A motorway bridge known as Morandi Viaduct collapsed in Genova (Italy).
Authorities confirmed that at least 35 people have been killed, but the death toll is expected to be higher. Another 13 people have survived with injuries.
The head of the '118' emergency services of the region said it was difficult to know "the full dimension of the problem", but they expected to find "dozens of dead among those who fell from the viaduct".
According to the authorities, 30 cars and 3 lorries fell with the collapse.
All hospitals in the region were ready receive victims, as about 200 firefighters and health services worked to find people under the rubble.
#14ago #Genova 12:00, crolla parte del ponte Morandi sulla # A10. Le squadre #vigilidelfuoco stanno operando in massa, attivatinteam usar e cinofili pic.twitter.com/gjSJLvjw1K

— Vigili del Fuoco (@emergenzavvf) 14 d'agost de 2018
Pictures of the site showed the impact of the collapse of the viaduct, which happened around midday.
About 100 meters of the 1.2 km long bridge fell from a height of about 45 meters. Local media say the tragedy could have been caused by a structural failure of the motorway. The stormy weather could have had an influence on the incident as well.
Buildings under the viaduct and in the area nearby were evacuated.
The bridge was opened in 1967, and works to strengthen the structures had been done recently, the Autostrade company said. (See map of the site here)
#Genova #14agosto Per il traffico locale si consiglia di non percorrere le Autostrade e di fruire della viabilità ordinaria.
Si consiglia di evitare le aree limitrofe al #crolloponte per non essere d'intralcio alle operazioni di soccorso. pic.twitter.com/d5jKI9izBc

— Polizia di Stato (@poliziadistato) 14 d'agost de 2018
The Italian Minister of Infrastructures, Danilo Toninelli, said the country was facing an "immense tragedy".
Published in: Evangelical Focus - europe - A motorway bridge in Genova collapses, many dead