"We can and must do more for religious freedom", British Foreign Secretary says
The UK government has ordered a review "to map Christian persecution worldwide, and make recommendations on the practical steps it can take to support those under threat".
The Guardian, BBC · LONDON · 03 JANUARY 2019 · 15:20 CET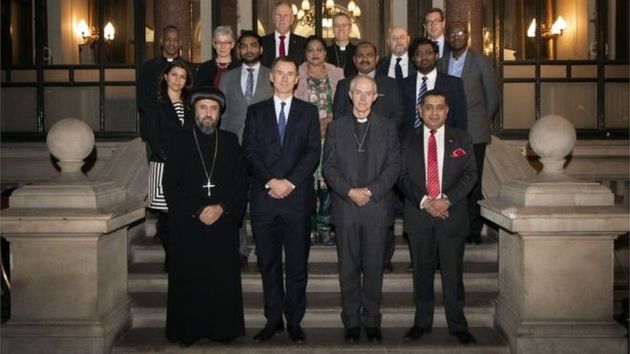 Foreign Secretary Jeremy Hunt and the Archbishop of Canterbury Justin Welby with survivors of Christian persecution. / gov.uk
British Foreign Secretary, Jeremy Hunt, has ordered an independent, global review into the persecution of Christians around the world and how much help they get from the UK.
The report will also make recommendations on the practical steps the government can take to better support those under threat.
Additionally, it will be specifically directed at the persecution of Christians, and not religious minorities in general. The review is due by Easter.
"WE CAN AND MUST DO MORE"
Around 215 million Christians worldwide faced persecution, and, on average, 250 Christians were killed every month because of their faith last year.
"So often, the persecution of Christians is a telling early warning sign of the persecution of every minority", Hunt said in a statement last week.
According to the Secretary, "Britain has long championed international religious freedom. We can and must do more".
BISHOP OF TRURO TO LEAD THE REVIEW
The project will be led by the Bishop of Truro, Rt Rev Philip Mounstephen, who was until recently the head of Church Mission Society with a wide experience of international Christianity.
"This is a vital piece of work and I'm honoured to be able to serve persecuted Christians around the world in this way", he pointed out.
The review will map Christian persecution in key countries in the Middle East, Africa and Asia, and analyse current UK government support, the government said.
It will also "consider some tough questions and offer ambitious policy recommendations".
"OUR GOVERNMENT HAS PRIORITISED FREEDOM OF RELIGION"
"Our government has prioritised freedom of religion or belief and the review we are announcing today is about providing an objective view of Britain's support for the most vulnerable Christians globally", Lord Ahmad, UK special envoy on freedom of religion or belief, said.
He stressed that "We are seeking to identify additional practical steps to help stop the appalling levels of violence that saw 3,000 Christians murdered last year because of their faith".
PERSECUTION OF CHRISTIANS ON RISE
The intervention comes after an outcry over the treatment of Asia Bibi, a Christian woman who faced death threats after being acquitted of blasphemy in Pakistan.
Additionally, Coptic Christians in Egypt have faced a series of attacks by extremists, and there has been a recent surge of police action against churches in China, which led Hong Kong Christians to go to church wearing black in protest.
Those are just some current examples, but many other Christians have also been and continue being targeted in other parts of the world.
Published in: Evangelical Focus - europe - "We can and must do more for religious freedom", British Foreign Secretary says