In Rome, evangelical leaders reflected on Catholicism
Participants from Europe, United States, Australia and Latin America attended the fourth edition of the Rome Scholars and Leaders Network. It "equips evangelical leaders to understand Roman Catholic theology and practice".
Rome Scholars and Leaders Network · 25 JUNE 2019 · 10:30 CET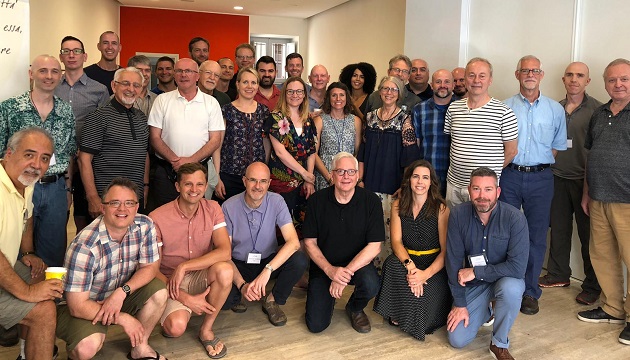 Participants of the 2019 Rome Scholars and Leaders Network, June 17-21. / RSLN
From June 17 to 21, the fourth edition of the Rome Scholars and Leaders Network (RSLN) was held in Rome, Italy.
Thirty-seven participants (6 women, 31 men) gathered together from Australia (5), Europe (8), United States (22), and Latin America (2) for a week of in-depth training in how to properly assess Roman Catholicism from an Evangelical perspective.
Sixteen participants came for the first time and 21 returned for the second, third or fourth time. Two programs were offered, one for first-year participants and another for returning participants, with a few sessions in common. For the first time, the RSLN hosted two participants from Latin America.
Eight of the participants are involved in teaching. Returning RSLN faculty members (Gregg Allison, Leonardo De Chirico, Mark Gilbert, Rachel Ciano, Trent Hyatt, Reid Karr, and Clay Kannard) addressed a range of topics. Guest teachers (Scott Oliphint and Matt Barrett) made useful contributions that were well integrated within the overall dynamics of the RSLN.
Dr. Leonardo De Chirico and Dr. Gregg Allison delivered foundational sessions to help participants understand the need of approaching Roman Catholicism systemically. De Chirico's sessions included Roman Catholicism as Worldview and System, Vatican II and Beyond, and 5 Theses on an Evangelical Hermeneutics of the Church Fathers. Allison's sessions included the Nature-Grace Interdependence, the Christ-Church Interconnection of the RCC, the RC Theological Method, the RC Sacraments of the Eucharist and Baptism, and The RC Sacrament of Priesthood (together with Rachel Ciano).
Rachel Ciano delivered several lectures, including, the Sadoleto-Calvin Exchange: Lessons for Today, the Cranmer-Gardiner Exchange: Lessons for Today, and Theological and Structural Issues in the RC Abuse Scandals.
Dr. Trent Hyatt discussed the Papacy, Its Origin, Development and Present State and the Ancient Tradition: Who Can Really Lay Claim to It? Mark Gilbert, a former Roman Catholic, helped participants connect their new knowledge of Roman Catholicism with how evangelicals can better engage Catholics with the Gospel. His sessions included: Understanding How Catholics Think, Talking with Catholics about Jesus, and Reaching Disillusioned Roman Catholics.
Reformanda Initiative faculty members also contributed to the conference. Reid Karr delivered sessions on Assessing the RC View of the Conscience and Assessing Trends in RC Missiology. Clay Kannard delivered a session on Crossing the Tiber: Stories of Evangelical Conversions to Rome and led a discussion panel on Why Rome is attractive and what can we do about it?
Guest faculty included Dr. Scott Oliphint (WTS-Philadelphia) and Dr. Matthew Barrett (MBTS). Oliphint contributed to the RSLN with his sessions, Points of Contact and Common Ground: What do we have in common with Rome?, Thomas Aquinas / Thomism; an Evangelical Assessment, and Doing Apologetics with Theological Integrity. Barrett contributed with his sessions, Scripture, Tradition, and the Sufficiency of Scripture, Justification and Martin Luther's reaction to the Via Moderna, and Raised for our Justification.
UNDERSTANDING THE CITY AND THE RELIGION
There was also time for sightseeing during the week as two optional tours were offered. Participants choose between a tour of the Vatican Museum or a Reformation Walk, which visited various historical sites in Rome that have a connection to the Pre-Reformation, Reformation and Counter Reformation.
"As in every previous year, RSLN participants were greatly appreciative and encouraged by the formation and community they experienced throughout the week, confirming once again the need for the RSLN to help the global evangelical church better understand Roman Catholicism", the organizers explained.
The next edition of the Rome Scholars & Leaders Network will be held from June 15th–19th 2020, in Rome, Italy. "We pray that God would continue to use the Reformanda Initiative and the RSLN to identify, unite, equip, and resource evangelical leaders to understand Roman Catholic theology and practice, to educate the evangelical Church and to communicate the Gospel".
Published in: Evangelical Focus - europe - In Rome, evangelical leaders reflected on Catholicism