'Operation Transit': Bibles to transform lives in North Africa
Thousands of New Testaments will be distributed this summer by volunteers at the border ports in Southern Spain.
Protestante Digital · MADRID · 03 JULY 2019 · 16:20 CET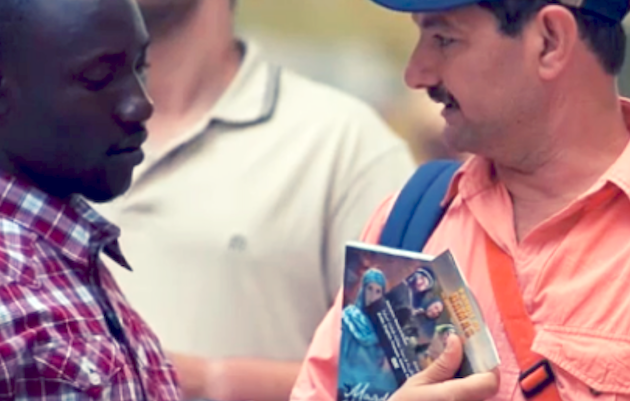 Operation Transit brings Bibles to countries where it is not always possible. / Spanish Bible Society.
Every day, thousands of people enter and leave Europe through sea ports.
During the summer this transit of travelers intensifies even more, many of them are North Africans who use these dates to visit relatives back home.
Since the early 90s, several Christian entities have collaborated to make this moment an opportunity to give Bibles.
OPERATION TRANSIT
"Operation Transit" is an initiative to give the New Testament and evangelistic materials in Spanish ports such as Melilla, Tarifa or Algeciras.
"Last year, almost 3 and a half million Muslim passengers crossed our ports", says Luis Fajardo, director of the Spanish Bible Society, one of the entities that collaborates in this initiative.
Volunteers from different parts of Spain, as well as from other European countries, distribute the Bibles during the summer. In addition to the impact that reading itself can have, it is also a way to give Bibles to people in countries where acces is difficult.
"Morocco allows the Bible Society to enter only 50 Bibles a year, with Operation Transit more Scriptures can enter, it is a way to sow seeds", explains Fajardo.
CHURCH GROWTH
The results of this project are not easy to measure, although the growth of the church in North Africa, where there is often a lack of real religious freedom, is evident.
"In Morocco, for example, we know that there are now 40,000 believers and 30 recognised churches. In the 90s, there were only a few hundred Christians", the director of the Spanish Bible Society points out.
The quantity of materials distributed in all these years has also increasingly grown, reaching "more than 3 million New Testaments", Luis Fajardo says.
"The Spanish Bible Society produces the materials, and we also try to help the people who make this distribution", he adds.
MISSIONARY EXPERIENCE
When the volunteers are delivering the Bibles at the port border, sometimes they have the oppotunity of engaging in a conversation about spiritual issues.
"It is a unique missionary experience. A short period in which you learn how to approach people to give them the Scriptures", Fajardo comments.
The Spanish Bible Society also raises funds during these days to grant scholarships to church members who want to go to the sea ports to distribute Bibles.
"We give the opportunity to young people who may not be able to afford the stay, and we want to help them", he explains.
A CHALLENGE OF 25,000 BIBLES
This year, they have set themselves the challenge of producing 25,000 New Testaments in different languages to give as gifts.
"We ask people to support us in prayer. It's amazing how God is touching the Muslim world".
You can read more aout Operation Transit here
Published in: Evangelical Focus - europe - 'Operation Transit': Bibles to transform lives in North Africa