Giuseppe Conte returns as Prime Minister
Five Star Movement party reaches an agreement with the Democratic Party. His return will not bring any change in religious freedom issues.
ROME · 29 AUGUST 2019 · 18:50 CET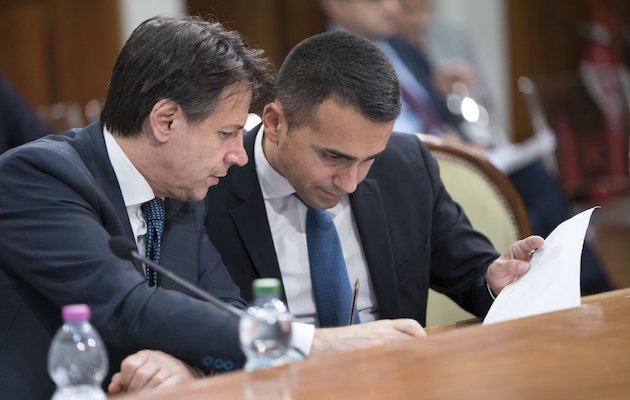 Italian Prime Minister, Giuseppe Conte, and 5 Start Movement leader, Luigi di Maio. / Twitter @GiuseppeConteT
Days after the resignation of Giuseppe Conte, a new political agreement makes him a Prime Minister again.
His political ally will no longer be La Liga, the party of until now Vice President and Interior Minister Matteo Salvini, but the Democratic Party.
Salvini, who filed a motion of no confidence against Conte, that ended with his resignation said he "does not regret anything".
"I look to the future" said the leader of the League in a clear reference to a new election in which his party would start as a clear favorite. "A government based solely on seats and hate has no a long life", he pointed out.
"The government aims to avoid raising taxes and respect democratic institutions. Personal ambitions come later", said the former Prime Minister and current Senator of the Democratic Party, Matteo Renzi.
"Salvini has tried a Public Procurement Offer in Italy. He has been defeated", he added.
NO EXPECTATION OF CHANGES IN RELIGIOUS FREEDOM ISSUES
Conte's government restitution will not bring any change in religious freedom issues.
"It presented itself as being the "turn around" in Italian politics but in fact it reflected the worst aspects of Italian politics: arrogance and lack of realism", the Vicepresident of the Italian Evangelical Alliance (AEI), Leonardo de Chirico, said.
Chirico recalled that "Conte showed a picture of Saint Pio he always carries in his jacket; while, evangelical places of worship have been closed in regions administered by the League and no one has said anything of this awful regression in religious freedom".
Published in: Evangelical Focus - europe - Giuseppe Conte returns as Prime Minister