Spanish region gives parents right to take children out of talks led by LGBT groups
The government of Murcia is the first to allow parents to decide whether their children attend primary school sessions lead by external organisations on a range of issues, including sexual education.
Protestante Digital · MURCIA · 09 SEPTEMBER 2019 · 09:42 CET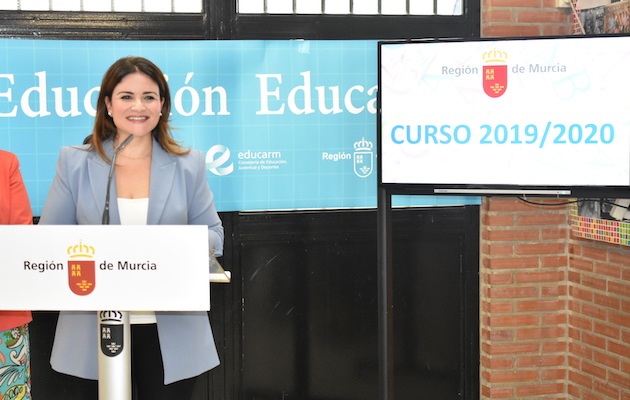 Esperanza Moreno, minister of education of the Region of Murcia government, in a recent press conference. / CARM
The government of Murcia (Spain) has sent an order to all primary schools in the region which says that pupils will need an explicit parental authorisation for all complementary activities given by speakers who are not members of the staff.
The measure, known as "parental pin", aims to give parents the last word on activities such as the controversial talks in schools given by members of LGBT organisations. These classes have caused concern among parents all across Spain who consider the talks highly ideologised and not apt for certain ages. Many have also said there is not enough control of the LGBT contents.
In May 2019, the new right wing party Vox included this parental authorisation in its electoral manifesto. After the party joined the new right wing government coalition in the Region of Murcia, the order was implemented by the government of People's Party leader Fernando López Miras.
When school activities are led by "people outside the centre's faculty", the regulation says, "families will be contacted with detailed information (…) provided to fathers and mothers at the beginning of the school year so that they can express their agreement or disagreement with the participation of their children in such activities".
A RULE TO BE APPLIED TO ALL EXTERNAL SPEAKERS
In a press conference, a spokesperson of the government of Murcia added that this parental approval will not be requested for classes led by teachers who are paid staff of the educational centres. She also clarified that this "parental pin" will apply to all kind of external organisations acting in schools, no matter what the topic of their teaching is.
Left wing parties said the new regulation is a step back and an example of the "fundamentalism" of the new regional government coalition. The opposition also said that this parental control "goes in the opposite direction" of the regional and national laws approved in the last years in Spain giving special rights to LGBT people and activist organisations.
A HOT DEBATE IN SPAIN
The Spanish Evangelical Alliance and other Christian organisations have denounced the wave of pro-LGBT legislation in the last years. They claim "privileges" are given to LGBT lobbies to freely promote gender ideology in social areas such as education, culture, and media.
Most regional parliaments in Spain have passed legislation that "restricts freedom of speech and religious freedom", the Spanish Evangelical Alliance said.
Evangelical psychologists have analysed the situation in a recent conference. Furthermore, platforms of Christian parents have asked the authorities to protect their children from "indoctrination".
Published in: Evangelical Focus - europe - Spanish region gives parents right to take children out of talks led by LGBT groups