Italian evangelicals suspend worship services and call to face coronavirus with "trust not fear"
Covid-19 deaths rise to over 360 as Italy becomes the second most affected country in the world. Italian evangelical leaders advice churches to follow the recommendations of the authorities and pray for "a spiritual and social revival with lasting effects".
ROME · 09 MARCH 2020 · 11:47 CET
A neighbourhood of Vicenza, a citiy in the North of Italy. / Vero Rossato
Italy has become the epicentre of the Covid-19 crisis in Europe, as the death toll in the country soared to 366 on Monday, with around 7,300 people more infected.
In the Northern region of Lombardy, more than 10 million people are under new quarantine rules. The government has announced the closure of schools, universities, public buildings and other meeting places. These measures will last at least until de beginning of April.
On Sunday, "in the 'red zone', churches suspended services in obedience to mandatory rules", Giacomo Ciccone, president of the Italian Evangelical Alliance told Evangelical Focus. Elsewhere in the country, about half of evangelical churches also decided to put their meetings on hold, opting for "online streaming or recordings" instead.
At the moment, in Italy "there is fear mixed with a sense of resignation. In the North, many are seriously worried", explains Ciccone, but "humour" helps to break the tense mood.
Beyond the health concerns, many also fear the economic consequences. Businesses are strongly affected: "Italy is in an evident recession, and the crisis could become widespread. The north of the country `[the most advanced region from an economic point of view], could have effects on all of Italy (…) Many workers will be blocked at home on Monday".
WITNESS IN TIMES OF FEAR
How should churches act in this context? For now, the Italian Evangelical Alliance has published a guide of best practices, giving recommendations which range "from specific prescriptions that can be applied during church services, to the option of suspending them altogether".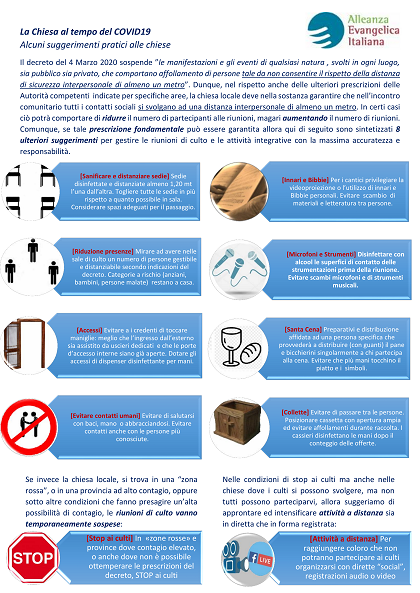 Plans of the government which include religious ceremonies in the banned activities are a bit "ambiguous", Ciccone admitts, because they still "allow places of worship to remain open under specific prescriptions". It these "uncertain days", he adds, there is "a great need of expressions of the 'church'".
Silvina Chacoma, a member of a church in the city of Brescia, says Whatsapp groups are very much used to remain in touch and encourage each other in the faith. They have also recorded the Sunday preaching on Youtube and sent the link for people to see it at home. But the efforts to find alternative ways of meeting, such as getting together in small groups in homes, have not worked that well. "People are very reluctant to meet", she says, "fearing someone could be infected" with the Covid-19.
Even in Southern Italy, with less Coronavirus cases, there are strong feelings, explains Pia Bevacqua, a Christian worker in Sicily. Many have reacted negatively to travellers arriving in the last weeks from the north, fearing the "fragile health system" is not be able to respond to a potential spread of the virus. The "uncertainty has brought instability" to the normal life of families, she says.
CHRISTIANS AND THE CHANCE TO MODEL "TRUST NOT FEAR"
The virus is especially dangerous for the population with previous diseases. "Young people are not very concerned, but elderly people are cautious and fearful", explains Vero Rossato, a Christian worker living in Vicenza, also in the North West. The "tension" grows as new measures are announced by the government.
The closure of schools has become a problem for families. "Some neighbours are coming together every day one family takes cares about the children of the others". But others are reducing personal contact to a minimum. "Speaking to someone" on the street is more difficult now, "people try to avoid all indispensables contact".
Nonetheless, says Rossato, "a word of encouragement and faith can always be of help". Christians, she believes, have the chance to model "calmness, obeying the norms announced by the government, but still continuing with daily life as normal as possible, showing trust not fear".
Bevacqua adds: "Many need a listening ear, people need to express their fears. The do not need judgement but words of hope. Many are fearful and as church we need to be interceding for this land, and also for the foreigners, of which the media are not saying much".
HOW TO PRAY FOR ITALY
How can Christians in other parts of the world pray for the crisis in Italy? "Ask the Lord that the Covid-19 challenge may represent a breakthrough for our spiritual asleep country", says Ciccone. "Pray that a spiritual and social revival with lasting positive effects may happen" and "pray that Italian creativity will prevail against the many challenges we are facing", he says.
Rossato encouarges to pray that "the Holy Spirit makes people reflect, that hard hearts are softened", says Rossato. "Pray for freedom from fear, racism, pride (...) Pray that this crisis will not cause individualism and rivalry but solidarity and empathy".
People should also pray "for the government", says Bevacqua, and "that Italians may receive the light of Christ, understanding that in Him we have life in abundance and peace".
Published in: Evangelical Focus - europe - Italian evangelicals suspend worship services and call to face coronavirus with "trust not fear"