ELF conference encouraged Christian leaders to be "passionate, humble and distinctive"
Participants from across Europe met in Poland to connect, share projects and study the Bible together. Ajith Fernando, Michael Oh and dozens of other speakers encouraged participants to join God's mission.
WISLA (POLAND) · 09 JUNE 2015 · 14:47 CET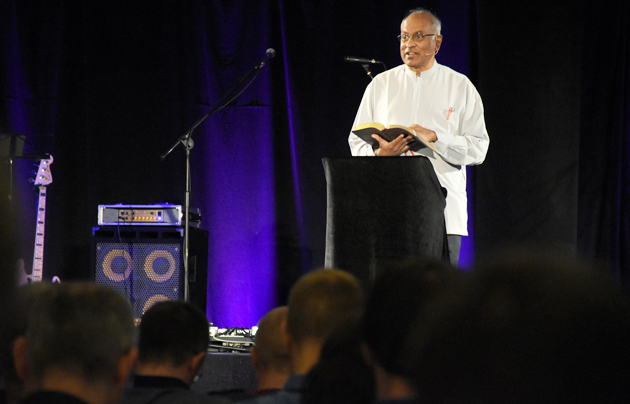 Ajith Fernando, during one of the bible expositions. / Vladimir Raichinov
God's mission needs 'hip' leaders: those characterised by "humility, integrity and purity." This was the main message of Lausanne Movement's Director Michael Oh speaking at the final night of the European Leadership Forum, celebrated in Wisla (Krakow, Poland) from 30th May to 4th June.
The conference brought together more than 600 Christian leaders from across Europe to connect, share projects, listen to people with expertise in their field and study the Bible together.
Closing 5 intense days of training and networking, Michael Oh briefly reviewed the book of Romans to remind all participants that the fuel for ministry is "mercy, mercy, mercy". Christians need to live lives which are "distinctive from the world and for the world."
They need to be lives in which temptation is addressed (specifically, sexual temptation, he pointed out), because unrepentant sin can destroy not only a person's service, but a whole organisation which was being fruitful for God. "Let's not mistake giftedness for spiritual maturity", he said, because a fruitful tree can start to be "rotten inside."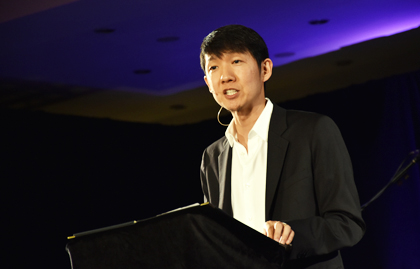 The last night finished with all participants singing and worshipping God at the top of their voices, in response to the Word.
In previous nights, Leif Nummela ("Christ in all the Scriptures"), Diane Langberg ("Healing and hope in a trauma-filled world") and Peter J. Williams ("The reliability of the Scriptures") had also addressed the participants.
"THE HONOUR OF GOD DRIVES OUR MINISTRY"
Bible expositions were central every morning. Ajith Fernando spoke from the book of Nehemiah, with four messages filled with applications to what it means to lead in complete dependence of God.
Often referring to his own experience working in Sri Lanka, Fernando emphasised the need to come back to "holistic prayer" and to find "the strength for our work in the joy of the Lord."
All the areas of society need Christian leaders, and Fernando asked the church to extend grace to those believers serving in influential places: "People in prominent positions make prominent mistakes", he recalled.
Nehemiah was that type of leader, "a prayer person, penetrative, patient, passionate and proficient." But "passionate people desperately need rest… Burn-out is not caused by hard work, but by insecurity", said Fernando.
Fear and tiredness are common in ministry, and "serious opposition [attacks] needs serious response: prayer and defense, both trust in God and good management."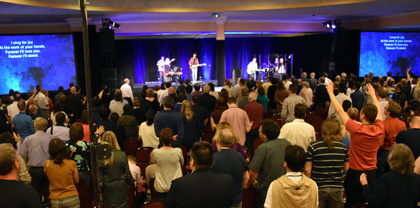 In his final message, Fernando said there is no excuse for a Christian leader not to speak out against injustice. He concluded by reflecting on his own life as a Christian leader. "When you serve the Lord, many times you think: have I been a fool? Have I been risky with my children [financially]? But it is not people who have to say if we are fools, but God's opinion is what counts."
After every session, participants responded to the Word in prayer (twos, in groups, personal prayer)
POLITICS, CATHOLICISM, PSYCHIATRY, EVANGELISM…
Besides the Bible expositions and the nightly plenary sessions, two other main ELF features were happening every day.
On one hand, Networks. The conference split into 26 thematic groups, in which participants working in similar areas of interest got to know each other well and received very specific training.
Counselors, fundraisers, youth ministry workers, politicians, evangelists, scientists, church planters, and many others spent two daily sessions reflecting on their own area of work.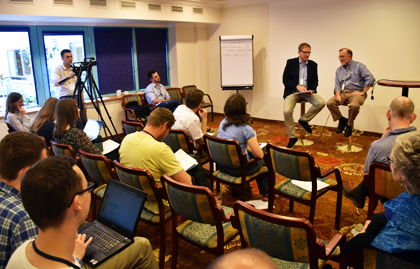 The Media Communicators network, for instance, had talks on how to reach different demographics, on how Disney stories have shaped a whole generation, an interview about how journalists inform about evangelical faith, and practical sessions introducing projects in Czech Republic, the UK and Spain which have had a social impact. Dialogue, discussions and follow up were encouraged by leaders of all networks.
In the afternoon, seminars and round tables were available to understand more about specialised topics. "How our brain predisposes us to spiritual awareness: a problem or an opportunity for Christian Apologetics?", "Understanding and evaluating the appeal of Roman Catholicism", "Scientific Apologetics in Post-Communist Eastern Europe", "The right and wrong way to approach the Public Square", were only some of more than 100 semimars available during the whole conference.
A VISION TO UNITE LEADERS AND RE-EVANGELISE EUROPE
What's the vision behind this annual conference? According to ELF's Director Greg Pritchard it is to "renew the biblical church and re-evangelise Europe", therefore the event aims "to help leaders where they are."
The conference should be "a bridge between God's global resources and local leaders from all over Europe", added Pritchard in a recent interview with Evangelical Focus. "Equipped leaders can be really fruitful for the gospel."
Theologically, ELF is not associated with any particular denominations, but builds its vision on a "robust evangelical position", a bible-believing worldview rooted in the Protestant Reformation and a modern missional approach in the line of the Lausanne Movement.
"We have clarity in the gospel", Pritchard added. "It is very exciting when you have people like-minded, like-hearted, coming together."

BEYOND THE OFFICIAL SCHEDULE
The massive amount of contents received during the days in Wisla sparked many connections and discussions beyond the official schedule.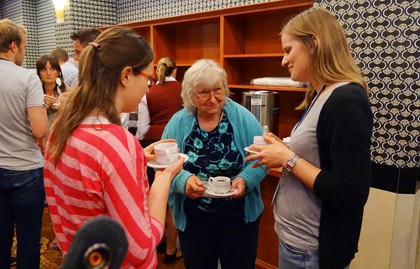 Some of the deep conversations happened sitting around a table with drinks in the evenings; drinking coffee in the morning break, or going for a walk to the nearby river and town centre.
Many used breakfast, lunch or dinner to network with people from other countries with a similar vision, or had a 1-hour mentoring session with some of the speakers. National nights eating with people from one's own country enabled connections to be made with people one had never met before back home.
Concerts, film projections and extra-meetings would happen in the late-night optional program. The book store was a natural place to go in the free moments, offering top resources at special prices, subsidised for those coming to the conference.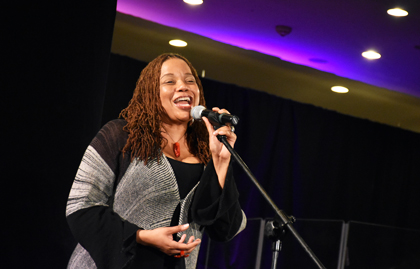 On Monday, the Expo Booth was the place to learn about the action on the ground of about 30 Christian organizations working in Europe. Evangelical Focus participated informing of the 5 first months of the project, asking other Christians with a heart for the continent to "join in" and use the website as a platform to share news from their own national context.
The joyful work of dozens of volunteers (most coming from the USA on their own expenses) was also much appreciated, and many Forum participants pointed out how all of the logisitics of the conference worked excellently.
Published in: Evangelical Focus - europe - ELF conference encouraged Christian leaders to be "passionate, humble and distinctive"