Nordic nations top the list of "happiest countries"
Finland, Norway, Denmark, Iceland, and three other European countries are in the top-10. What should Christian mission look like in such countries?
GENEVA · 16 MARCH 2018 · 10:07 CET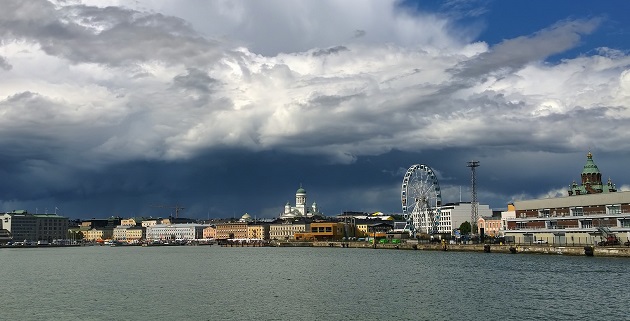 A view of Helsinkin, in Finland. / Timo Newton Sims (Flickr, CC)
The best places to live in the world, according to a United Nations report, are in the north of Europe.
The 2018 Happiness Report says Finland is the best country of the 156 countries analysed. They were ranked according to their GDP per capita, social support, healthy life expectancy, social freedom, generosity, and absence of corruption.
Other Northern European countries are right behind: Norway (2), Denmark (3), Iceland (4) . Fellow European nations Switzerland and the Netherlands are next, and Sweden (10) also makes the list.
The only non-European countries to make the top-10 list are Canada (7), New Zealand (8), and Australia (10).
For the first time, the report ranked the happiness of foreign-born immigrants in 117 countries, with Finland scoring double-gold as "home to the world's happiest immigrants". According to the BBC, Finland has a population of around 5.5 million people, counting some 300,000 foreigners in 2016.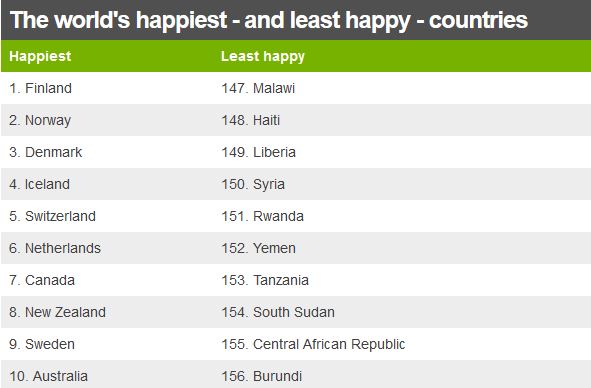 Among the countries that most improved their scores this year are Bulgaria and Latvia.
HOW DO WE MEASURE HAPPINESS?
"Feeling happy at all costs has become a business", psychologist Daniel Sazo explains. Big companies "sell happiness through products and have turned the citizen into a consumer who never has enough".
The reality is that most people are "happy at certain times" but "many are never satisfied in the long term". According to Sazo, "the search for happiness can turn into an escapist solution", because some difficult situations "could help us mature if we were not trying to avoide them".
A "COALITION FOR HAPPINESS"
This pursuit of happiness has even led a group of six countries to form a "Coalition for Happiness" earlier this year. The aim, it was said, was to make the "happiness" of citizens "one of the objectives of the governments".
United Arab Emirates and Kazakhstan are two of the members of the coalition. Both countries are known for their heavy restrictions of freedom of speech and religious freedom and appear in the Open Doors World Watch List 2018 of countries where is most difficult to be a Christian.
The other countries of this group are Mexico, Costa Rica, Portugal and Slovenia. Costa Rica is the one that scores highest in UN report list (13).
MISSION IN A NORDIC CONTEXT
Most of the countries leading the UN report have a Protestant Christian background. But only a minority of citizens are practising Christians.
"One of the challenges for mission in Nordic context is to be able to motivate curiosity about Christianity as well as to be able to go beyond the lack of interest or negative attitudes", theologian Vija Herefoss said in an article.
"Most Norwegians (up to 80% of the population) are members of the Lutheran church and therefore consider themselves Christians, but less than 10% actually attend church services or are actively engaged in the life of the local congregation", she says. The question, then, is: "What does it mean to be a Christian?"
Responding to this question is a key to Christian mission in places were people already describe themselves as "happy".
Published in: Evangelical Focus - life & tech - Nordic nations top the list of "happiest countries"